Apple denies overcharging consumers over in-app purchases
The US tech giant Apple has denied that it is taking advantage of the large number of iOS users in China and overcharging them when they have in-app purchases, reports Chinanews.com.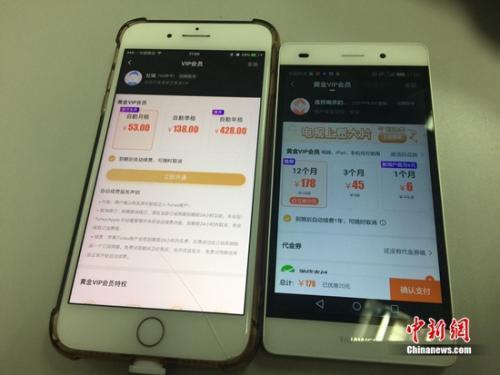 Comparisons are being made about the in-app purchases through iPhones and other devices. (File photo: Chinanews.com)
This follows customer complaints that subscribing to the same services, including online videos, and calling for a taxi through apps, costs more through iOS than Android in China. Many enterprises and app developers blame the 30 percent commission they pay Apple as the reason for the price difference.
Apple has since stressed that the pricing rights for in-app purchases are controlled completely by the developers. If the apps are providing material services, such as selling products or providing a taxi through Didi Chuxing, no commission is charged at all, according to the report.
The company added that the commissions cover the tools and resources it provided for the app developers and also the platform for the apps to meet customers worldwide.
"We will not allow those apps that are trying to cheat the customers with inappropriately high prices," according to Apple's guidance to the verification of apps.