Foxconn unit to raise $4.26b from public float in Shanghai
Reuters - China Daily
1527127111000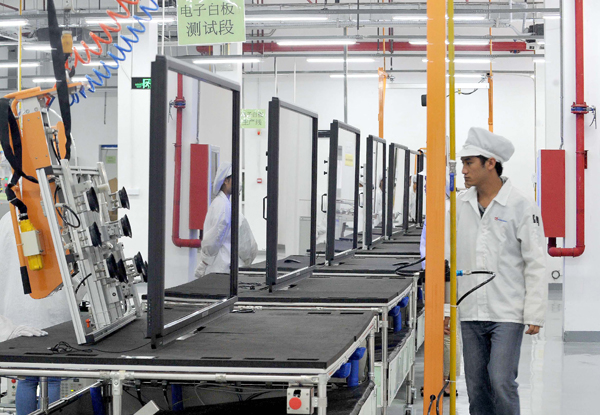 BEIJING-Foxconn Industrial Internet Co Ltd, a subsidiary of the world's largest contract manufacturer Foxconn Technology Group, has announced plans to raise up to 27.1 billion yuan ($4.26 billion) in what will be the Chinese mainland's biggest initial public offering in almost three years.

The Foxconn unit, which is known as FII and makes electronic devices, cloud service equipment and industrial robots, is offering up to 1.97 billion shares at 13.77 yuan per share in Shanghai, according to a statement it filed to the stock exchange late on Tuesday.
With 10 percent of its enlarged capital offered in the IPO, Shenzhen-based FII would have a valuation of about $43 billion at listing.
The listing is widely seen as a step for Terry Gou's Foxconn, a major Apple Inc supplier formally known as Hon Hai Precision Industry Co, to wean itself off heavy reliance on manufacturing smartphones for the California-based iPhone maker and to diversify into new areas.
Foxconn said previously it plans to use the proceeds to fund eight projects focused on industrial internet, cloud computing, data centers, communication networks, fifth-generation mobile communications, the internet of things, intelligent manufacturing and industry upgrades.
At around $43 billion, the unit's valuation would not be far behind parent company Foxconn's market capitalization of about $49 billion.
FII plans to sell 30 percent of its public share offering to a group of strategic investors. The strategic investors are not being called cornerstones-investors who accept a lock-up period in return for large allocation, which is a practice common in other Asian markets such as Hong Kong to bolster demand for large deals.
However, the group will function as such, with its investments tied up for between one and three years. In an additional unusual move, 70 percent of institutional investors' allocated shares will also be locked up for 12 months.
The unit's major clients include Amazon.com Inc, Apple Inc, Dell Inc, Huawei Technologies Co Ltd and Lenovo Group Ltd.
On May 11, the Foxconn unit received an official IPO approval document from the China Securities Regulatory Commission, which said in a statement that Foxconn and its underwriters will confirm the dates and publish the prospectus following discussion with the Shanghai Stock Exchange.
The CSRC is reportedly planning a "green channel" for unicorn companies-startups worth $1 billion-in industries such as biosciences, cloud computing, artificial intelligence and advanced manufacturing. Normally, it could take months or even years for companies to obtain the official green light for IPOs, industry insiders said.
Top image: an employee of Foxconn tests electronic whiteboards at an assembly line in Guiyang, capital of Guizhou province. (Photo provided to China Daily)