China to enhance new infrastructure investment to fire up recovery
Global Times
1664190300000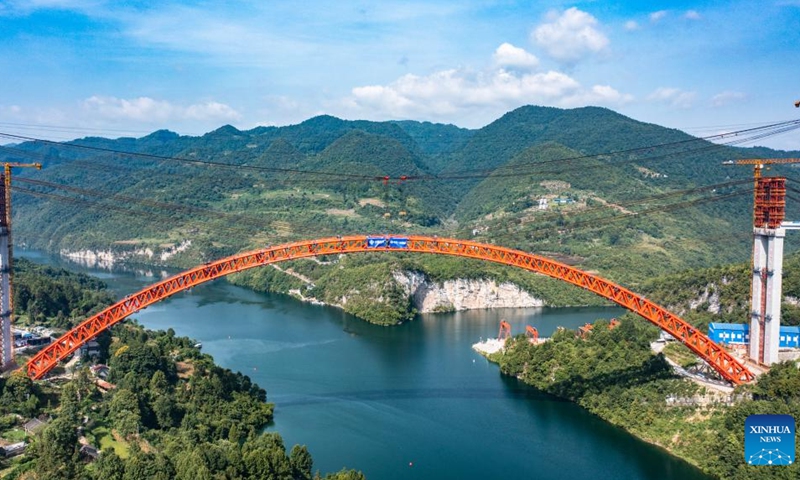 China will ramp up financial support for new types of infrastructure to stabilize investment and expand domestic demand, and more efforts will be made for technological breakthroughs in key sectors to stabilize supply chains and facilitate industrial transformation, the country's top economic planner said on Monday.

A new batch of infrastructure projects will be launched soon, thanks to the implementation of the "policy-backed and development-oriented financial instruments" and the use of special re-loans and fiscal appropriations, which all target new types of infrastructure projects, Zhang Zhihua, an official with the National Development and Reform Commission (NDRC) said at a press conference.
New infrastructure refers to digital, smart and innovative projects, including 5G networks, artificial intelligence and the Internet of Things.
The country's internet infrastructure has rapidly improved over the past 10 years, smart infrastructure has been adopted by all walks of life and innovation infrastructure has seen continual optimization, Zhang said. He said the length of the country's optical fiber networks grew by 2.7 times over the past decade, and the country established a national civil space infrastructure system comprised of satellite remote sensing, satellite broadcasting and the Beidou Navigation Satellite System.
China's centrally administered state-owned enterprises are increasing investment in new infrastructure, planning to invest in more than 1,300 new infrastructure projects during the 2021-25 period, with investment amounting to more than 10 trillion yuan ($1.4 trillion), according to the State-owned Assets Supervision and Administration Commission of the State Council.
Thanks to multi-pronged efforts, investment in the country's infrastructure sector rose 8.3 percent year-on-year in the first eight months of the year, 0.9 percentage points faster than that seen between January and July, according to data from the National Bureau of Statistics.
"Along with policy incentives, strong financial support and sufficient project reserves, the growth rate of the country's infrastructure investment is expected to accelerate to more than 10 percent in the second half of the year," Tian Yun, a Beijing-based economist, told the Global Times on Monday.
A State Council executive meeting held on September 21 reiterated that policy measures to boost investment and consumption will be advanced on a priority basis, such as fiscal, taxation and financial support for key infrastructure projects and equipment upgrade and overhaul.
In order to boost infrastructure investment as part of a broad effort to stabilize the economy, the authorities expanded the quota of the "policy-backed and development-oriented financial instruments" by another 300-plus billion yuan in August, on top of channeling 300 billion yuan of such instruments to specific projects earlier in the year.
Tian forecast that the additional quota of 300 billion yuan is expected to drive up fixed-asset investment by 1 trillion yuan. "Given comparatively low funding cost after rounds of domestic interest rate cuts and an apparent drop in producer price index (PPI), as well as a recovering consumer market, authorities should seize the opportunity to accelerate infrastructure buildup as soon as possible," he said.
He said the country's investment potential is huge. "Take new energy vehicles (NEV) for example. Domestic NEV sales posted a robust rebound in August, and one of the major obstacles for the sales of NEVs is supporting facilities such as charging stations," he said.