Sri Lanka – China Logistics and Industrial Zone inaugurated
Sri Lanka Ministry of National Policies and Economic Affairs
1509808232000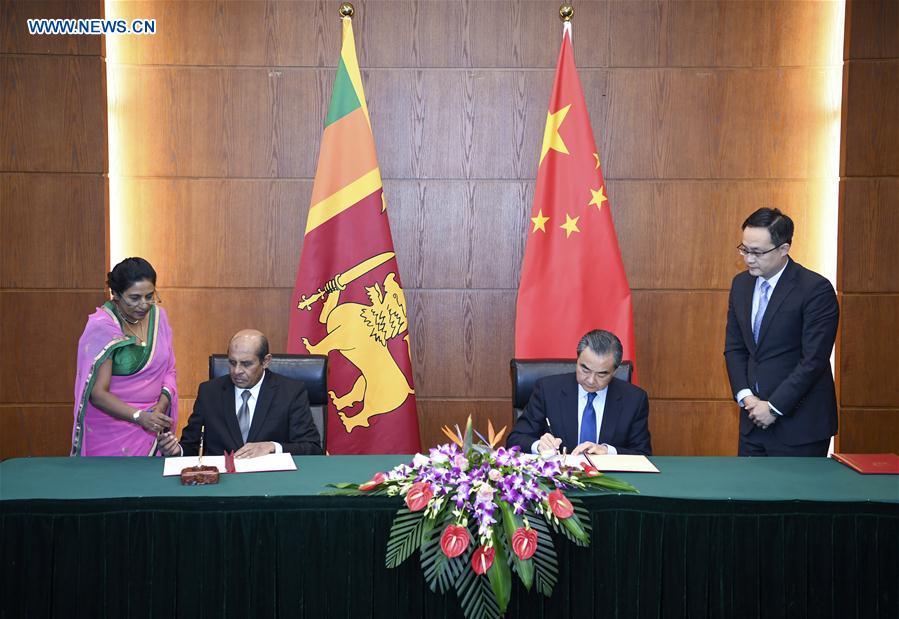 Chinese Foreign Minister Wang Yi holds talks with visiting Sri Lankan Foreign Minister Tilak Marapana in Beijing, capital of China, Oct. 30, 2017. After the meeting, the two sides exchanged letters of approval for a mutual legal assistance treaty. (Photo: by Zhang Ling from Xinhua)
Beijing, November 4 --Inauguration ceremony of the Sri Lanka – China Logistics and Industrial Zone (SLCLIZ) to be set up within the 'Ruhunu Economic Development Area' in Hambantota was held this morning under the patronage of Prime Minister Ranil Wickremsinghe.
The plaque was opened by Prime Minister Wickremeisnghe and the Ambassador to People's Republic of China in Sri Lanka Yi Xianliang.
The SLCLIZ in Hambantota is set up in accordance with the national drive towards making Sri Lanka the Economic HUB in the Indian Ocean, thereby creating thousands of productive employment opportunities and commemorating the third year of 'The Era of Sustainable Development' under the aegis of President Maithripala Sirisena.
The investment of the project implemented in collaboration with the People's Republic of China is expected to be about USD five billion within three years. A land extend of 1,235 acres has been allocated for the construction of the zone.
This will generate about 100, 000 job opportunities for youth of the area.