Small bikes set to rev up Harley-Davidson's sales in Asian market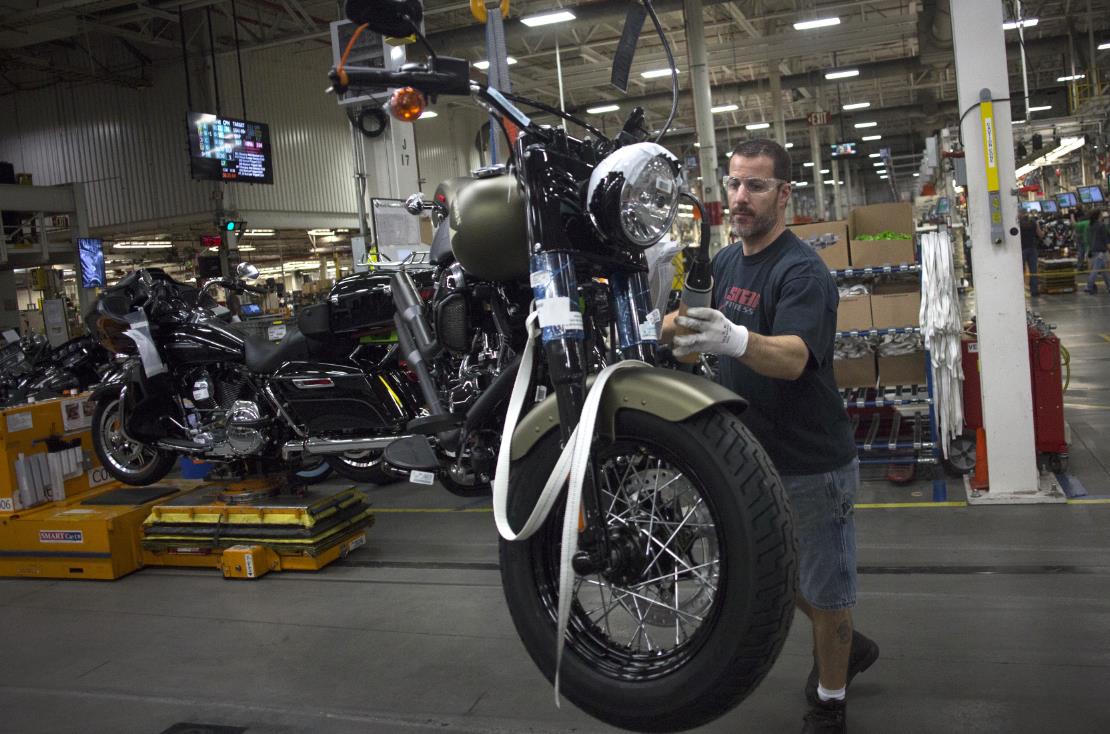 An employee helps lift a motorcycle up to the shipping area on the assembly line at the Harley-Davidson manufacturing facility in York, Pennsylvania, the United States. (Photo: Agencies)
Harley-Davidson Inc, the iconic US motorcycle company, will move some of its production to China to make a small motorcycle.
The company, which is based in Milwaukee, Wisconsin, announced on Wednesday that it will partner with Qianjiang Motorcycle Co to make a motorcycle that will be more compact than its trademark model.
The bike will go on sale in China next year as the company aims to penetrate the Asian market over the next decade. Harley-Davidson said it wants half of all its sales to come from outside the US by 2027.
Its core US sales base now tends to be people in their 50s, but as they have gotten older they are buying fewer bikes, according to The Wall Street Journal.
Lower sales in the United States combined with rising production costs due to trade tariffs have also eroded the company's bottom line.
"We're excited about this opportunity to build more Harley riders in China, one of the world's largest motorcycle markets, by creating new pathways to our brand," said Harley-Davidson CEO Matt Levatich.
China's motorcycle and moped market could be a major growth area for Harley-Davidson as sales in the nation grew 27 percent year-on-year in 2018.
Market analyst Brian Yarbrough told the Milwaukee Journal Sentinel that China could represent a growth opportunity.
"Think about the emerging middle-income group over in China and how rapidly that's growing and the affinity of Chinese consumers for American brands," he said.
Last year, Harley-Davidson said it would increase production in its plant in Thailand partly to avoid the tit-for-tat European Union tariffs on motorcycles shipped from the US.
The EU raised its tariffs from 6 percent to 31 percent in June 2018, in response to US President Donald Trump's tariffs on aluminum and steel. That would have equaled around $2,000 per bike for Harley-Davidson.
The company shut an assembly plant in Missouri last year as sales in the US slumped. But its overseas plans angered Trump, who went so far as to encourage customers to boycott the company last year.
"A Harley-Davidson should never be built in another country - never!" Trump said on social media last June. "Their employees and customers are already very angry at them. If they move, watch, it will be the beginning of the end."
Harley-Davidson said it chose to work with Qianjiang, a subsidiary of Geely, which owns Volvo, because of its expertise in producing small bikes. Qianjiang also has a stake in Daimler AG, the parent company of Mercedes-Benz.
The new bike would be one of the company's smallest, with an engine displacement of 338 cubic centimeters. Harley-Davidson's typical motorcycle sold in the US has a 601 cubic-centimeter engine.
Lightweight bikes and small scooters are very popular in Asian countries such as Thailand, where the company has a manufacturing plant. It's also able to avoid additional import duties by making bikes there. Harley-Davidson also has a manufacturing plant in India.