China's screen manufacturers up their game as domestic OLED technology matures
People's Daily app
1532439700000
Domestic OLED technology mature, production to expand fast

Chinese manufacturers of displays for digital devices are maturing after years of steady growth, said experts, as reports surface that Apple has already integrated local company BOE into its supply chain and could soon procure next-generation organic light-emitting diode (OLED) screens for its iPhones in the nation.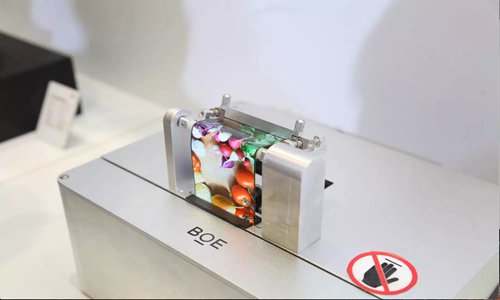 A flexible panel made by BOE displayed at an exhibition hall in Wuhan, capital of Central China's Hubei Province in November (Photo: VCG)
"Non-disclosure agreements prevent us from discussing particular products, but BOE has indeed been part of Apple's list of suppliers since March. Our technology and production capacity are world-class, and we have been involved in OLED research since 2001," a staff member in charge of public relations of BOE said in a statement sent to the Global Times on Monday.
"Mass-production of flexible AMOLED (low temperature poly silicon-active matrix organic light-emitting diode) began in October 2017 in our Chengdu factory. Capacity is improving steadily and we estimate we will achieve complete reliability by 2019," said the BOE statement.
The comment comes after a report by the Wall Street Journal citing unnamed industry sources as saying that BOE was seeking to supply screens for Apple's iPhone. Sources said BOE could supply OLED screens to Apple by 2020.
Experts noted how the move signals the maturity of China's display manufacturing industry after years of steady growth.
"Apple's procuring standards are the highest in the market," Liu Buchen, a senior home appliance industry analyst based in Guangzhou, capital of South China's Guangdong Province, told the Global Times on Monday. "BOE is the leader of OLED screens now in China, and if Apple recognizes it as a reliable supplier, all other manufacturers will soon follow suit," he said.
Screens are one of the most important and expensive components in a smartphone, the majority of which are manufactured in China. In an area long dominated by Japanese and South Korean companies, Chinese manufacturers have quickly entered the display manufacturing industry. At first, they made traditional liquid crystal displays (LCD), soon moving to more advanced OLED screens.
"At present rates, China will dominate the LCD market in a few years. Eventually, the same will happen in with OLED screens," Sun Yanbiao, head of Shenzhen-based research company N1mobile, told the Global Times on Monday.
Experts noted how China's position as the global center of digital manufacturing has bred world-class producers of displays.
"BOE was unprofitable for more than five years, but slowly it accumulated technological know-how, and now its products can be seen in many products such as Samsung TVs or Apple computers," Xiang Ligang, chief executive of telecom industry news site cctime.com, told the Global Times on Monday.
"Being based in China where most downstream manufacturers are located is a great advantage, as it shortens the supply chain, and the addition of Chinese companies to the market brings competition that can resolve issues with market manipulation or supply shortages," said Xiang.
OLED screens are increasingly being adopted by smartphone manufacturers, and they are estimated to completely replace LCD screens in the coming years. Experts noted that the entry of Chinese manufacturers will drive down prices and accelerate the transformation of the OLED market.
"Samsung as of now has about 95 percent of the market for smartphone OLED screens, but Chinese companies such as BOE, Everdisplay and Visionox are all expanding production. The issue is now reliability, but if Apple gives its recognition to BOE, all other smartphone manufacturers such as Huawei and Xiaomi will soon follow suit, and the expanded supply will drive down screen prices," said Sun.
(Source:Global Times)