NE China province stresses tackling bottlenecks that hinder agricultural production
Global Times
1649201801000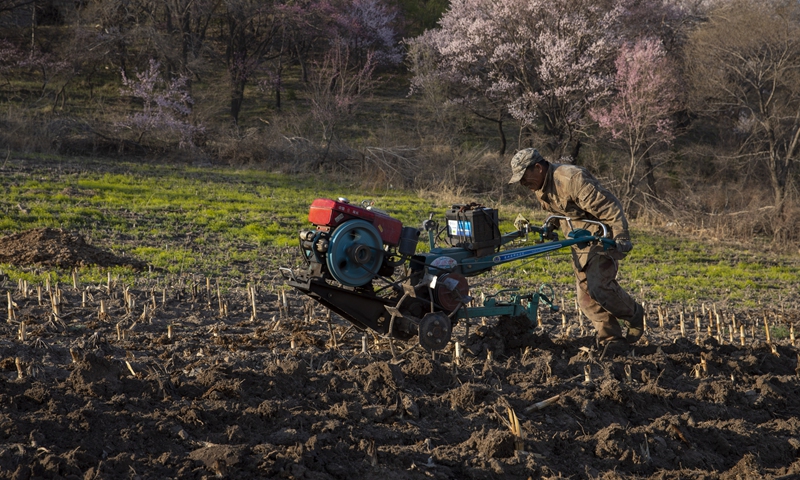 The situation of the epidemic in Northeast China's Jilin Province has cast shadows on the incoming spring planting season as preparation for seeds and fertilizers are not as usual this year. But, as a Chinese agricultural expert said, if the situation is addressed in time, sowing the fields in the major corn producing hub will not be impacted.

Jing Junhai, Party chief of the province, emphasized at a key provincial meeting on Monday night the double-front approach on fighting the epidemic and ensuring a smooth spring planting, according to a press release posted on Tuesday on the website of the provincial government of Jilin Province.
The bottlenecks of people and materials need to be effectively lifted to allow reasonable flows, Jing said, urging a solid preparation work to avoid missing the timelines of the spring planting season.
On Sunday, the city of Jilin, which announced it had successfully curbed the virus, rolled out a list of 1,172 COVID-free villages to "pave way for the spring planting," according to a report by major news website, people.com.cn.
It was announced that the farming areas outside Jilin city are "relatively lagging" in the prepartion of farming materials, with only 50 percent of planned fertilizers handed out to farmers due to the epidemic and rising costs.
The declared COVID-free villages may see epidemic control measures lifted or eased to ensure agricultural production.
"The insufficient preparation of agricultural materials will be a risk for spring planting," Li Guoxiang, a research fellow at the Chinese Academy of Social Sciences, told the Global Times on Tuesday. "What is fortunate, though, is that spring planting in this part of the country will typically begin in end April and early May when the earth has totally thawed."
Li noted that no damage to spring planting will be done if bottlenecks in the transportation of agricultural materials, such as seeds and fertilizers, are addressed in time. However, he warned of a serious impact if the problem remains unaddressed.
In the city of Jilin, specialists on seeds, pesticides, fertilizers, farming equipment, feedstock and produce commercialization and transportation personnel could also apply for permits that will allow them to leave their villages for work.
Farmers can also buy farming equipment online and receive them through individual delivery service by closed loop management logistics task force.
Jilin Province is a major producer of corn, accounting for 75 percent of the 40 million tons of grain it produced in 2021. Its corn production is about 10 percent of the national total.
The province itself remained hard hit by the virus with 2,472 local COVID-19 cases reported on Tuesday.
Media outlets have highlighted the austere situation in the preparation of funds, seeds and fertilizers needed for spring planting in Jilin Province.
Chinese news outlet CGTN reported on March 31 that 88.2 percent of the 25.9 billion yuan ($4.07 billion) earmarked for spring planting in the province are in the hands of farmers as of March 29. Some 87.3 percent of seeds, 68.8 percent of fertilizers and 33.6 percent of pesticides have been delivered.