Kuaishou, WFP ink poverty alleviation agreement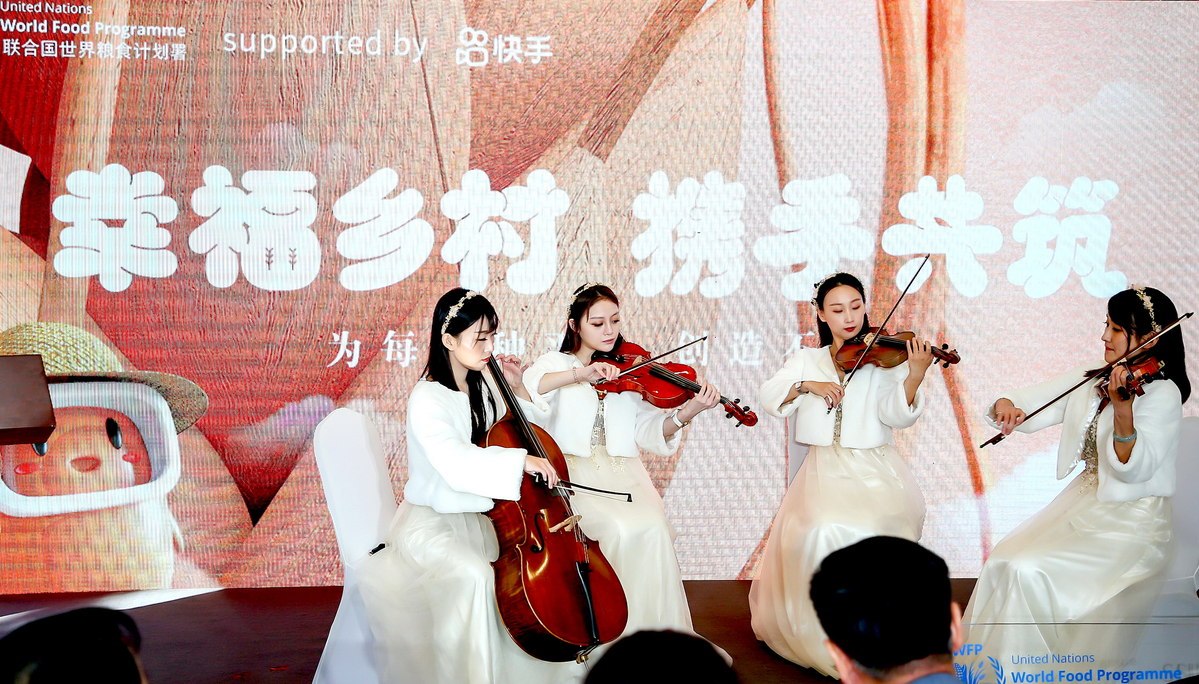 Chinese short video platform Kuaishou said on Tuesday that it has inked a strategic partnership with the United Nations World Food Programme, the world's largest humanitarian organization and the winner of the 2020 Nobel Peace Prize, addressing hunger and promoting food security, as part of its broader drive to help alleviate poverty and bolster local economies across the nation.
Kuaishou has donated more than 120,000 nutritious meals to the WFP, supporting the latter's program in Hunan province and the Guangxi Zhuang autonomous region to improve the nutrition conditions of preschool children.
Industry experts said short videos and livestreaming applications have played a vital role in helping people in poor areas gain extra income by creating social e-commerce businesses.
Song Tingting, vice-president of Kuaishou, said the WFP has made tremendous efforts and achievements in targeted poverty alleviation and rural revitalization in China, adding the partners will jointly promote the integration of online public welfare programs with the sustainable development goals of the WFP.
"Empowering residents from some underprivileged regions in China, Kuaishou has launched a series of rural entrepreneurship incubation programs that educate participants on how to set up and run businesses, as well as help rural residents sell locally made products since 2018," said Song.
Kuaishou data showed that more than 25 million people earned income through the platform last year, among which over 6.5 million people were from national-level poor counties.
She added that the number of short videos featuring the lives in the poverty-hit counties uploaded to Kuaishou has surpassed 2.9 billion.
The company rolled out more than 500 livestreaming sessions for poverty alleviation in 2019, promoting the sales of over 100 local agricultural products in about 40 poor counties nationwide and helping more than 180,000 people in rural areas increase their income.
Tan Zhouhai is a Kuaishou user, who preferred recording and uploading videos about local specialties and gourmet items from his hometown, a poor county in Hunan province. So far, he has received 16,000 orders of dried sweet potatoes, dried radish, and tea, as well as helped other rural households increase their income.
China has announced the goal of helping all living under the current poverty line shake off poverty and eliminating absolute poverty by the end of this year.
It is noteworthy that livestreaming continues to drive online shopping in the country and is a key method to promote products and facilitate sales. A number of mayors and county heads have joined live broadcasts on short video platforms to sell local specialties and spur consumption, especially during the peak of the novel coronavirus outbreak.
"The method of publicizing products through short video platforms can greatly solve the lagging sales of agricultural products caused by a lack of resources and channels," said Zhang Xintian, an analyst from market consultancy iResearch.
"At present, short video platforms play an obvious role in attracting more users to e-commerce platforms," Zhang said, adding a platform should build its own e-commerce channel and logistics in the future.