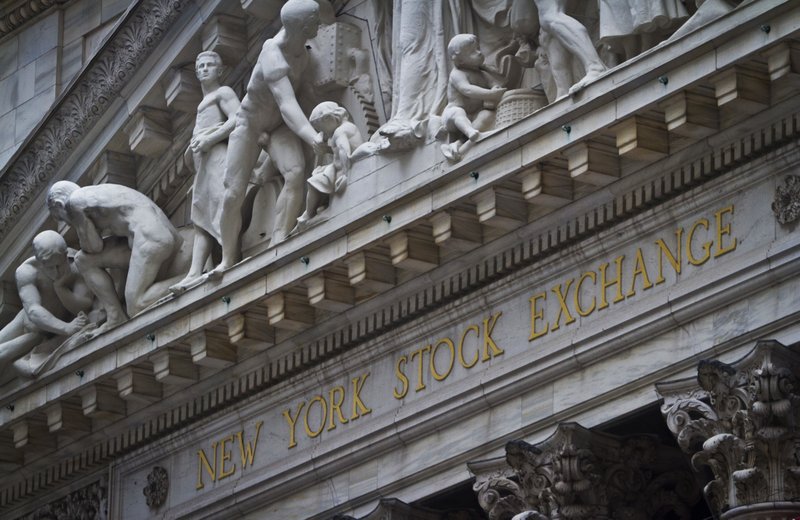 Energy and technology companies are advancing Monday as U.S. stocks continue to rise, and smaller companies reversed some early losses after the Senate reached a short-term deal to end the government shutdown. High-dividend stocks are also up as bond yields hold steady. Yields had climbed to their highest level in more than three years last week.
KEEPING SCORE: The Standard & Poor's 500 index picked up 12 points, or 0.4 percent, to 2,822 as of 2:30 p.m. Eastern time after closing at another all-time high on Friday. The Dow Jones industrial average rose 50 points, or 0.2 percent, to 26,121. The Nasdaq composite added 46 points, or 0.6 percent, to 7,382. The Russell 2000 index of smaller-company stocks gained 2 points, or 0.2 percent, to 1,600.
HEALTH CARE DEALS: Sanofi said it will buy hemophilia treatment maker Bioverativ for $105 a share, a deal the companies valued at $11.6 billion. Bioverativ makes Eloctate and Alprolix, which treat two different types of hemophilia. It's part of Sanofi's growing focus on rare diseases, which can command high prices at a time generic medications for more common ailments are falling.
Bioverativ jumped $39.51, or 61.6 percent, to $103.62 while Sanofi lost $1.51, or 3.4 percent, to $43.09.
Meanwhile Celgene will pay $87 a share, or $9 billion, for Juno Therapeutics. Juno is one of several companies developing CAR-T cancer therapies, which genetically engineer patients' blood cells into "living drugs" that fight cancer. The stock surged last week on reports Celgene might buy the company. On Monday it rose $18.80, or 26.7 percent, to $85.91 while Celgene lost 5 cents to $102.60.
OPEN ... FOR NOW?: Stocks turned a bit higher after Senate Democrats said they will support a bill that would fund the federal government for three weeks. That came after Republican leaders said they will soon address immigration and other contentious political issues. The government shut down after the previous funding bill expired Friday.
The threat of a shutdown has loomed for months and still isn't resolved, but hasn't troubled Wall Street because investors doubt it would have much effect on the market or the economy unless it persists for a long time. Smaller companies, which could be hurt the most by a reduction in consumer spending or confidence, switched from small losses to solid gains.
SHOPPING FOR INSURANCE: Insurer AIG is buying Validus, a provider of reinsurance, primary insurance, and asset management services, for $5.56 billion, or $68 a share. Validus gained $20.64, or 44.2 percent, to $67.36 and AIG slid 61 cents, or 1 percent, to $60.94.
UPS AND DOWNS: Industrial and materials companies missed out on the gains. General Electric fell 17 cents, or 1 percent, to $16.10 and mining company Albemarle slid $2.20, or 1.9 percent, to $113.81. Big technology companies continued to rally. Google's parent company Alphabet gained $17, or 1.5 percent, to $1,160.50 while Microsoft added $1.02, or 1.1 percent, to $91.02.
COPY THAT: Investors Carl Icahn and Darwin Deason are calling for the removal of Xerox CEO Jeffrey Jacobson as the copier company reportedly seeks a deal with camera company Fujifilm. The Wall Street Journal reported last week that the two companies are having talks. Icahn and Deason own 15 percent of Xerox, and they said Monday they don't trust Jacobson to lead the potential negotiations.
Xerox stock rose 63 cents, or 2 percent, to $32.43.
ENERGY: Halliburton climbed after the oil and gas drilling services company posted a bigger adjusted profit and greater revenue than analysts expected. Its stock advanced $3.06, or 5.8 percent, to $56.07. Competitor Schlumberger, which reported better-than-expected results Friday, gained $3.30, or 4.3 percent, to $79.72. That helped energy companies move higher.
Benchmark U.S. crude rose 25 cents to $63.62 a barrel in New York. Brent crude, used to price international oils, added 29 cents to $68.90 a barrel in London.
Wholesale gasoline gained 2 cents to $1.88 a gallon. Heating oil stayed at $2.06 a gallon. Natural gas climbed 4 cents to $3.22 per 1,000 cubic feet.
BONDS: Bond prices gave up an early gain. The yield on the 10-year Treasury note remained at 2.66 percent, a three-year high. The earlier decline in yields led to gains for stocks that pay big dividends, including phone and utility companies. Their large dividend payments make them an alternative to bonds for investors seeking income, and they tend to do better when yields fall.
POWER UP: Utility company FirstEnergy surged after it received a $2.5 billion investment from a group of firms including Paul Singer's Elliott Management. Those investors will get $1.62 billion in convertible stock and $850 million in common stock, and FirstEnergy said the funds will help the company pack back debt and contribute to its pension fund as it converts to a fully-regulated utility.
Its stock climbed $3.50, or 11.9 percent, to $32.90.
CURRENCIES: The dollar rose to 111.10 yen from 110.60 yen from 110.98 yen. The euro edged up to $1.2252 from $1.2234.
METALS: Gold slipped $1.20 to $1,331.90 an ounce. Silver lost 5 cents to $16.99 an ounce. Copper gained 1 cent to $3.20 a pound.
OVERSEAS: The French CAC 40 added 0.3 percent and Germany's DAX edged up 0.2 percent. In Britain the FTSE 100 lost 0.2 percent. Tokyo's Nikkei 225 rose less than 0.1 percent and Hong Kong's Hang Seng advanced 0.4 percent. The Kospi in South Korea lost 0.7 percent.