Wall Street English plans to expand services, learning centers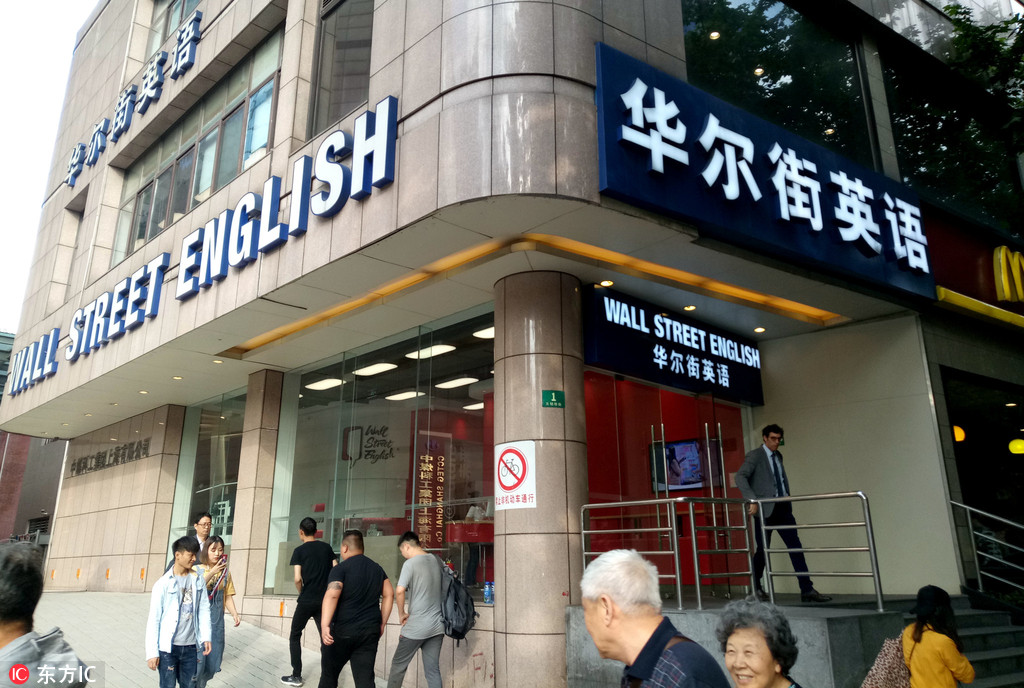 A view of a branch of Wall Street English, a global English-language training center for adults, in Shanghai, May 9,2018. (Photo: IC)
Wall Street English, a global English language training network for adults, plans to expand its product lines and open 40 new learning centers in the next four years in China as it moves into second- and third-tier cities, boosted by an affluent middle-income group.
In March, Pearson's sale of Wall Street English for $300 million to funds affiliated with Baring Private Equity Asia and CITIC Capital Holdings Ltd was agreed.
WSE has more than 400 centers and 2 million students in 26 countries. The new shareholders said earlier that they will support WSE's expansion in existing growth markets including China and new markets globally through franchise expansion. David Kedwards, global CEO of Wall Street English, said the company will open 84 new centers in 19 regions worldwide in the next five years.
Currently WSE runs 75 directly owned centers in 11 cities in the country including Beijing, Shanghai, Shenzhen in Guangdong province and Nanjing in Jiangsu province, offering courses for more than 200,000 students. Paul Blackstone, CEO of Wall Street English China, said to further accelerate its growth, the company is considering a number of different expansion models from company owned to partnerships and also digital expansion.
Meanwhile, the new investment and change of ownership will support more digital development of products and marketing. CITIC Capital, which has investment from Tencent, will provide networks and resources from the technology giant in China, according to Blackstone.
In recent years, investment has poured into online English learning for children, stimulating the strong growth of brands such as VIPKID. The convenience of online learning and quality of native English teachers has attracted students and parents. For example, the fiscal year report ended on Dec 31, 2017 for China Online Education Group, widely known in China as 51Talk, shows that kindergarten to 12th grade students provided 74.6 percent of total revenue, up from 55.4 percent in 2016.
Facing direct challenges from online learning entities, WSE executives insist it is necessary to combine brick-and-mortar classrooms with digital learning as adult learning relies mostly on self motivation, resulting in a high dropout rate during the online learning process.
"Many adult learners using online platforms find it hard to continue their courses due to their busy work and life schedules," Blackstone said. The rate of those continuing to study through a combination of online and offline learning has reached 70 percent and the course completion rate is 65 percent.
Jiao Yan, managing director of BPEA, said on May 16 that their confidence in WSE comes from the rising demand from urban Chinese. Jiao said the frequency of English being spoken during daily work had risen from 70 percent to 90 percent based on a BPEA survey. More than 70 percent of those surveyed said their preferred method for learning English was offline learning.