AT&T court fight with US Justice Department heads into closing arguments
Lawyers for the US Justice Department and AT&T will give closing arguments on Monday in a trial to determine if the wireless giant, owner of pay TV provider DirecTV, will be allowed to buy movie and TV show maker Time Warner.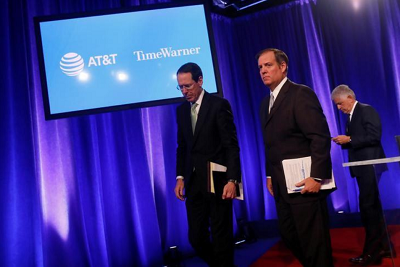 Chief Executive Officer of AT&T Randall Stephenson (L) walks off the stage with David McAtee (C), SEVP and General Counsel for AT&T, and Daniel Petrocelli (R), counsel from O'Melveny & Myers LLP., after a press conference in New York City, New York, US November 20, 2017. (Photos: Reuters)
The Justice Department sued to block the $85 billion deal, saying it would lead to higher prices for rival pay TV companies.
The government has argued that AT&T viewed the merger as a way to convince viewers to stick with pay TV instead of moving to cheaper online providers, at one point quoting from a report in which an AT&T executive said that buying Time Warner would allow AT&T to slow the decline of pay TV subscriptions, which was described as a "cash cow."
AT&T's satellite television service DirecTV lost 187,000 traditional US video customers in the first quarter of 2018.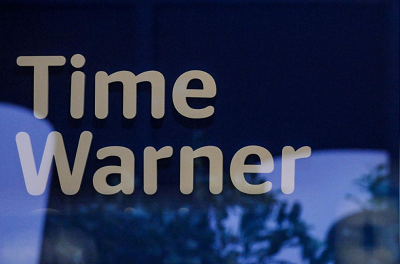 A Time Warner logo is seen at a Time Warner store in New York City, October 23, 2016.
The judge's decision, which is expected in several weeks, will guide dealmakers on how aggressive they can be in buying suppliers, what is known among antitrust people as a vertical merger. Until this tie-up, vertical deals were largely considered approvable by regulators.
Two key witnesses at the trial were AT&T Chief Executive Randall Stephenson and Time Warner CEO Jeff Bewkes, who is retiring if the transaction goes through.
The two executives argued that marrying AT&T's granular information about customers with Time Warner's ability to create compelling video would allow them to advertise more effectively, giving the merged company a fighting chance to compete with internet advertising titans like Facebook and Google.
They also denied as "ridiculous" and "absurd" the notion AT&T would be reluctant to license Time Warner content like CNN or March Madness basketball to other pay TV rivals or to cheaper online video companies — a key government argument.
In hopes of preventing a court fight, AT&T proposed that for seven years it would submit to third-party arbitration any disagreement with distributors over the pricing for Time Warner's networks and promise not to black out programming during arbitration.
But smaller pay TV rivals called as government witnesses argued that this was inadequate. Warren Schlichting, group president of Dish Network's Sling TV, argued AT&T's offer was inadequate because it was limited to 7 years and HBO is not part of the proposal.