China vows to implement G20 African debt relief initiative: FM
Global Times
1602502065000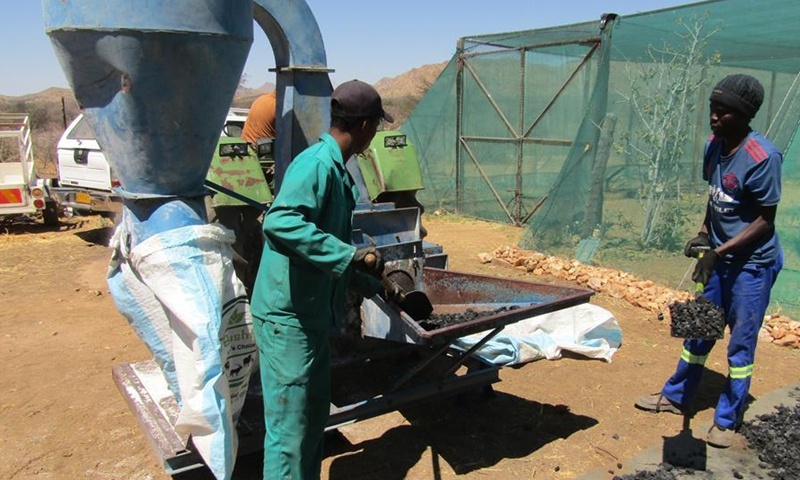 Farm workers use a grinder to process the biochar at a farm 40 km from Windhoek, capital of Namibia, on Oct. 8, 2020. (Photo: Xinhua)
China attaches great importance to African debt relief and is committed to implementation of the debt service suspension initiative from G20 countries, Chinese Foreign Ministry spokesperson Zhao Lijian said in Beijing on Monday.
China's aid and investments in Africa is by no means a "debt trap" as some politicians in the West are accusing it of being, Zhao said.
"As an official bilateral creditor, the Export-Import Bank of China has signed debt relief agreements with 11 African countries. Other unofficial creditors have also reached debt relief agreements with some African countries under the G20 debt relief initiative," he said.
In addition, China will exempt 15 African countries from interest free loans due by the end of 2020, and continue to work with the international community, especially other G20 members, to further extend the debt relief period, he added.
Zhao pointed out that China has held an open and inclusive attitude when aiding African countries, with no intention to interfere in their internal affairs. There are no political strings attached, which has been a principle of China since the beginning when investing in Africa, he said.
Instead, several other countries have been the ones to set high standards and thresholds as part of their budget support so as to "reform" Africa, a move which has been widely condemned by African countries, he said.
China will continue strengthening communication and coordination with African countries, and solve the debt burden through friendly consultation, Zhao said.