More efficient, reduced coal use key in the fight against pollution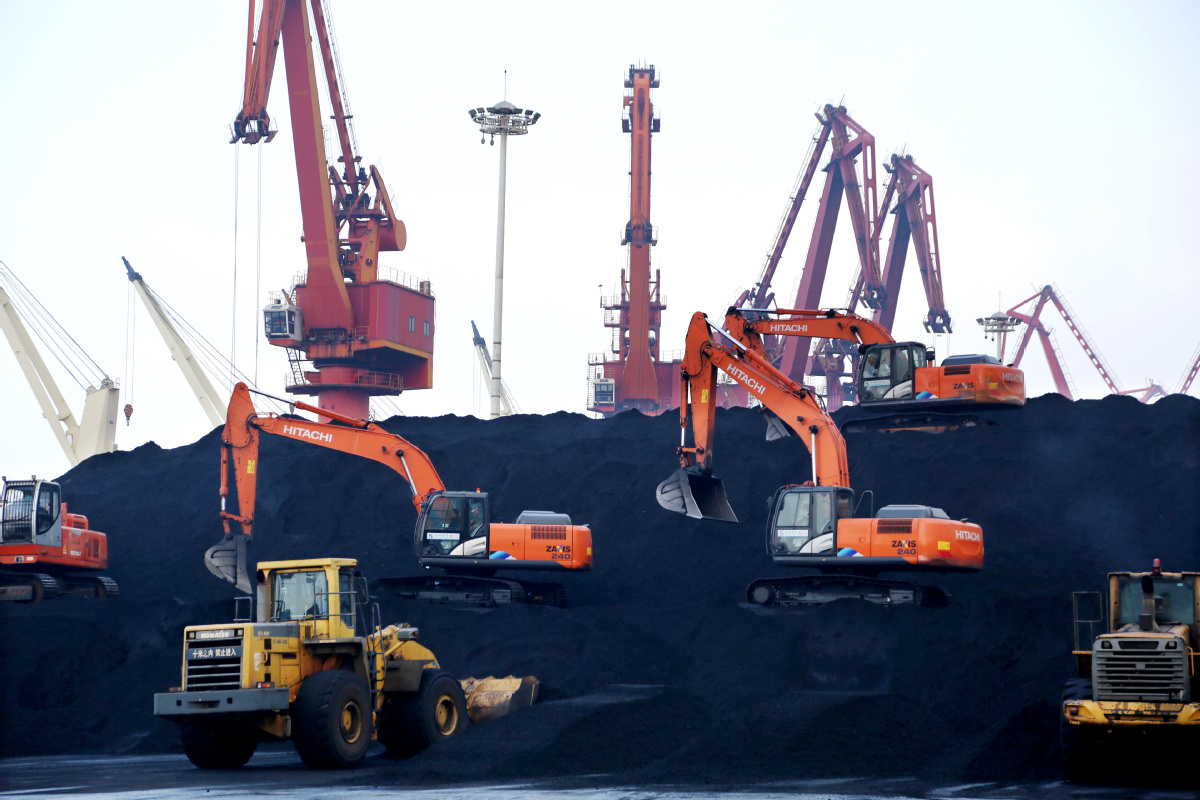 China has made impressive achievements in cutting small-scale coal burning to protect the environment during the 13th Five-Year Plan (2016-20) thanks to effective and precise policy measures and generous financial support, according to a recent report issued by the Natural Resources Defense Council, a nonprofit environmental organization.
China is expected to cut more than 200 million metric tons of "dispersed coal", or small-scale coal burning in households or businesses, in its energy mix during the 13th Five-Year Plan period, and the use of clean energy for heating in North China will increase exponentially with air quality significantly improved, the report said.
The report estimated China had cut dispersed burning of 49.38 million tons of coal in 2019, among which about half was from household use, up 22 percentage points from 2018.
In 2019, as trimming of dispersed coal burning in households continued, the number of pilot cities for clean-energy heating expanded to 43 with the adoption of more suitable technologies. By April, about 26.77 million households had switched to clean energy for heating.
About 55 percent of household heating facilities in North China used clean energy last year, and in the 28 key cities identified as atmospheric air pollution transmission channels in the area, the figure was as high as 75 percent. These key cities include Beijing, Tianjin, and Shijiazhuang, Hebei province.
A total of 8.22 million households upgraded their heating facilities to use clean energy in the key area last year, among which Hebei and Henan provinces each had more than 2 million households' heating facilities upgraded.
As for industrial use, national control of dispersed coal in factories started taking place deep in non-key regions, as strict policy measures had already been rolled out in key regions that accounted for a large amount of small coal-burning-related pollution, according to the report.
The report cited official data to conclude that China shut down at least 8,519 small-scale coal-fired boilers last year, while Sichuan, Heilongjiang and Shanxi provinces-as well as the Inner Mongolia autonomous region-contributed to about 70 percent of the national total.
"China is united and determined to improve air quality and protect the environment," said Jiang Yi, a professor at Tsinghua University and an academician at the Chinese Academy of Engineering.
Citing results of a government-led three-year investigation into the causes of, and solutions for, heavy air pollution in the Beijing-Tianjin-Hebei region, Jiang said clusters of heavy chemical plants, heavy reliance on coal burning for energy and on road vehicles for freight transport, are the major reasons for frequent heavy air pollution in the region and neighboring areas.
"Analysis of PM2.5 components in the winters of 2018 and 2019 showed small-scale coal burning and diesel vehicles were the major sources of heavy pollution in the Beijing-Tianjin-Hebei region," he said, adding that small-scale coal burning produced about 53 percent of PM2.5 emissions in the region, which indicated the priority of tackling pollution.
Jiang said the nation should further cap small-scale coal burning through strict controls over raw coal entering the market.
He also advocated replacement of coal by clean energies such as renewables and natural gas, while promoting cleaner and more efficient use of coal.
It is important to curtail outdated coal production capacity while adopting measures such as raising industry entry criteria and utilization of energy-saving technologies to cap coal consumption, Jiang said.
According to the report, the average density of the hazardous fine particle matter PM2.5 among the first batch of pilot cities for clean energy heating in North China-which includes Tianjin, Shijiazhuang and Shanxi province's Taiyuan-dropped 36.4 percent to 69.7 micrograms per cubic meter in 2019, from 109.5 micrograms per cu m in 2016.
As for the second batch of the pilot cities, including Shaanxi province's capital Xi'an, Linfen in Shanxi province and Zibo in Shandong province, the average PM2.5 density declined by 11.4 percent from 80.6 micrograms per cu m in 2017, to 71.4 micrograms per cu m in 2019.
For the third batch of pilot cities including Sanmenxia in Henan province and Weinan in Shaanxi province, the average readings were, respectively, 85 micrograms per cu m in 2018 and 73.25 micrograms per cu m in 2019, decreasing 13.8 percent.
Yang Fuqiang, a senior adviser at the organization, also suggested higher and more efficient utilization of renewables to reduce coal consumption.
It is also important to improve electricity and natural gas infrastructure, promote energy-saving technologies and reduce clean energy costs for heating to prevent a relapse in small-scale coal burning, he said.