Nation's artificial intelligence boom to open new vistas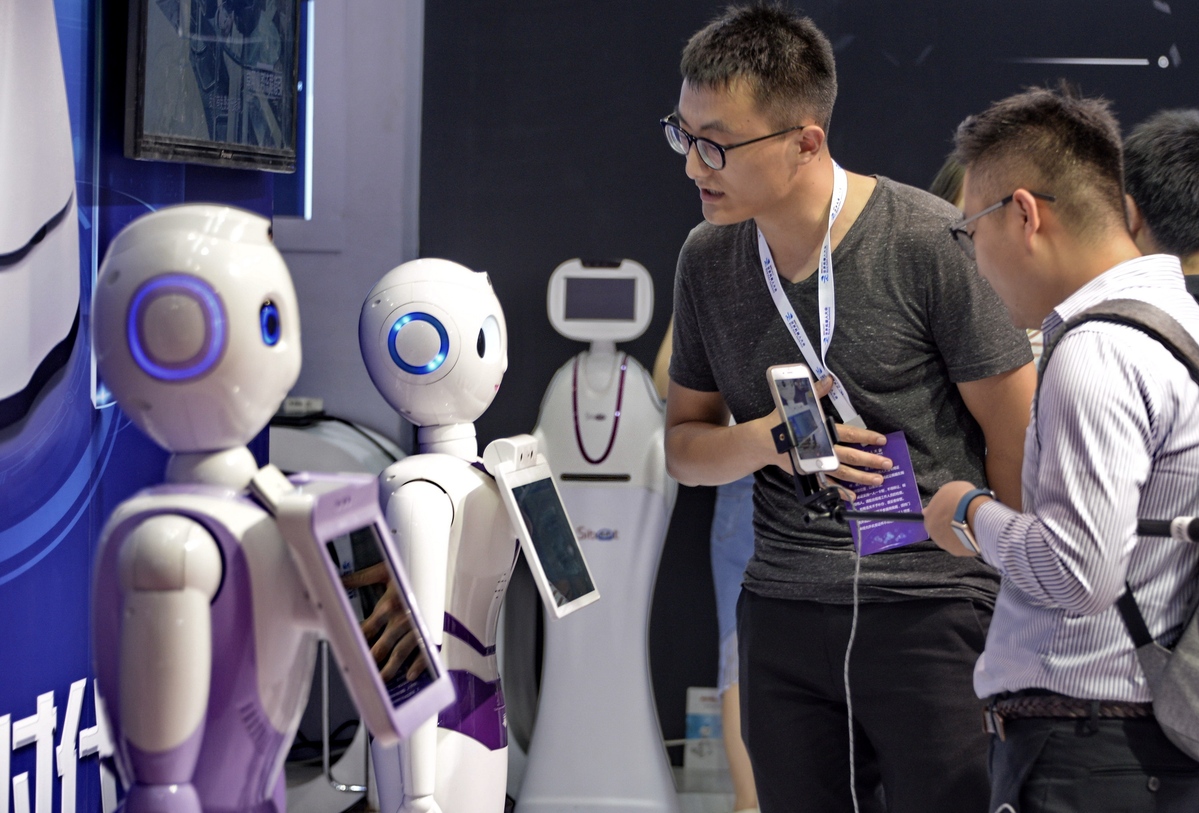 Multi-functional robots developed by iFlytek Co Ltd are displayed at the 2017 World Robot Conference in Beijing. (Photo: Xinhua)
Machines that can impeccably synthesize the human voice, assist judges in sentencing, and tell customers whether a dress is a good fit, were displayed at the second World Intelligence Congress in Tianjin last week.
Riding the global wave of artificial intelligence, China aims to improve productivity and inject new momentum into its economy by encouraging more businesses to tap into the fledging industry.
By June 2017, about one-fourth of the world's 2,542 AI companies were present in China, where around 15,700 AI-related patents were filed, ranking it No 2 after the United States, according to the China Internet Network Information Center.
"China should seize the opportunities to boost innovation in deep learning, smart algorithms and chips, and modernize industries with AI technologies," Lin Nianxiu, deputy head of the National Development and Reform Commission, said at the congress held from May 16 to 18.
Last July, the State Council issued a plan for new-generation AI technology development, pledging to make the industry a major new growth engine and improve people's lives by 2020, and to make the country the world leader for AI innovation by 2030.
China's AI industry output last year was 18 billion yuan ($2.82 billion) and the value of related industries reached 220 billion yuan, according to the Ministry of Industry and Information Technology.
Big-name Chinese high-tech companies are investing heavily in AI innovation, with Baidu investing in automated driving, Alibaba in smart cities, Tencent in medicine and health, and iFlytek in intelligent speech tech. Still, China lags behind developed countries in AI theory, algorithms, materials, core components and personnel. Most existing Chinese AI companies were founded between 2010 and 2016 amid intense policy incentives.
To catch up with the global AI leaders, 27 provincial-level regions in the country have announced plans to build AI industrial parks, while 18 regions have introduced new policies to promote AI-related industries.
Wan Gang, chairman of the China Association for Science and Technology and former minister of science and technology, said Chinese companies are quite competitive in image recognition, voice translation and behavioral analysis, with remarkable achievements in intelligent robotics, automated shops, machine translation, and shared and driverless vehicles.
AI technologies are now widely applied in China in the fields of city planning, smart transportation, social governance, healthcare, agriculture and national security.
Ludovic Bodin, a French entrepreneur, plans to set up a $1 billion fund to finance AI joint ventures between France and China. He also seeks to invest directly in firms either in France or China, particularly in the areas of healthcare, transportation and environmental protection.
"Artificial intelligence was a big priority when French President Emmanuel Macron visited China in January. China has critical competitive advantages in AI. Its largest data sets, policy push and education reform are key advantages, while France harbors top-ranked talent in AI, and aims to boost the sector and lead European development in AI," Bodin said.
Chinese entrepreneurs share his ambitions. Liu Qiangdong, founder of e-commerce giant JD, announced at the congress that the company would renovate 800 logistics centers in China with AI technologies in the next five years.
"We look to establish an intelligent system covering storage, delivery vehicles, distribution stations and customers. In the future, courier boys will become white collar workers who sit in the office and monitor machines that do the manual jobs for them," Liu said.
Meanwhile, iFlytek said its machine translation capability by 2019 is expected to match that of a college graduate majoring in English.
"The latest machine can translate Chinese into 33 other languages. It also works well for different Chinese dialects," said Liu Qingfeng, chairman of iFlytek.
By 2030, AI is expected to generate $16 trillion for the world economy, according to Indrajit Banerjee, an official with the UNESCO Communication and Information Sector.
"Chinese companies are very active in developing AI technology and application. They have achieved phenomenal progress in a very short span of time. Their contribution to AI will be tremendous," he said.
To boost the development of intelligent technologies, experts and entrepreneurs agree that it is critical for countries to nurture more talented workers.
"China has advantages in the speed of AI development and its wide application, but its weak points are the depth of basic research and originality," Wan said.
"Demand for AI talent is extremely high now, and that happens to be our weak point as well. Talent is a key element in developing the industry," he said.
About one-fourth of AI technologies used in China come from abroad, according to Gong Ke, executive president of the Chinese Institute of New Generation Artificial Intelligence Development Strategies.
"Software and hardware are developed by firms such as Nvidia and IBM. I hope Chinese companies will also be suppliers in the future," Gong said.
"Innovation is going faster and faster. If education cannot keep up, we will not have the next generation of talent ready for the new skills. AI started at the top universities and now it has to go down," he said.
In April, AI coursebooks were introduced into the curriculum in 40 high schools in China.