Oracle closes China R&D center; observers cite political factors
Global Times
1557271129000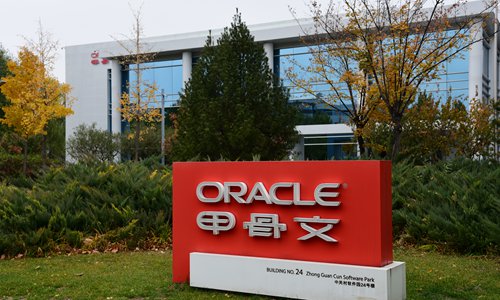 Oracle office in Beijing. (Photo: IC)
US technology company Oracle Corp on Tuesday confirmed it would lay off nearly 1,000 employees after reportedly closing its research and development (R&D) center in China, said media reports.

Analysts said the increased costs of talent and rising competition from local technology companies have made it hard for Oracle to thrive in the Chinese market.

Others, however, speculated that there might be political reasons for the layoffs amid the ongoing China-US trade war and the increasing pressure the US has imposed on China's technology sector, which can be seen in its block of Huawei.

"The R&D center is gone as of Tuesday," an Oracle R&D employee based in Beijing who preferred to be anonymous confirmed to the Global Times on Tuesday.

"The company promised to offer compensation of salaries using the formula of N+6," he said.

Oracle cannot be reached for comment by the Global Times as of press time.

The company is adjusting its business structure, prompting some employees to leave, and the situation is global, its human resources head for the Asia-Pacific region told a conference call on Tuesday morning, according to a report by news site 21jingji.com. The person's name was not disclosed in the report.

This time Oracle will mainly lay off employees from its China R&D Center (CDC), which has operated for about 20 years, and the first batch will involve more than 900 people, the report said. Among those, more than 500 employees will come from the R&D center in Beijing.

The CDC has about 1,600 employees and the cut will account for nearly 60 percent.

The second batch of layoffs is likely to happen in July, the report said.

Oracle has 14 branches, five R&D centers and nearly 5,000 employees in China. Its R&D centers are responsible for businesses including cloud development, Linux, Oracle Spatial and virtualization technology, according to a report by qq.com in April.

The increased cost of talent and rising local competition meant that it was hard for Oracle, which came to China more than 30 years ago, to thrive in the market, said Wang Danqing, a partner with Beijing-based ACME consultancy.

Local employers like Huawei, Baidu, Alibaba and Tencent are more and more the first choices of Chinese employees, Wang told the Global Times on Tuesday. "Therefore, the value and outcomes of Oracle's R&D center fell short of its expectations."

According to industry data released by consultancy Gartner in August 2018, Amazon accounted for 51.8 percent of the cloud computing market, followed by Microsoft with 13.3 percent, Alibaba with 4.6 percent and Google with 3.3 percent. Oracle didn't make the top five.

Industry insiders also said that the layoff, to some extent, involved some political factors.

In a short video viewed by the Global Times on Tuesday, Oracle employees held banners, which bore such slogans as "Firmly oppose Oracle's political layoffs," "Leave politics out of technology," "We want jobs as our children are going to school. Why is [Oracle] so cruel to us?" and "High profit, why lay off?"

Wang said that because US President Donald Trump is trying to bring manufacturing jobs back to home, more and more cross-border R&D centers of US enterprises are flowing back to the US due to the fear of the possible "loss of technology."

Indeed, the US does not want China to compete with it in advanced manufacturing and high technology, a Beijing-based industry analyst named Liu Dingding told the Global Times on Tuesday.

It seems that the trade tensions between China and the US are also giving the US company an excuse to lay off employees, Liu said.

Those still working for the CDC are responsible for businesses such as database and middleware products, but R&D employees in charge of cloud computing are among the first batch of people to be laid off, the 21jingji.com report said.

The employees included in the layoff list have been told to sign the necessary documents and leave before May 22, according to the report.

There were reports in April that Oracle would close its CDC. In the same month, the company announced 115 openings in China, but most of those were for sales staff, and none for R&D, according to media reports.