Airports in S. China see cargo surge amid bottleneck in Shanghai
Global Times
1650549599000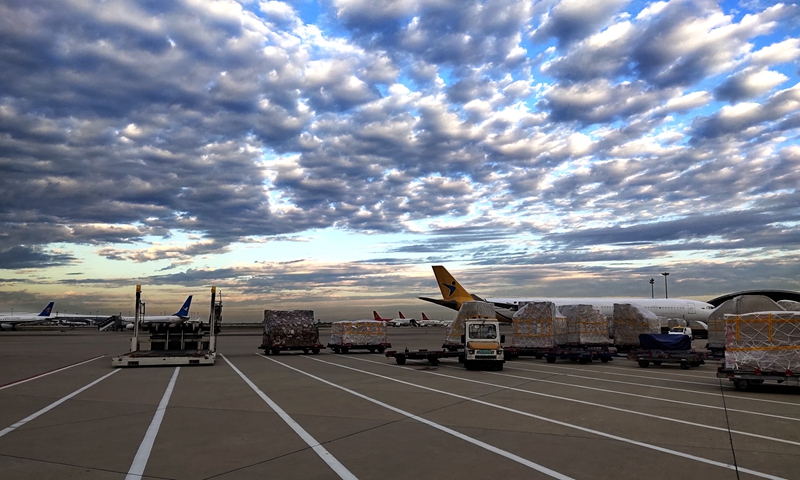 Airports in South China's Guangzhou and Shenzhen are witnessing a surge of cargo, as other airports such as those in Shanghai see their cargo transport fall amid the coronavirus' flare-up.
A staffer from International Cargo Center Shenzhen told the Global Times that it will only accept up to 250 tons of cargo every day from Thursday to April 27, including 125 tons of cold-chain cargo.
"The airport is piled up with goods, and more than 2,000 tons of goods displayed every day and we are hard to find space to put them," the staffer said.
On Tuesday and Wednesday, the cargo service station in Shenzhen airport said that it had limited ability to accept and process more cargo.
It told airlines that it will calculate how much it can accept based on first-quarter volumes of various categories. It will not accept bulk cargo or goods destined for Shanghai Pudong International Airport.
It also said it's taking measures to cope with the situation, such as transferring goods to the Qianhai cargo terminal, increasing staff and temporarily opening the inventory yard.
China Southern Airlines told the Global Times that its logistical base at the Baiyun international airport in Guangzhou, South China's Guangdong Province, is also dealing with cargo backlogs.
From April 1 to Saturday, the base handled 32,200 tons of inbound cargo, a year-on-year increase of 65 percent. On Saturday alone, the single-day inbound and outbound cargo volume reached a record high of 2,467 tons, the carrier said.
The carrier said the surge in Guangzhou reflects a large volume of international goods being transferred to Guangzhou port through land and air combined transportation, and there are obstructions during the process.
Sources at the carrier told the Global Times that the problem is partly due to the outbreaks in Hong Kong and Shanghai.
The carrier said the cargo center is open 24/7, which has "never been seen in peak season."
The carrier said it transferred seven cargo planes from Shanghai Pudong International Airport, increasing the frequency of routes from Guangzhou to Europe and the US, and from Shenzhen to Chicago. It is also adding new freighter routes from Guangzhou to Australia and Guangzhou to Vietnam.
By coordinating and using its own fleet, export operations at DHL Express Guangzhou and Shenzhen gateways remain normal, DHL told the Global Times on Wednesday.
Due to limited road transportation, the delivery of imported goods at Shanghai Pudong International Airport has faced major challenges. But the Shanghai airport is trying to improve the handling capacity.
The current daily cargo volume at Pudong airport is about 2,000 tons, compared with 500 tons in early April, industry news portal caancnews.com reported on Wednesday.
Shanghai Airport Group is making every effort to ensure normal operations and the stability of global supply chains, the report said.