Foreign trade efforts set to be stepped up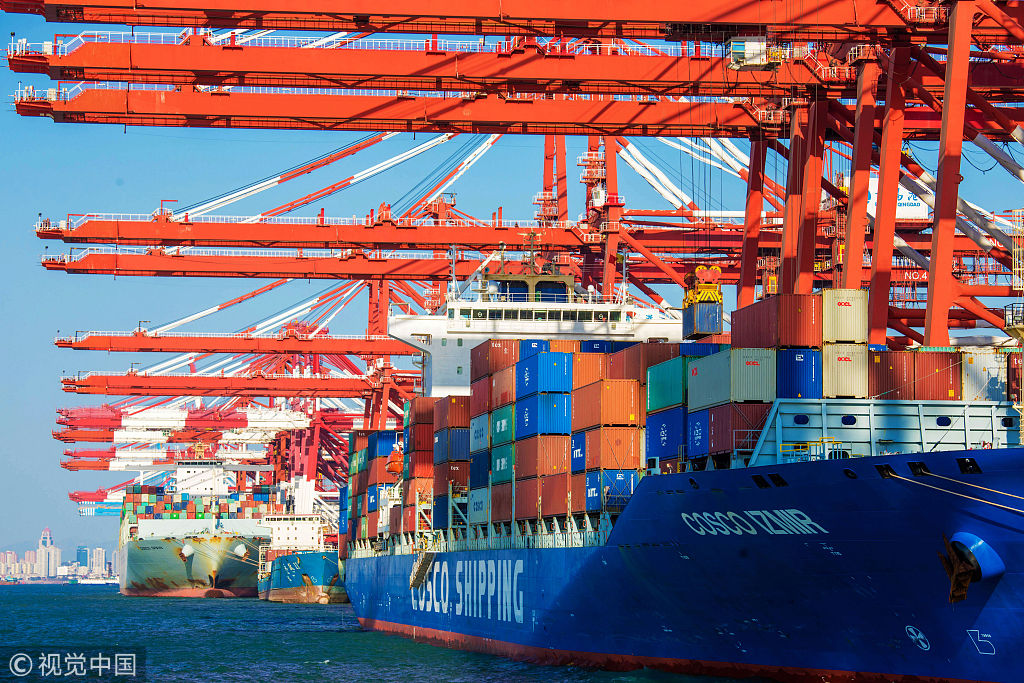 Containers carrying goods for export are seen in Qingdao Port, East China's Shandong province, on Oct 19, 2018. (Photo: VCG)
China has reiterated confidence in its efforts to ensure stable growth in foreign trade with a high quality focus and achieve total trade volume of 30 trillion yuan ($4.26 trillion) by the end of this year, the Ministry of Commerce said on Monday.

Li Xingqian, head of the Department of Foreign Investment Administration at the ministry, said during a media briefing that the country's foreign trade volume has achieved stable growth despite trade uncertainties.
"From January to November, China's foreign trade volume totaled 28.5 trillion yuan, up 2.4 percent on an annualized basis. In addition, China's exports grew at a quicker pace than most of the other major global economies," he said.
Data from the General Administration of Customs showed that in 2018, the total volume of China's imports and exports stood at 30.51 trillion yuan, 9.7 percent higher than the level in 2017.
Li said that to maintain stable and high quality development of foreign trade, the ministry will take more steps to boost imports. It will continue to lower tariffs and institutional costs to unlock the import potential and also normalize the organization of the China International Import Expo.
"The preparation work for the third CIIE in 2020 is under way," Li said.
"Trade facilitation should be enhanced. In addition, a batch of import trade demonstration zones will be cultivated, and platforms to promote innovation in imports will be set up," Li said.
Zhao Ping, director of the international trade research department at the China Council for the Promotion of International Trade Academy, said: "China's initiative to expand imports is not only an important step to promote the balanced development of foreign trade, but also an inevitable requirement to promote industrial upgrading, meet the needs of people, achieve high quality economic development, and promote economic rebalancing."
She said that import has a consumption demonstration effect and helps cultivate the consumption market, which in turn is conducive to industrial growth. Expanding the imports of special high-quality products and high-tech products that are not available in the country will not only meet the immediate demands of consumers, but form an obvious demonstrative effect on other consumers, creating greater market demand, which will lay a foundation for the development and growth of the industry.
Ren Hongbin, China's assistant minister of commerce, said that another important aspect to promote foreign trade is the development of services trade.
"Through the reform and opening-up of the services sector this year, service trade experienced rapid growth, providing new momentum for foreign trade development. From January to October, China's foreign services trade volume grew 2.6 percent year-on-year to 4.4 trillion yuan," Ren said.
He said that in the next step, the ministry will promote pilot projects for innovative services trade development, cultivate new business modes for service trade, and enhance international cooperation in services trade.
In addition, Ren underscored the importance of enhancing the innovative capability of foreign trade. "An innovation-driven development strategy will be an important engine for China's high quality economic development."
Specifically, cross-border e-commerce, market procurement trade, or trade through the procurement in recognized market clusters, as well as innovative development of services trade, are all recommended directions for foreign trade development, he said.
On Nov 28, the country issued a guideline to promote high-quality development of trade with a key focus on forging stable and better-structured trade development. According to the ministry, an action plan for concrete work in this regard is being worked out.
Specific work plans will be introduced to clear the priority and the division of responsibility of relevant departments. The central and local governments will work together to achieve synergy for steady and high-quality development of trade, the ministry said.