China tackles leverage to avoid financial risk
Global Times
1536725792000
Nation has strong economic controls to stabilize system

The financial risks brewing in the Chinese economy will not evolve into systemic problems and the Chinese government is confident it can contain such challenges through its efforts to keep financial stability, experts told the Global Times on Tuesday.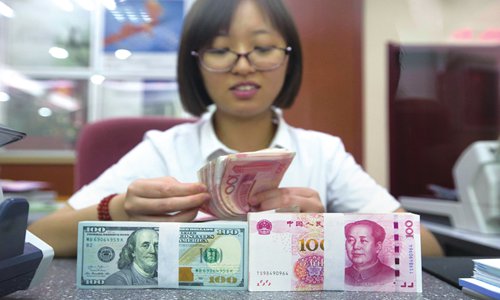 An employee counts banknotes at a bank in Taiyuan, North China's Shanxi Province, on August 2. (File photo: VCG)
"Chinese policymakers have been aware of and have well understood the risks existing in the country's financial sector, and they are stepping up all efforts to roll out measures to tackle those problems and avoid bigger risks," Liu Xuezhi, a senior macroeconomics expert at the Bank of Communications, told the Global Times.
China has vowed to keep financial markets stable and deepen efforts to open up the economy, the Chinese government said in a statement posted on its website on Monday.
The statement came after the third meeting of the Financial Stability Development Committee under the State Council, China's cabinet, was held on Friday.
The committee was set up in November 2017 to oversee China's financial and fiscal policy. After a reform in July, the new committee, headed by Vice Premier Liu He, has been meeting once a month, with the first and second meetings being held in early July and August, respectively.
According to the third meeting, the government should disperse all financial risks, including inventory risks as well as black swan events.
Xi Junyang, a finance professor at the Shanghai University of Finance and Economics, said that the major problems in the Chinese economy are centered around financial innovations such as internet finance, where domestic regulations have lagged behind.
"But these problems or risks could not trigger a systemic financial crisis in China's economy," Xi told the Global Times Tuesday.
"Compared with Western countries that were hit by financial risk ten years ago, China has stronger control over the domestic economy, so our management system could handle emerging risks quite well," Xi said.
However, Xi said that China should prevent these risks from growing.
"China is just like a person who is gaining weight - you cannot simply say that the person is sick," he noted. "What we should do now is to control and restrain the risks from expanding and tackle them one by one in a reasonable and controllable manner."
"Overall, so far Chinese regulators' efforts to resolve financial risks are working in a stable, gradual manner and I think have largely kept the risks in check," Li Daxiao, chief economist at Shenzhen-based Yingda Securities, told the Global Times on Tuesday.
"Chinese regulators have been taking targeted measures in different areas from banking to the stock market to online lending and they have been effective in fighting financial risks, particularly in reducing leverage," Li said.
There is no doubt that Chinese regulators have the tools to keep risks in check, according to Li, the economist.
Liu also noted that the current financial risks in China are mostly those related to the external environment, such as whether the outburst of risks in several emerging markets might extend to China, and whether the stronger US dollar might trigger increasing risks of capital outflows.
"The government is currently taking measures such as controlling cross-border capital flow to control such risks,"Liu told the Global Times on Tuesday.
"I think with care and policy strength, the government will effectively fend off those financial risks," he said.
Liu also stressed that the government's past efforts to stabilize the domestic financial market, such as deleveraging, have been quite effective.