Solar industry fears for thousands of jobs should US impose import restrictions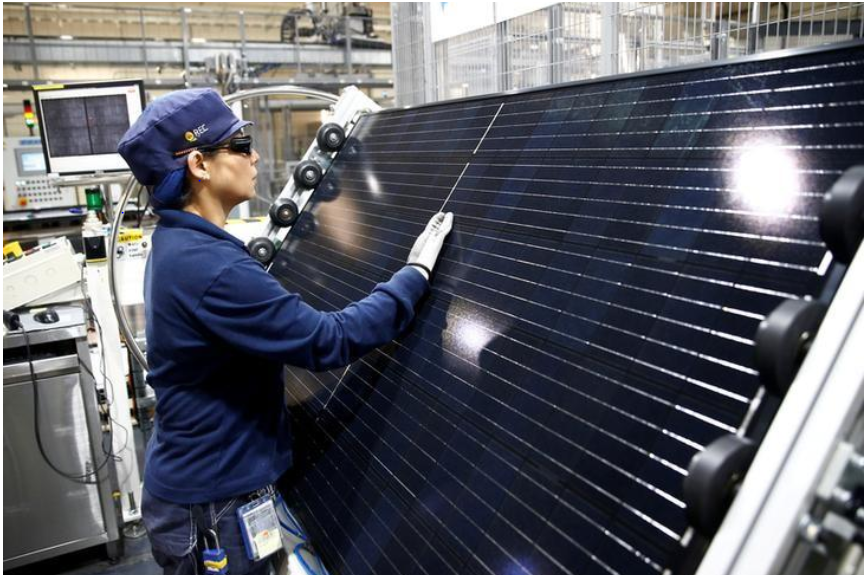 An employee makes a final inspection on panels during a tour of an REC solar panel manufacturing plant in Singapore, May 5, 2017. Photo: REUTERS/Edgar Su
Singapore-headquartered solar panel maker REC hopes to be exempt from potential U.S. restrictions on imports following a recent trade finding that said no significant injury to the United States had been caused by makers including those from Australia, Canada and Singapore.

U.S. President Donald Trump is expected to announce by early next year measures which his administration will take to limit imports after the U.S. International Trade Commission found in September that U.S. panel makers had been harmed by cheap imports.
Many companies have warned that a solar trade dispute involving potential import tariffs between the United States and other countries could cost thousands of jobs and slow down the development of the clean energy technology.
The U.S. International Trade Commission (USITC) in September found injury from imports from several countries with which it has free trade agreements (FTA), including Mexico and South Korea.
However, USITC said that "with respect to other FTA countries" including Canada, Australia or Singapore, there was "not a substantial cause of serious injury".
Still, REC Chief Executive Steve O'Neil said the industry was watching closely.
"We're certainly paying a lot of attention to it. We will know more once the Trump administration makes their final ruling," he told Reuters.
More than 90 percent of the world's solar panel-making capacity is in Asia, with China accounting for 70 percent of the output followed by southeast Asia, O'Neil said.
High costs, the lack of raw materials and infrastructure make it hard for U.S. solar panel producers to compete with those in Asia, forcing several U.S. solar makers into bankruptcy in the past years.
REC was founded in Norway but is headquartered in Singapore and majority-owned by China National Chemical Corp (ChemChina) [CNNCC.UL].
The company has production capacity of 1.5 gigawatts (GW) and sells about half of its panels in the United States, 30 percent to Europe and the rest in Asia.
Despite the concentration in Asia, O'Neil said the global solar market remained fragmented, with hundreds of panel makers competing and no single firm having a market share of more than 8 percent.
"We know consolidation is coming and maturing will happen, but right now, it's still a race for scale, for technology, and to emerge as a winner in the solar-panel manufacturing end of the market."
ooftop solar is growing rapidly thanks to a near 30 percent drop in the cost of solar panels since 2016 and government policies that allow consumers to sell their excess solar power into the grid.
"This year we've tripled our sales in Australia," O'Neil said.
The world is expected to add up to 100 GW of solar power capacity this year that will bring the cumulative installed capacity to 300-350 GW, O'Neil said.
Besides the United States, REC sees India, Europe and Southeast Asia as growing markets to tap, he said.
NEW TECHNOLOGIES
O'Neil said there were several forms of experimental technologies with which the sector hoped to make further inroads.
It also includes finding ways to improve the performance of single panels.
O'Neil said that off-grid solar power as well as hybrid systems, including working together with batteries were "getting some traction."
Solar power is seen to have large potential in regions that are not connected to power grids, such as many of Southeast Asia's remote islands.
So far, most of this back-up has been provided by diesel generators, but thanks to improving technology, batteries are being increasingly used.
"If you replace diesel in an island with a solar system, the payback is astounding," O'Neil said.
REC Solar has also participated in the testing of floating solar PV in Singapore's Tengah reservoir as land-scarce countries explore options to tap on solar power, he said.