Officials disclose that China's real estate bubbling trend has been reversed: report
Global Times
1663980116000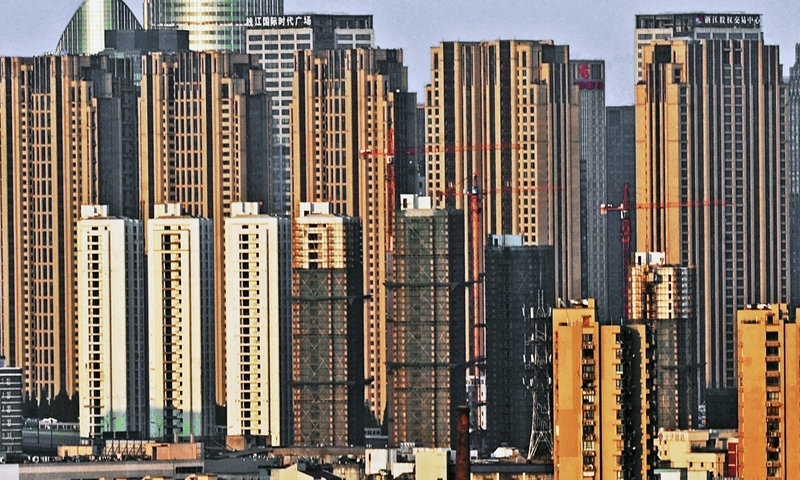 Chinese officials said on Friday that the country's trends of real estate bubbles and financialization have been reversed materially, as efforts are launched to resolve risks in the property sector such as unfinished buildings, according to media reports.

A representative from the China Banking and Insurance Regulatory Commission (CBIRC) said that China will stick to the policy that houses are for living instead of for speculation and continue to improve the long-term mechanism of real estate financial management around the goal of "stabilizing land prices, housing prices and expectations," a report from the Shanghai Securities News showed.
The report also cited the representative as saying that regulators would reasonably meet the financing needs of the property market and prudently handle some of the risks exposed by leading real estate enterprises such as Evergrande.
On the other hand, regulators are taking moves to dissolve existing risks in the real estate sector. According to a report of 21jingji.com, the CBIRC is actively pushing for (companies) to guarantee delivering buildings by directing banks to actively participate in the research on a reasonable solution to capital gap, as well as do a good job in issuing qualified credit.
The CBIRC is also cooperating with other departments to introduce measures in a timely manner, improve the policy toolbox, support the construction and delivery of overdue residential projects through special loans from policy banks to safeguard the legitimate rights of house buyers, the report noted.
Besides, the 21jingji.com revealed that China Development Bank has paid China's first special loan for guaranteeing house delivery to Shenyang of Northeast China's Liaoning Province, marking an important step taken by regulators to help solve real estate loopholes in recent time, according to a report from yicai.com on Friday.
Authorities in China are rolling out methods to guarantee house delivery and prevent house speculation at a time after several issues drew public attention to risks in the real estate sector.
In July, around a dozen homebuyers in China announced that they won't pay their mortgages for apartments that are under construction because the houses are not built according to schedule. The projects are in multiple Chinese provinces including Henan and Jiangsu, according to media reports.
News was also circulating on domestic social media platforms like xiaohongshu.com that some residential projects by Evergrande in Shenyang halted construction in 2021.
Evergrande, once China's top-selling property developer, has been struggling under the weight of more than $300 billion debts. During a recent meeting, Evergrande's chairman Xu Jiayin said the company would strive hard to resume work/production and guarantee delivery of the houses.