China-Laos railway starts recruiting local employees
People's Daily
1590740598000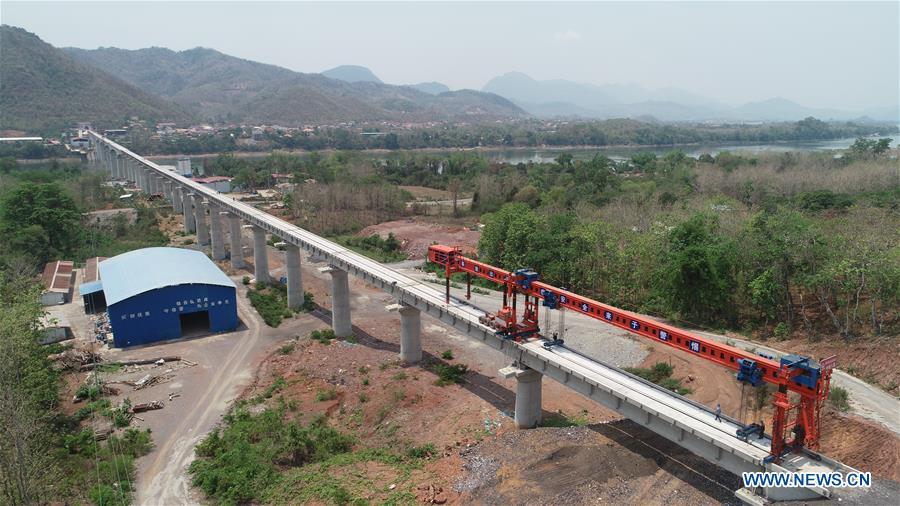 Aerial photo taken on April 23, 2020 shows the construction site of the Luang Prabang cross-Mekong River super major bridge of the China-Laos railway in Laos. (Photo: Xinhua)
The China-Laos railway project has started interviewing local job applicants for future operation since Thursday.
At the Confucius Institute of the National University of Laos in capital Vientiane, 330 Lao young talents attended the interview for the recruitment of trainees for the railway's operation period on Thursday, organized by the Laos-China Railway Co., Ltd.(LCRC), a joint venture based in Vientiane, in charge of the railway's construction and operation.
The LCRC told Xinhua on Friday that, the company will maximize the recruitment of local staff to increase local employment. The company is to recruit over 600 trainees to assume the positions of locomotive drivers, locomotive maintenance personnel, infrastructure maintenance personnel, station attendants and train crews, etc.
After passing the interview, the trainees will receive Chinese language education and professional railway theory training, and will be sent to China's Kunming for on-site practical training and expected to return to Laos in August, 2021 for pre-job skills training to prepare for the opening of the China-Laos Railway in December 2021.
The company has selected 450 from 1,340 Lao candidates for interview at the end of May, with 330 in Vientiane and 120 in Luang Prabang, and plans to recruit 310 of them.
According to Xiao Qianwen, general manager of the Laos-China Railway Co., Ltd., the recruitment and training of Lao employees is a key step for the railway's sustainable development, which has been attached great importance by the Lao government and the company.
Xiao also said, by now, the construction of the railway project is steadily advancing, shifting from offline civil engineering to online engineering and station building; by the end of 2020, the company will gradually switch from engineering construction to operation management. The recruitment of the Lao employees is laying a sound foundation for the coming operation period.
The China-Laos Railway is a strategic docking project between the China-proposed Belt and Road Initiative and Laos' strategy to convert from a landlocked country to a land-linked hub.
The 414-km railway, with 198-km tunnels and 62-km bridges, will run from Boten border gate in northern Laos, bordering China, to Vientiane with an operating speed of 160 km per hour.
The electrified passenger and cargo railway is built with the full application of Chinese management and technical standards.
The project started in December 2016 and is scheduled to be completed and open to traffic in December 2021.