Continued IPO boom underpins HK's financial strength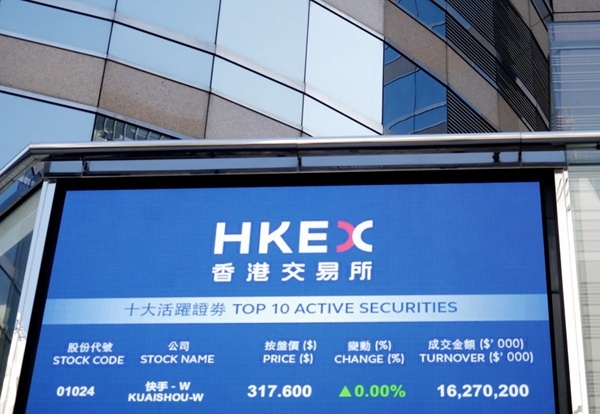 With the debut of Baidu Inc. on Tuesday, Hong Kong's fund-raising market has appeared to maintain its momentum over recent months and will likely climb to a new height this year, further proof of the strength of the financial hub despite global volatility.

The mainland search engine company started trading on Hong Kong market Tuesday in an initial public offering (IPO) worth 23.68 billion Hong Kong dollars (about $3 billion). The proceeds will be used for investment in technology and its mobile ecosystem, among others, according to its prospectus.
Baidu, first going public in Nasdaq in 2005, came as the latest U.S.-listed mainland business to complete a secondary listing here, adding to evidence that Hong Kong's IPO boom since 2020 has continued.
Altogether 154 businesses listed in Hong Kong last year with combined fund-raising of 397.5 billion Hong Kong dollars, the highest since 2010, making Hong Kong the world's second-largest fund-raising market only after Nasdaq.
The trend has continued this year. In the first two months of 2021, 21 businesses debut on Hong Kong market.
The public offering of video-sharing app Kuaishou Technology, which started trading in early February, was oversubscribed more than 1,200 times by local retail investors, locking up a record amount of capital of more than 1.2 trillion Hong Kong dollars.
"As many widely-watched businesses keep coming to Hong Kong, in particular those in the new economy that are highly attractive to various types of investors, there has been more and more energy brought to the capital market here," Wang Lei, chief executive of Huatai Financial Holdings (Hong Kong) Ltd., said.
Mainland businesses and capital played a major role in driving Hong Kong's fervent IPO deals.
In 2020, more than 70 percent of listings were made by mainland companies, and the southbound capital reached a record high of 670 billion Hong Kong dollars, exceeding the previous three years combined. On Jan. 19, 2021, the capital inflow recorded 26.6 billion Hong Kong dollars, the highest for a single trading day.
"The strong performance in the securities market and continued inflow of capital are testimony to the fact that the city's competitiveness and resilience in the financial markets has only gone from strength to strength," said Christopher Hui, Secretary for Financial Services and Treasury of the Hong Kong Special Administrative Region (HKSAR) government.
Analysts predict that Hong Kong's IPO market will remain strong in the rest of the year driven by new economy upstarts and U.S.-listed mainland businesses.
Deloitte China forecast that IPOs will top 400 billion Hong Kong dollars this year and there will be some 130 new listings, and auditor PricewaterhouseCoopers (PwC) believes that the financial hub will hopefully once again become the largest IPO fund-raising center globally.
Looking at the big picture, chief executive of the Hong Kong Monetary Authority Eddie Yue pointed out that Hong Kong's financial sector will embrace more opportunities from the deepening reform and opening-up of the country in the future.
During the just-concluded sessions of the national legislature and political advisory body, China adopted the Outline of the 14th Five-Year Plan (2021-2025) for National Economic and Social Development and the Long-Range Objectives Through the Year 2035. Improving financial connectivity between the mainland and Hong Kong is included in the document.
As part of the effort to forge closer financial ties, the launch of two landmark programs, namely the southbound trading of Bond Connect and the wealth management connect in the Guangdong-Hong Kong-Macao Greater Bay Area, are under preparation, Yue said.
The southbound Bond Connect will create a new channel for mainland investors and attract more financial institutions to Hong Kong's bond market, he added.
Various programs to improve mainland-Hong Kong financial integration will bolster Hong Kong's financial development, Hui said, stressing that Hong Kong as one of the freest economies will continue to welcome businesses and investors from all over the world.