US pressure limited on China's trade, foreign investment: commerce official
People's Daily app
1559374814000
The US attempt to stifle Chinese exports and tech firms will only cause minor harm to China's trade and foreign investment, a senior commerce official told Chinese state media in an interview.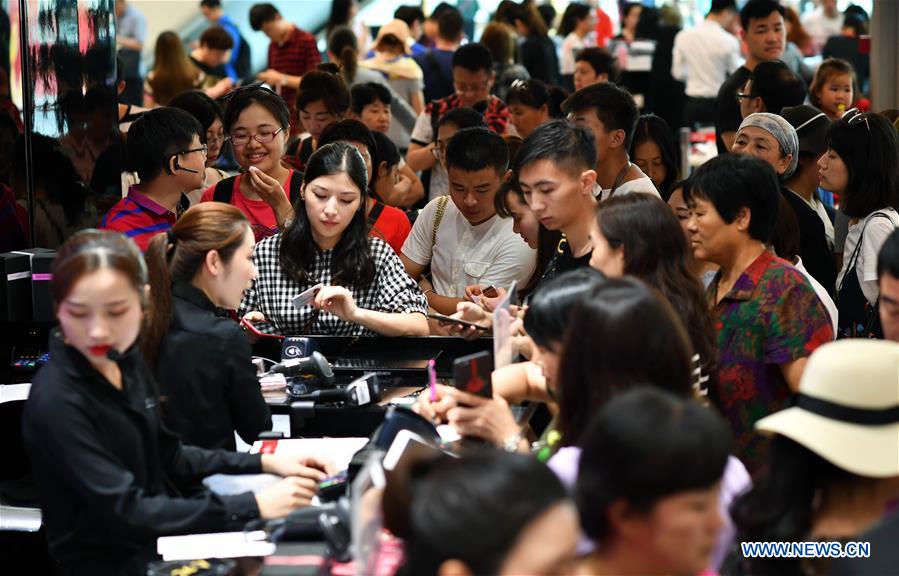 Tourists visit a duty free shop in Sanya, south China's Hainan Province, Feb. 18, 2018. (File photo: Xinhua)
In the interview published in Saturday's People's Daily, Wang Shouwen, vice minister of China's Commerce Ministry, said the United States remains an important export destination for China but its importance is waning.

"US market only takes 16 percent of China's overall exports, sliding from 22 percent 10 years ago," said Wang, who was a key negotiator in China's trade talks with the US.

On the contrary, 28.3 percent of Chinese goods were shipped to countries participating in the Belt and Road Initiative in 2018, and 35.5 percent to China's free trade partners. Emerging markets, which received 46 percent of China's total exports in 2018, are playing a more important role.

Wang said Chinese trade is still robust and resilient. It has been reinforced by stimulus including tax cuts and less red tape for corporates, particularly in the private sector.

China will continue to explore ways to expand trade in goods and services, paying more attention to the free trade pilot zones at home and free trade agreements, Wang told reporters.

Washington intends to weaken China's economy as it tightens the shackles on US firms doing business both in and with China. Wang believes the impact on foreign investment in China will be limited since US capital is relatively a small part of the total inflow. At the end of 2018, US investment was about $85 billion, just 5 percent of China's overall foreign investment.

China's 1.4 billion population provides a huge consumption market, which is too big for foreign businesses to ignore. In the first four months of this year, retail sales in China hit $1.91 trillion, almost on a par with the US, Wang said.

Foreign investors haven't been deterred by US trade and economic restrictions and have been instead spending more in China. American electric car maker Tesla and oil giant ExxonMobil, German chemical company BASF and auto maker BMW have in recent months ushered in new production programs in China.

The fundamentals of China's economy remain sound and that's why foreign investors sustain their confidence in China, Wang explained. According to a survey by American Chamber of Commerce in China (AmCham China), only 2 percent of its 900 member firms considered to quit China.

Admitting that there are some enterprises moving out of China, Wang said that, such firms are largely labor-intensive. Even though relocation may help lower costs, Wang pointed out that they still face uncertainties to do with industrial facilities, quality of labor, coherent economic polies and the risk of further trade restrictions by the US.