Online gaming companies going global
Domestic players facing tighter regulations and stiff competition at home are increasingly looking further afield
A growing number of Chinese online gaming companies are expanding globally, as gaming regulators have tightened their grip on the local market, which is reaching saturation point.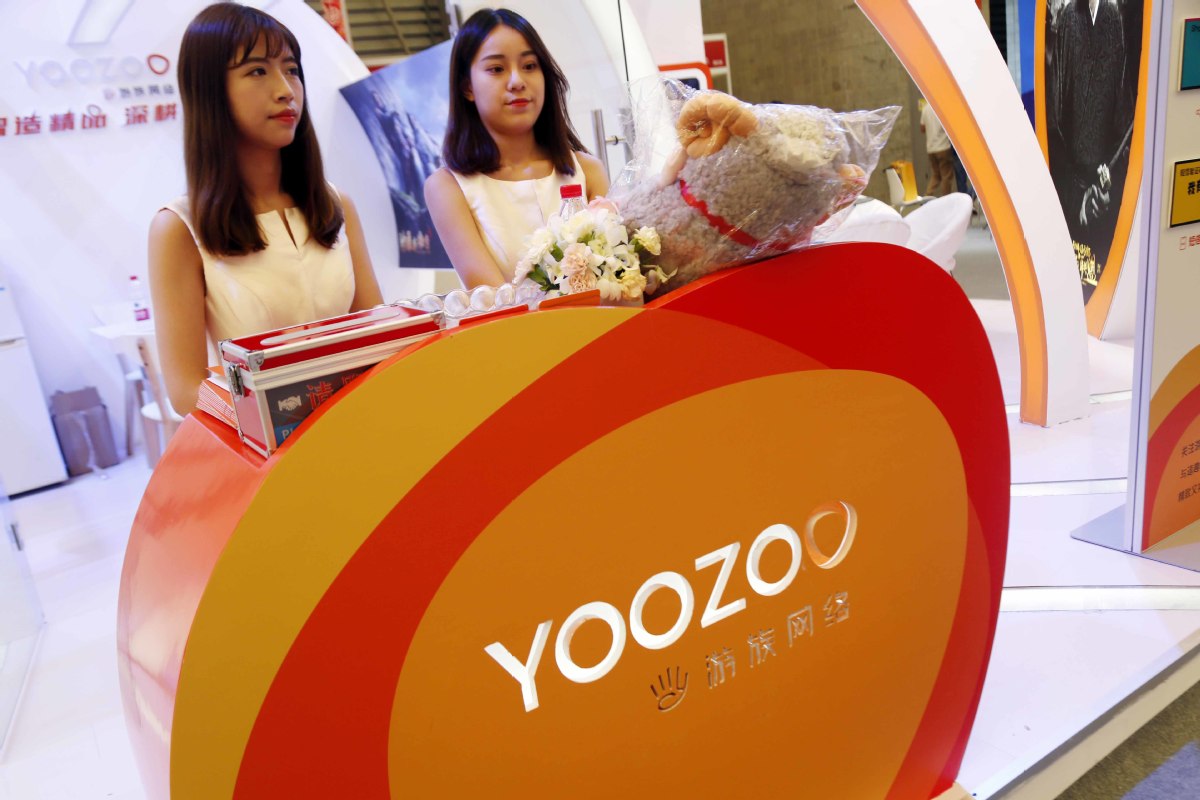 Employees of Yoozoo Games Co Ltd stand at the company's booth during a games exhibition in Shanghai. (Photo: China Daily)
"It is a growing trend that more Chinese companies are seeking opportunities globally," said Feng Bo, an internet industry solution expert at Tencent Cloud. "Domestic players face stiff competition in the market. And they need to confront various challenges, such as tight regulation controls and the declining demographic dividend."

China has long been the world's largest gaming market by revenue in recent years. However, for the first time since 2015, the United States will overtake China to become the largest gaming market by revenue globally with $36.9 billion this year, according to a recent report.
According to the Global Games Market report, released by gaming analytics company Newzoo in June, the nine-month freeze on game licenses, which ended last December, has heavily impacted China, and thus the Asia-Pacific is no longer the fastest-growing region. Latin America is now the fastest-growing games market in the world, with a compound annual growth rate of 10.4 percent.
According to the report, mobile gaming remains the largest segment in 2019, producing revenue of $68.5 billion-45 percent of the global games market. And the growth in mobile game revenue will continue to outpace PC and console revenue growth in the coming years.
China's gaming industry is suffering its slowest revenue growth in a decade. The domestic gaming market grew by 5.3 percent year-on-year to 214.44 billion yuan ($31.22 billion) in 2018, compared to a 23 percent increase in 2017, according to statistics from Chinese gaming database Gamma Data Corp.
Overseas markets have become a key source of income for Chinese gaming companies. Last year, Chinese gaming developers earned $9.59 billion from self-designed online games in overseas markets, up 15.8 percent year-on-year.
To tap the fast-growing gaming markets internationally, an increasing number of gaming firms are already introducing games targeting overseas regions, and many have been reaping the rewards.
Legacy of Discord-Furious Wings, a Chinese fantasy-themed mobile game, has attracted a huge following globally, as it has gained leading spots in the sales rankings of 57 countries and regions.
Published by Shanghai-based Yoozoo Games Co Ltd, the action role-playing game now supports 16 languages, covering more than 190 countries and regions in the world.
"The competition is getting fiercer in overseas markets," said Liu Wanqin, Yoozoo's overseas distribution vice-president. "The challenge with overseas expansion is mainly how to deal with cultural differences and how to communicate with the game players. Thus we need to have a full understanding of both Chinese culture and the culture of specific overseas markets, which will help improve the creativity and technical levels of the games and produce high-quality content."
Liu said Yoozoo aims to be a leading gaming firm with a sense of globalization and strong international competitiveness.
"We've adopted a strategy that combines globalization and localization," Liu added. "On the one hand, we will introduce games based on globally influential intellectual property works, such as Games of Thrones, to cater to those who love intellectual property-related derivative works. On the other hand, we will launch specific games that meet local users' needs."
Founded in 2009, Yoozoo now owns branches globally, including in the United Kingdom, Germany, Japan, South Korea, India and Singapore.
Attaining nearly 1 billion registered users worldwide, Yoozoo has established a global distribution network covering more than 200 countries and regions. The company said it will continue to develop in regions where it has already gained an edge, such as North America, Europe, Southeast Asia and South Asia. And it will further expand globally, especially in South Korea, Japan and the Middle East.
Yoozoo gained the 11th spot in App Annie's Top 52 Publishers List of 2018 by earnings. The company reported its revenues surged by 10.68 percent year-on-year to 3.58 billion yuan in 2018, more than half of which was gained from overseas markets.
Statistics from App Annie showed mobile game revenues gained from the iOS App Store surged by 4 percent year-on-year in China last year, while the global number hit 13 percent.
Chinese gaming publishers earned $6 billion in overseas markets, with an increase of 49 percent year-on-year, App Annie said.
The US topped all other countries and regions in terms of the largest source of overseas income, followed by Japan and South Korea.
"While the domestic gaming market witnessed slow growth in 2018, Chinese gaming firms have earned a lot in fast-growing overseas markets," said Ren Ning, customer director at App Annie China region. "A growing number of Chinese gaming firms are expanding globally, and the trend will continue this year. As users' habits and tastes differ from country to country, Chinese gaming firms can always find a suitable place to launch their games and expand their business, giving them an equal shot to go global."