4,400 firms resume biz in Shanghai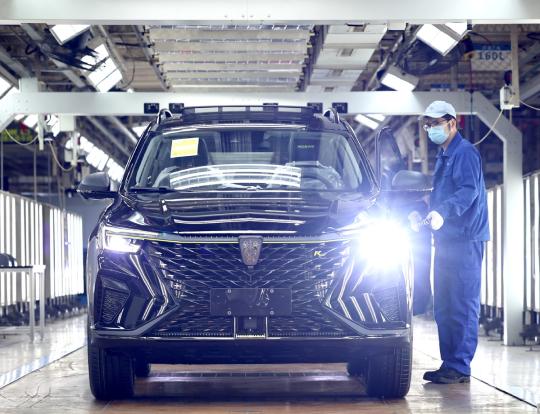 Relentless efforts to restore normalcy pay off; more enterprises to restart
In COVID-marred Shanghai, more than 4,400 industrial enterprises above the designated size-annual revenue of 20 million yuan ($2.95 million)-have resumed their operations with the support of the municipal government.
Local officials said the businesses have been strictly meeting the pandemic prevention requirements.
With virus containment measures showing steady improvement, more industries will likely restart operations sooner than later, they said.
"We have been drafting plans to consolidate our achievements in virus containment to restore normal production and city life. We are trying to promote business restoration to a broader area and bring life and production back to normal as soon as possible," said Wu Qing, vice-mayor of Shanghai, during a news conference on Friday.
Since mid-April, on receiving guidance on contagion prevention, efforts to restore normalcy in business have been consistent and thorough across the city, said Wu Jincheng, director of Shanghai Commission of Economy and Informatization.
"Led by industrial bellwethers, more and more industrial enterprises have restarted their production, and have played an important role in guaranteeing the city's economic activities and effective functioning of industrial and supply chains," Wu said.
More than 4,400 out of Shanghai's over 9,000 industrial enterprises above the designated size have restarted their business operations. Their percentage is higher in the districts of Jinshan, Qingpu, Fengxian and Songjiang, where the virus has been brought under control by and large, Wu said.
So far, Shanghai has included about 3,000 companies on its various white lists that allow businesses to resume their operations. More than 70 percent of them have restarted their business already. Over 95 percent of the enterprises in the first white list have restored their operations.
In the automotive sector, four enterprises, including SAIC Passenger Vehicle and Tesla, have achieved continuous and stable production. About 2,000 vehicles have been rolling off their assembly lines.
Automobile exports are also recovering at an accelerated pace. Since the business restart, Tesla has exported 4,900 cars, and SAIC Motor has exported 15,000 vehicles, industry data showed.
Capacity utilization has risen to 80 percent at Shanghai United Imaging Healthcare Co, a medical imaging and radiotherapy equipment maker. Research, development and production have already restarted at other key medical enterprises.
At Baoshan Iron and Steel Co Ltd, which is also known as Baosteel, a subsidiary of China Baowu Steel Group, production has reached 90 percent of its normal level, while output at chemical giant BASF's Shanghai bases has recovered steadily to 70 percent.
Production at manufacturers of pandemic prevention materials has greatly improved, and dairy production and supply at the four plants of Shanghai-based Bright Dairy saw stable recovery with a capacity utilization rate of 70 percent.
In Songjiang district, where the spread of the contagion has been brought under control, 87 percent of the industrial companies on various white lists for business resumption have resumed their production as of Thursday, said Chen Rong, deputy government head of Songjiang district.