Tesla's Shanghai factory to hit output of 4,000 per week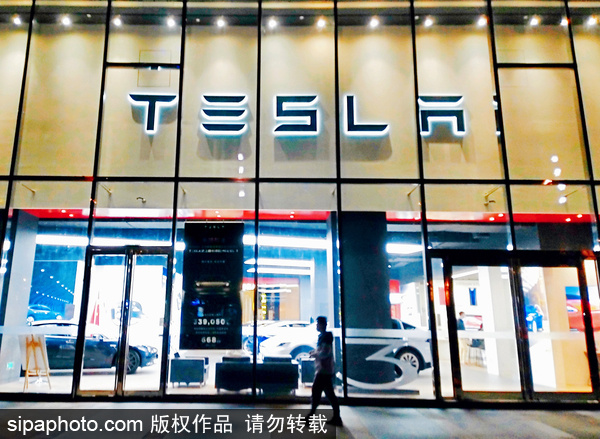 The Tesla store at Changning district in Shanghai. (Photo: Sipa)
US electric carmaker Tesla said its Shanghai factory continued to achieve record levels of production in the first quarter, with output expected to hit 4,000 sedans per week by mid-2020, according to the company's Q1 earning report released on April 29.
Despite significant setbacks in the automobile industry due to the novel coronavirus outbreak, Tesla's revenue in Q1 still surged 32 percent year-on-year to $5.95 billion, with gross margin at 25.5 percent -- the highest in 18 months, according to electrive.com. Besides, the gross margin of China-produced Model 3 is nearly close to the model made in the United States.
The improved profitability is partly driven by the company's new gigafactory in Shanghai, which aims to produce 4,000 vehicles per week by mid-2020, with the annual output projected to reach 200,000 sedans, said Tesla.
At the same day, Tesla announced via its official account on Weibo, the Chinese social media platform, that the price of China-made Model 3 Standard Range Plus version would be reduced to less than 300,000 yuan, to meet the country's requirements of subsidizing new energy vehicles.
However, the electric vehicle manufacture acknowledged the challenges brought by COVID-19 to the company, "It is difficult to predict how quickly vehicle manufacturing and its global supply chain will return to prior levels," said Tesla in the Q1 earning call.
Elon Mask, the CEO of Tesla, noted the company would announce the next gigafactory possibly within one to three months, based in the United States. As of today, Tesla has established four gigafactories around the world, with two in the US, one in Shanghai and another in Berlin, which is under construction and expected to begin production by 2021.