China-made floating hydrocarbon facility headed for seas off UK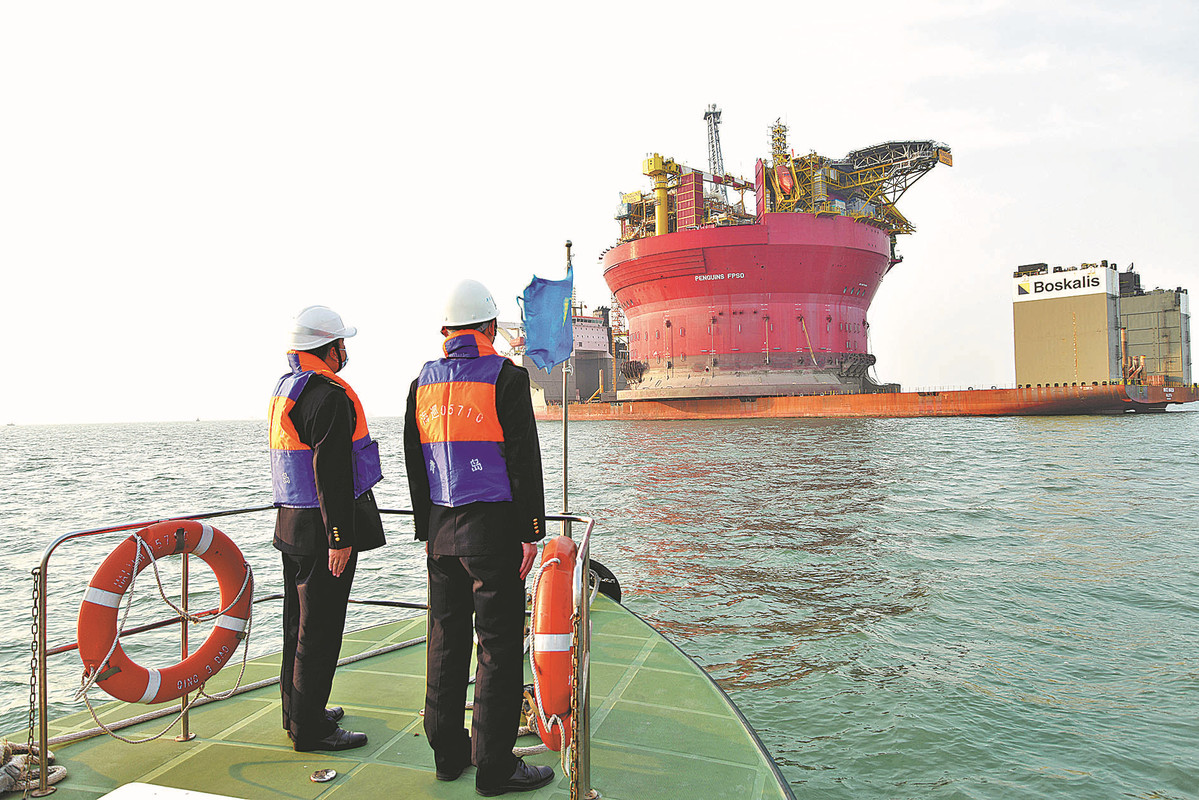 A 118-meter tall floating production, storage and offloading (FPSO) apparatus weighing 32,000 metric tons made by China's Offshore Oil Engineering Co Ltd left Qingdao, East China's Shandong province on Tuesday, bound for the North Sea offshore the United Kingdom.
An FPSO is a floating vessel used by the offshore oil and gas industry for the processing of hydrocarbons and for the storage of oil and natural gas. The unit was independently designed and fabricated in China.
It is the heaviest cylinder-shaped FPSO unit built in China to date, with a storage capacity of 400,000 barrels. It will travel more than 17,000 sea miles for 55 days to the North Sea, said Offshore Oil Engineering, a listed company controlled by China National Offshore Oil Corp.
An analyst said the Penguin FPSO, the offshore oil and gas processing plant, has the highest level of automation, the most complete intellectualized data and the most advanced design concept in China.
China has seen continuous upstream investment and production commitment in recent years, said Li Ziyue, an analyst with BloombergNEF.
The Qingdao facility is also proof that China has the capacity to build and assemble world-class advanced super-large FPSO units, Li said.
Compared with traditional ship-type FPSO units, cylindrical ones consume less steel and enjoy better stability to operate in adverse offshore conditions. They also require lower engineering investment and offer better economic applicability, said CNOOC.
Construction got underway on the FPSO in 2018 after Shell made a decision to redevelop the Penguins field in the North Sea. Shell said in 2018 that the Penguins redevelopment would see an additional eight wells drilled, which will be associated with the new FPSO vessel.
Offshore Oil Engineering said this is another milestone after China delivered its independently integrated and built FPSO P67/P70 to its Brazilian owner in 2019.
Ever since 2007 when the world's first cylindrical FPSO was put into operation, its design has been dominated by foreign companies. Of the more than 160 FPSOs worldwide, only six cylindrical ones were put into operation in offshore regions, including by the UK, Norway and Brazil.
CNOOC has overcome several challenges, including integrated hull designs and compact modular space design layouts during the process, the company said.