New generation of migrant workers
Global Times
1556486220000
As China's previous generation of migrant workers approaches retirement age, a new and younger generation aspires to move beyond the traditional factory or construction floor to more ambitious careers.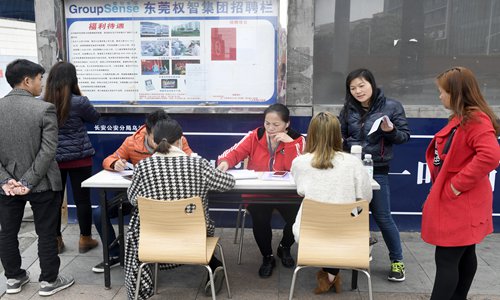 People look for jobs at Dongguan, South China's Guangdong Province, which is also the country's manufacturing hub. (Photos: IC)
But given the context of industrial transformation and upgrading across the country, challenges lie ahead of them.
Born and raised in a small remote village in Southwest China's Guizhou Province, Xu Yan, 29, dreamed of getting a job in a big city as a child, rather than being a farmer in his hometown like most of his relatives.
"After completing post-secondary education, I came to the capital city of Guiyang in 2013 and worked as an intern in a logistics firm," he told the Global Times on Wednesday.
Starting from scratch, Xu spent far more effort than others to become a department manager over the past six years. "I want to make a difference. I need to try hard to seize opportunities in the city that my hometown cannot offer," he said, adding that "all of my peers left our hometown and found jobs in cities within the province."
Compared with older migrants, the young generation of rural migrant workers seems unsatisfied with traditional jobs in factories or construction sites. They have a wider range of career choices such as working for express delivery or beauty treatment companies, and some even want to start their own businesses.
"Limited education restricted the older generation of migrant workers to physical labor in the past, but the younger generation is more educated, as many have completed high school or vocational school, and we hope to strive for something by our own hands," Xu said.
In 2017, there were 287 million migrant workers in the country, and those born after 1980 have become the majority of the migrant group, accounting for 50.5 percent of total migrant workers, according to data released by the National Bureau of Statistics (NBS). It is the first time that the number of younger migrant workers has exceeded half of the total.
Timely changes
Most of the people under 30 born in rural areas do not work in agricultural production, according to a recent report by lifeweek.com.cn, citing Zhang Linxiu, an industry expert.
In 1998, the number of people performing non-agricultural work aged 16 to 20 accounted for 60 percent of the total farmers, and those aged 21 to 25 accounted for 54.7 percent, while the corresponding percentage reached 91.5 percent and 90.3 percent in 2015, according to Zhang's study over the previous two decades.
Rural labor migration has featured several characteristics during recent years.
Young migrants - those born after 1985 or 1990 in particular - are likely to target broader and more ambitious careers in cities compared with their parents' generation, as they have better material conditions, said Li Guoxiang, a research fellow at the Rural Development Institute of the Chinese Academy of Social Sciences.
For instance, they have more requirements for their working environment and what kind of growth opportunities the jobs can bring them, Li told the Global Times.
"I believe that one can earn what he wants in a city if he is earnest and hardworking," said Liu Li, an owner of a beauty salon in Shenzhen, South China's Guangdong Province.
Liu came to work in Shenzhen in 2005 after graduating from middle school in a village in Central China's Hunan Province. "Most of my classmates went out to find jobs, and so did I."
She first worked in a factory producing electrical products in Shenzhen. "People at the production line were just like machines and I couldn't see a future if I was stuck in that job. So I switched to work as an apprentice at a beauty salon one year later," she said.
After 10 years of efforts, Liu opened her own salon.
"I love the place where I was born, but I enjoy the convenient and fast life here in Shenzhen more," Liu told the Global Times on Wednesday.
"I'm proud of my efforts that can help improve my family's livelihood," she said with a smile.
Challenges persist
Another characteristic of the recent rural labor transfer is that an increasing number of young migrants prefer to pursue jobs in cities near their hometowns, as it is less costly for them to return, Li said, adding that although they could earn more in eastern coastal regions, they would also bear larger burdens.
This phenomenon is most pronounced in the western regions of the country as labor-intensive industries have gradually shifted from China's eastern areas, Li noted.
The number of migrant workers in the country stood at 288 million in 2018, up 0.6 percent year-on-year. Among them, a total of 17.3 million migrants choose to work in other provinces while the rest prefer to stay within their home provinces, according to the NBS data.
"They choose to work in nearby areas as they also hope to move their families from rural areas to live with them in cities," Li said.
As urbanization intensifies, the transfer of the rural labor force is an inevitable economic development trend and it will bring more human resources into emerging industries in cities, Ma Wenfeng, a senior analyst at Beijing Orient Agribusiness Consultants, told the Global Times on Wednesday.
Education levels and related infrastructure in rural areas still largely lag behind those in cities, Ma said, adding that, therefore, the lack of good basic education for rural residents will make it hard for most of the young migrant workers to adapt to the competitive environment in cities.
"Although the current generation of rural migrant workers has more varied job choices compared to the older generation, the majority can still only undertake work in relatively low-paying sectors in cities," Ma noted.
Given the industrial transformation and upgrading, migrant workers face growing concerns such as whether they will be replaced by machines and high technology.
"Such concerns do exist. To better adapt to the fierce competition in work, we should also catch up with the changes to improve our competence by learning more skills," Xu said, noting that in order to foster his sales abilities, he started experimenting with e-commerce business in his spare time in early April.
Due to the Chinese household registration (hukou) system, most migrants still maintain rural resident status, even if they have worked in cities for many years. This may block their access to some social services such as healthcare and education.
But local governments have rolled out measures to create new employment opportunities for some migrant workers such as encouraging them to start small businesses.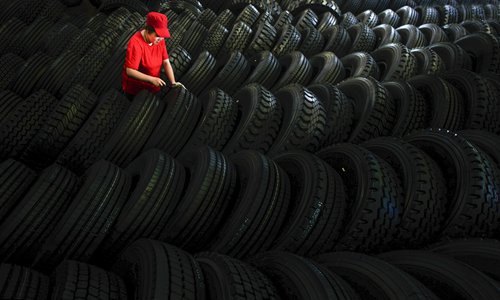 A young worker at a tire factory in Zaozhuang, East China's Shandong Province
Better choice
Migrant workers who leave their homes as teenagers are less familiar with the land and farming. They aspire to become city residents and try their best to gain a firm foothold in the city.
"But it's still not that easy to integrate into a city for rural people, and we cannot adapt to rural life either," Liu noted.
"Economic pressure is the main reason that I find it hard to integrate into a big city. It's ok for me to live in Beijing, but if my whole family moves here, the costs are kind of high," Jiao Yibo, a 29-year-old migrant worker from North China's Hebei Province, told the Global Times on Thursday.
Jiao left home when he was 18 and finished junior high school. He lived in several cities, including Taiyuan in North China's Shanxi Province, and now works as a decorator for the Beijing Daxing International Airport in Beijing.
"I have been considering returning to my hometown because my daughters and my family need me," Jiao said.
Experts said that thanks to the development of rural areas, more and more migrant workers are returning to their hometowns to start businesses as they can also enjoy some advantages such as low costs for land and labor.
Favorable policies provided by local governments will help support the returnees, experts said.
In a bid to support migrant workers to return home to start businesses, the State Council, China's cabinet, rolled out measures to help lower the threshold for entrepreneurs, such as targeted tax cuts and general fee reductions.
"I'm planning to do some small business when I come back," Jiao said, adding, "I think it is a better choice."