AIIB vows efforts to tackle global challenges, expand cooperation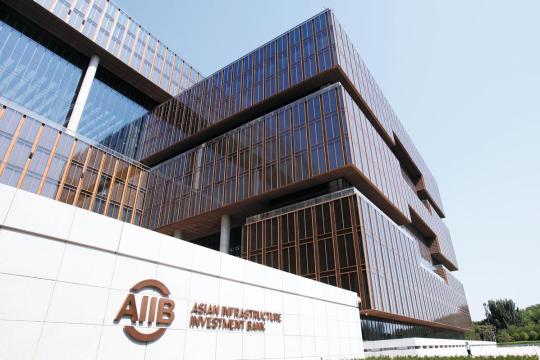 The Asian Infrastructure Investment Bank will deepen international cooperation to tackle global challenges and promote sustainable development, said the multilateral development bank as Monday marked its seventh anniversary.
The AIIB announced on Jan 9 its board of governors had approved Mauritania's application, raising its approved membership to 106.Mauritania is the AIIB's 55th non-regional member, 21 of which are from Africa.
The bank began operations in Beijing in January 2016 with 57 founding members. It has now become the world's second-largest multilateral development institution, which is behind the World Bank in terms of members. Its approved members represent 81 percent of the global population and 65 percent of the world's GDP.
The AIIB has been firmly practicing multilateralism and always keeps its doors open to countries and regions dedicated to promoting economic and social development in Asia.
The bank set up an operational partnership department in 2022. It has also signed memorandums on cooperation with financial institutions, such as the OPEC Fund for International Development and the Development Bank of Latin America, to jointly promote global development problem-solving.
In addition to supporting the sustainable development of its regional members in Asia, the bank also stepped up efforts to provide financing to non-regional members in 2022, having approved its first project in Brazil and its first project in Cote d'Ivoire.
It has developed a portfolio of 202 projects in 33 countries with a total value of $38.8 billion in sectors such as energy, transportation, water, communications, education and public health.
The rapid business growth is the catalyst for AIIB's global presence expansion. Last year, the bank started preparing for the establishment of its first overseas office in Abu Dhabi in the United Arab Emirates, to expand its investment business in regions like the Middle East, Central Asia, Africa and Latin America.
Apart from supporting the infrastructure of its members, the AIIB has been promoting interconnectivity and green development through the innovation of financing tools.
Last year, the bank's climate financing accounted for 55 percent of its total approved financing for the year.
In June, the bank issued 1.5 billion yuan ($221.6 million) in panda bonds on China's interbank bond market. They are the first sustainable development bonds to have been issued by an international institution in China.
"The AIIB will continue to shoulder the expectations from the international community, particularly developing countries, of promoting mutual development and improving global economic governance," said Jin Liqun, president of the AIIB.
"The bank will uphold multilateralism, stick to internationalization, standardization and high-standard operations, proactively promote multilateral dialogues, deepen international cooperation, and make greater contributions to tackling global challenges and promoting sustainable development," Jin said.