Broadcom offers $103 billion for Qualcomm, sets up takeover battle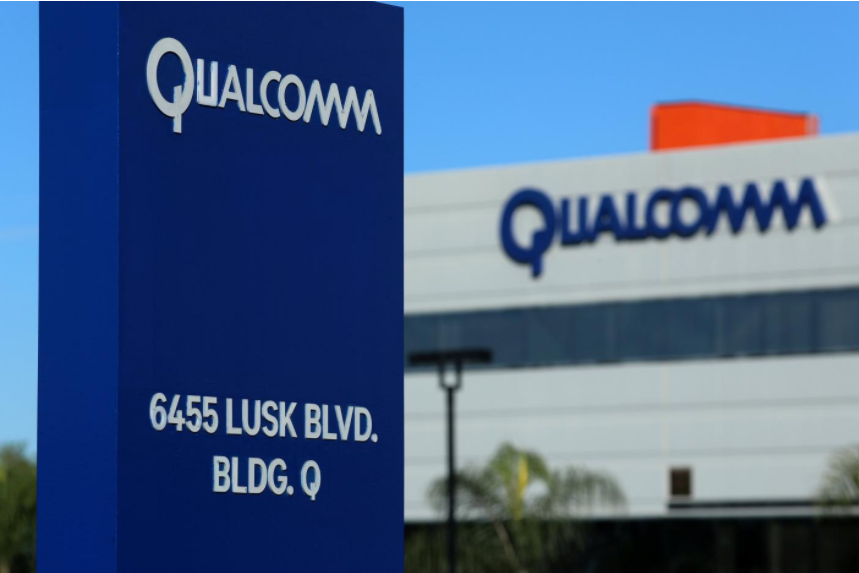 A building on the Qualcomm campus is seen, as chip maker Broadcom Ltd announced an unsolicited bid to buy peer Qualcomm Inc for $103 billion, in San Diego, California, U.S. November 6, 2017. REUTERS/Mike Blake
Broadcom Ltd made an unsolicited $103 billion bid for Qualcomm Inc on Monday, setting the stage for a major takeover battle as the chip maker looks to dominate the fast-growing market for semiconductors used in mobile phones.
Qualcomm said it would review the proposal.
The company is inclined to reject the bid as too low and fraught with risk that regulators would reject it or take too long to approve it, people familiar with the matter told Reuters.
A Broadcom-Qualcomm deal would create a dominant company in the market for supplying chips used in the 1.5 billion or so smartphones expected to be sold around the world this year. It would raise the stakes for Intel Corp, which has been diversifying from its stronghold in computers into smartphone technology by supplying modem chips to Apple Inc.
Qualcomm shareholders would get $60 in cash and $10 per share in Broadcom shares in a deal. Including debt, Broadcom's bid values the transaction at $130 billion.
GBH Insight analyst Daniel Ives said bullish investors were hoping for $75 to $80 per share.
"Now it's a game of high-stakes poker for both sides," he said.
Shares of Qualcomm, whose chips allow phones to connect to wireless data networks, traded above $70 as recently as December 2016 and topped $80 in 2014.
On Monday, Qualcomm's shares were up 3 percent at $63.71 in morning trading, suggesting that investors were skeptical a deal would happen.
Broadcom shares were flat after hitting a record high of $281.80.
REGULATORY SCRUTINY
Any deal struck between the two companies would face intense regulatory scrutiny. A big hurdle would be getting regulatory approval in China, on which both Qualcomm and Broadcom rely on heavily to make money.
China is set to scrutinize any deal closely after U.S. regulators blocked a flurry of chip deals by Chinese firms due to security concerns, thwarting the Asian country's attempt to become self-reliant in chip manufacturing.
Broadcom could spin out Qualcomm's licensing arm, QTL, to get regulatory approval and funding for the deal, Nomura Instinet analyst Romit Shah said.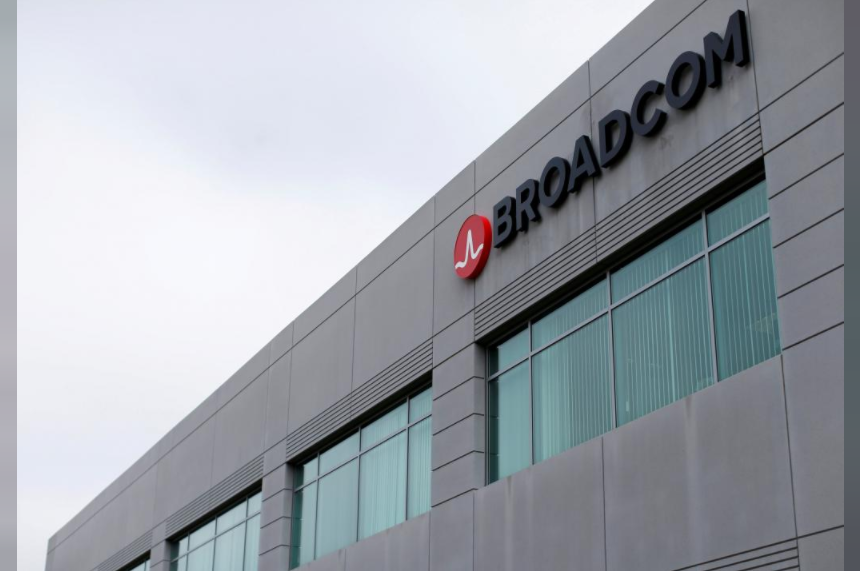 Broadcom Limited company logo is pictured on an office building in Rancho Bernardo, California May 12, 2016. REUTERS/Mike Blake/File Photo

Broadcom had $5.25 billion in cash and cash equivalent as of July 30. Qualcomm had $35.03 billion as of Sept. 24.
"We think QTL could fetch $25 billion in a sale to a private equity firm or multi-national telecommunications company," Shah said.
Broadcom said BofA Merrill Lynch, Citi, Deutsche Bank, JP Morgan and Morgan Stanley have advised that they are highly confident that they will be able to arrange the necessary debt financing for the proposed transaction.
The company has also got commitment letter for $5 billion debt financing from private equity Silver Lake Partners.
VULNERABLE QUALCOMM
Broadcom approached Qualcomm last year to discuss a potential combination, but did not contact Qualcomm prior to unveiling its $70 per share offer on Monday, according to sources.
Qualcomm is more vulnerable to a takeover now because its shares have been held down by a patent dispute with Apple, as well as concerns it may have to raise its own $38 billion bid for NXP Semiconductors NV that it made last year.
Broadcom said its proposal stands irrespective of whether Qualcomm's acquisition of NXP goes through or not.
Qualcomm has a shareholder-friendly corporate governance structure, making it more vulnerable to a takeover bid.
Its entire 10-member board is up for re-election this spring, and Broadcom could seize on the December nomination deadline to put forward its own slate that would then help make negotiations.
The bid for Qualcomm is an ambitious move by Broadcom Chief Executive Hock Tan, who turned a small, scrappy chipmaker into a $100-billion company based in Singapore and the United States. It has pulled off a string of purchases over a decade.
Tan will be in New York and Boston this week for meetings with Qualcomm shareholders, according to people familiar with the matter.
Broadcom plans to move its headquarters solely to the United States, which would allow it to avoid review by the Committee on Foreign Investment in the United States, which reviews foreign ownership of U.S. assets.
Broadcom's offer represents a premium of 27.6 percent to Qualcomm's closing price of $54.84 on Thursday, a day before media reports of a potential deal pushed up the company's shares.