Amazon rolls out model 'smart' homes for US shoppers to try out Alexa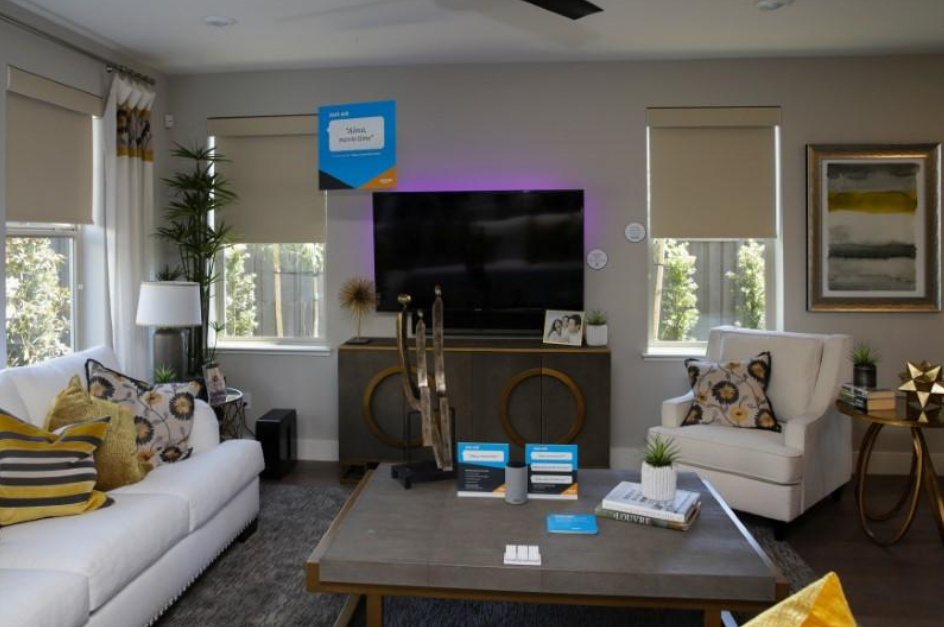 An Amazon Echo lowers the blinds and turns on mood lighting and the TV in response to a voice command in the living room of an Amazon 'experience center' in Vallejo, California, US, May 8, 2018. Picture taken on May 8, 2018 (Photo: Reuters)
Amazon.com Inc on Wednesday said it has set up model "smart" homes across the United States for shoppers to experience what it's like for voice aide Alexa to dim the lights, turn on the TV or order more laundry detergent.
The rollout underscores how Amazon aims to make Alexa and the company's growing list of services, from shopping and entertainment to home security, an everyday part of consumers' lives. It also steps up competition with retailers such as Best Buy Co Inc that focus on showcasing technology and advising shoppers.
Amazon, the world's largest online retailer, said it has partnered with Lennar Corp to convert some of the home construction company's model homes into showrooms for Alexa. The so-called "Amazon Experience Centers" are now open near 15 cities including Los Angeles, Dallas and Washington, with more to come.
"Today, the choices open to customers are, you can go to a brick-and-mortar store and you can see devices on demo tables. You go online and do your research. But you fundamentally are left to imagine what an integrated home would look like," said Nish Lathia, general manager of Amazon Services, in the company's Vallejo, California experience center outside San Francisco.
The centers are "intended to educate and inspire. On the secondary benefit, yes, if it drives sales, we're not complaining," he said.
David Kaiserman, president of Lennar Ventures, said the centers should increase traffic to Lennar's model homes and spark ideas for potential home buyers. Lennar will get a standard commission for Amazon sales to customers it helped acquire, too.
The global smart home market is expected to reach an estimated $107.4 billion by 2023, according to market research firm ReportLinker.
Best Buy is betting big on this trend. It has expanded its In-Home Advisor program to all major US markets and employs more than 350 advisors under the initiative, its most recent annual report said.
Experts visit customers' homes and consult on issues from increasing appliance efficiency to setting up connected gadgets - similar in nature to Amazon's 1.5-year-old "Smart Home Services," which is poised to gain from the new experience centers.
"We're excited about Best Buy's program," said Amazon's Lathia. "The more customers that get educated about smart home, the better it is for everybody."
Philippe Ferrey, an Amazon Expert present at the Vallejo center, previously worked five years for Best Buy as a Geek Squad agent, he said.