SOE reforms to drive economic development
People's Daily
1591322581000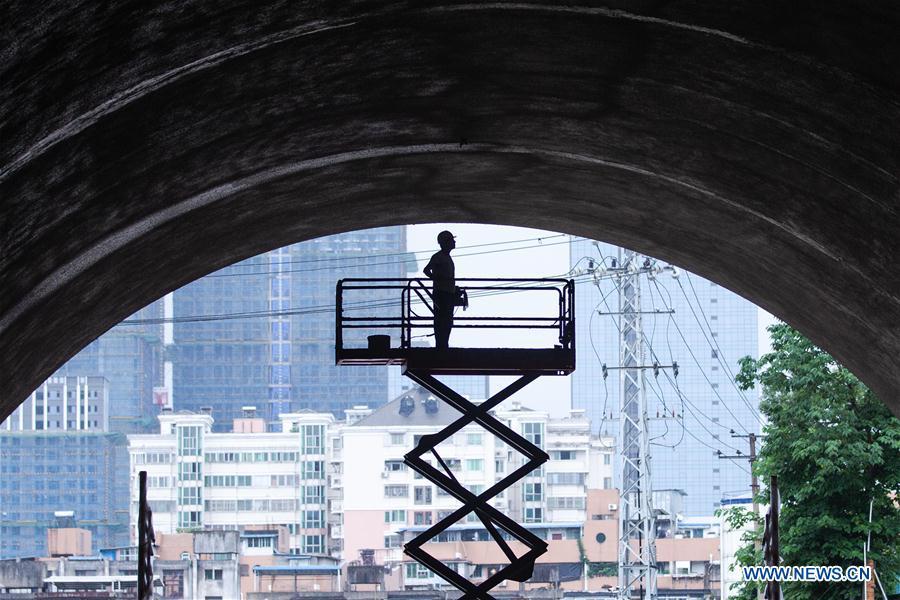 A worker is seen at the construction site of a tunnel, which is part of the south section of the extension line of North Gongye Road, in Fuzhou, Southeast China's Fujian Province, May 26, 2020. (Photo: Xinhua)
Three-year action plan to steer economy toward tech-driven high-quality growth
As China prepares to soon unveil a three-year action plan for the reform of its State-owned enterprises to further focus on mixed-ownership reform and reorganization, industry experts said the move will aid the government's efforts to steer the economy toward innovation and technology-driven high-quality growth.
They made the comments after Premier Li Keqiang delivered the Government Work Report on May 22 at the opening of the third session of the 13th National People's Congress in Beijing, during which it was announced that China will launch a three-year action plan for SOE reform, improve the system of State capital regulation and intensify mixed ownership reform of SOEs.
The country will basically complete the task of relieving SOEs of the obligations to operate social programs and resolve their other longstanding issues. SOEs should focus on their main responsibilities and businesses, establish sound market-oriented operating mechanisms and increase their core competitiveness, according to the report.
These efforts aim to boost SOEs' earning ability and further cut their administrative and monopoly roles to better adapt to the changing market environment, said Fan Zhi, director of the corporate reform office at Beijing-based China National Salt Industry Group, the country's top table salt maker.
Pushed by mixed ownership reform, the group sealed deals with 13 companies last year including Guangdong Salt Industry Group and China Reform Holdings, to raise more than 3 billion yuan ($420 million) to support the listing of China National Salt Industry Holdings Co, one of its units, on the stock market this year.
Mixed ownership reform-a breakthrough component of overall SOE reform-saw notable progress over the past year. More than 1,000 new mixed-ownership enterprises were added and more than 150 billion yuan of social capital introduced via the capital market and other financing measures, according to data released by the State-owned Assets Supervision and Administration Commission of the State Council.
Lin Wei, a Global Strategy Group partner at KPMG China, said that because China aims to build a group of world-class, role-model SOEs that lead the way in high-quality development, it would be economically beneficial for more SOEs to take part in mixed-ownership reform to bring private capital into SOEs.
It is urgent for SOEs to take a strategic view of all business units within their portfolios to identify strategic options that create shareholder value as this will help them divest and exit noncore and nonperforming business and enable them to enter high growth areas by taking a hard look at their own competitive advantages, channel more resources and support more promising market segments, Lin said.
To offset the economic slowdown caused by the COVID-19 outbreak and foster fresh momentum, SASAC also said in early May that it is working on the three-year action plan and the key to reform in 2020 will be a better implementation of the plan.
"The reform will not only create more commercial vitality and expand SOEs' sale channels abroad, but also introduce a market-oriented remuneration system to better reward outstanding performance and incentivize innovation," Lin said, adding the involved parties should also consider, among other components, ownership structure, digital and technology adoption and how to create shareholder value.
Lin expects the planning process of the 14th Five-Year Plan (2021-25) period to offer a great opportunity for SOEs to think strategically and proactively about how to steer their own transformation and build key initiatives into their plans.
"SOEs operating in industries facing output overcapacity and strong private-sector competition have a strong need to enter overseas markets, and those whose customers' behavior is being reshaped by digital and technological changes have greater urgency to accelerate market-oriented reforms," Lin added. "Specifically, SOEs in the consumer and retail, general industrial, healthcare, transportation and logistics sectors should move with a greater sense of urgency."
SOE reforms in the second half will be accelerated to get back on schedule after falling behind in the first quarter, which was affected by COVID-19, said Li Jin, chief researcher at the China Enterprise Research Institute.
Under the government guideline, he said, mixed-ownership reform will be expanded and strategic restructuring will be strengthened in sectors including coal and electricity, steel and nonferrous metals.