Sansure's test kits perform impressively amid ongoing COVID-19 pandemic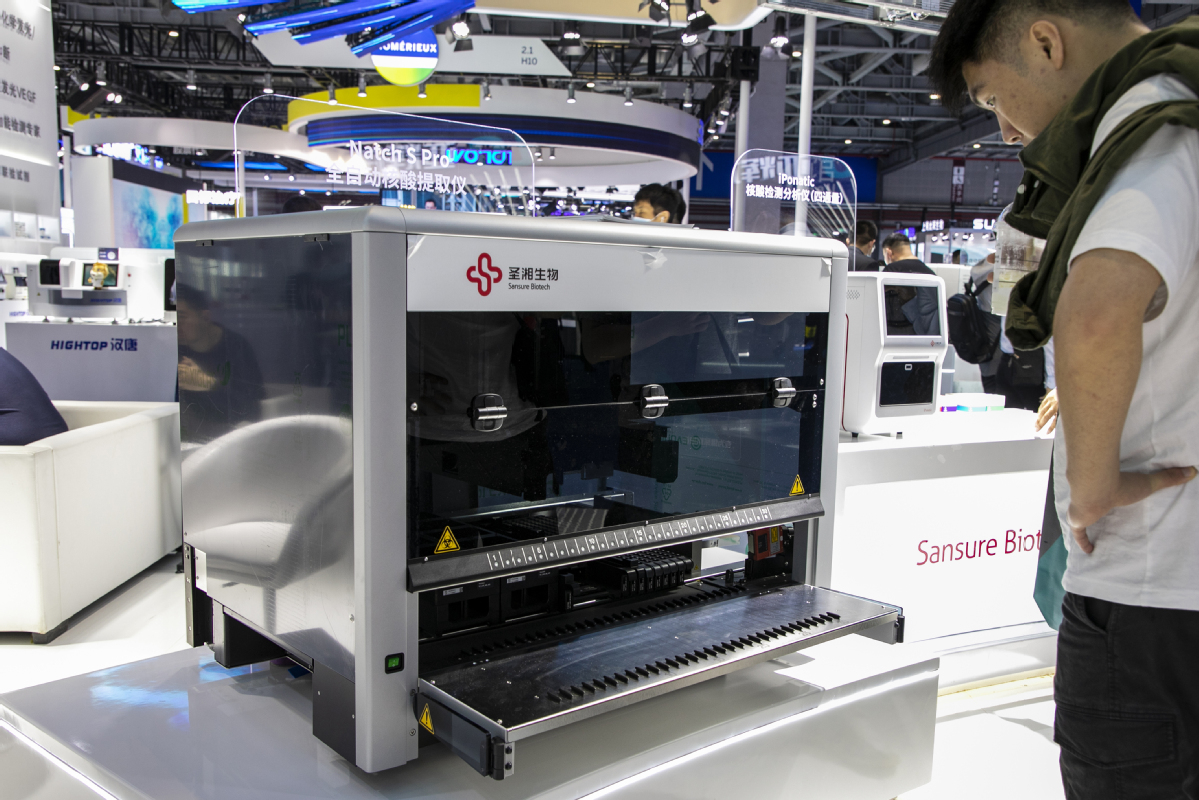 While the ongoing COVID pandemic is a bane of many businesses, for some companies such as test kit manufacturers, it's a boon.
Sansure Biotech, a Changsha, Hunan province-based in-vitro diagnostic (IVD) product producer specializing in molecular diagnostics and genetic testing, is among those enjoying revenue spikes and technological upgrades amid surging demand for COVID-19 test kits.
But that isn't the whole story.
Founded in 2008, the domestic leader in IVD modalities has an ambition to "make genetic technology-based high-end products and services accessible to all". Beyond COVID products, the company also has many other innovations and offerings.
On May 24, it announced that a nucleic acid test kit for detecting hepatitis B, hepatitis C and HIV developed by Sanway Gene, its wholly owned subsidiary, had received certification from a European Union Notified Body, marking the fourth Conformite Europeenne (CE) certification obtained by Sansure Biotech for List A products following the certification of three other products on May 20.
The List A products, which are categorized under the EU Directive on IVD medical device rules, are widely considered to be subject to strict technical requirements before receiving CE markings.
"The certification will enable us to compete against global players in the mainstream international markets of molecular diagnostic solutions," said Dai Lizhong, chairman of Sansure Biotech.
Industry experts said the Chinese IVD industry is undergoing accelerated technological and manufacturing upgrades as domestic IVD producers ramp up efforts to strengthen innovation to make products targeting the high-end market, while meeting soaring domestic demand driven by an aging population and increased public health awareness.
On a global scale, the IVD market is predicted to exceed $130 billion by 2030, and China is likely to become the world's largest IVD market by 2030, said a report by Xiangcai Securities, adding that foreign enterprises still dominate the middle-to-high-end of the IVD market in China, the report said.
However, Chinese IVD producers are gaining greater market share in the expanding domestic market, thanks to policy measures facilitating product innovation and technological upgrades, according to Jiang Dong, an analyst at Xiangcai Securities.
Sansure Biotech, part of the increasingly impressive domestic IVD enterprise fleet, said it has strengthened research and development investment into a myriad of technologies and platforms.
Currently, it has more than 100 ongoing research programs in sectors including COVID-19 testing, respiratory tract pathogen detection, maternal and child health, blood checks and tumor detection.
"We are ratcheting up efforts in innovation and R&D to better meet market demand for accurate and easily accessible testing solutions," Dai said.
He added that Chinese life science enterprises have been making remarkable progress in designing and producing quality homegrown products.
"It probably takes eight to 10 years for many foreign companies to complete a technical iteration. Our company's technology iteration only takes three to five years," Dai said.
The company has set up branches and affiliates in nearly 20 cities, including Beijing, Guangzhou in Guangdong province, Chongqing, and Xi'an in Shaanxi province.
It has developed a series of core technologies to devise a product portfolio of more than 400 advanced products, with plans to launch new tests for human papillomavirus and HIV, as well as new home-use COVID-19 test kits within the year.
Its new production base in Shanghai for precise and intelligent molecular diagnostic systems is expected to be operational next year, which will perk up its R&D and production efficiency.
In a recent performance briefing, Dai said the company will accelerate its going-global strategy to compete with foreign firms in the global IVD market, with a focus on the five regional markets of Europe, Southeast Asia, North Asia, Africa and the Americas, and 10 countries including France, Great Britain and the Philippines.
"Through localized operations and strengthened communications and cooperation with global enterprises, we will explore opportunities in those key regions and countries to expand our business and increase our presence in global markets," he said.
Over the past two years, the company has produced products at full capacity to provide COVID-19 test kits to more than 160 countries and regions. Currently, its daily production capacity has reached 5 million units.
It has already launched many full-scenario solutions for screening the disease and tracing infections for large-scale use.
With the completion of the Shanghai production base and a new facility in Changsha, the company will be able to produce 1 billion test kits and 50,000 sets of diagnostic systems per year.
The company also received market approval in China for two distinctive respiratory pathogen detection systems in April 2021 and May of this year, which can jointly detect 12 of the most common viruses and bacteria causing respiratory tract infections.