Canton Fair off to good start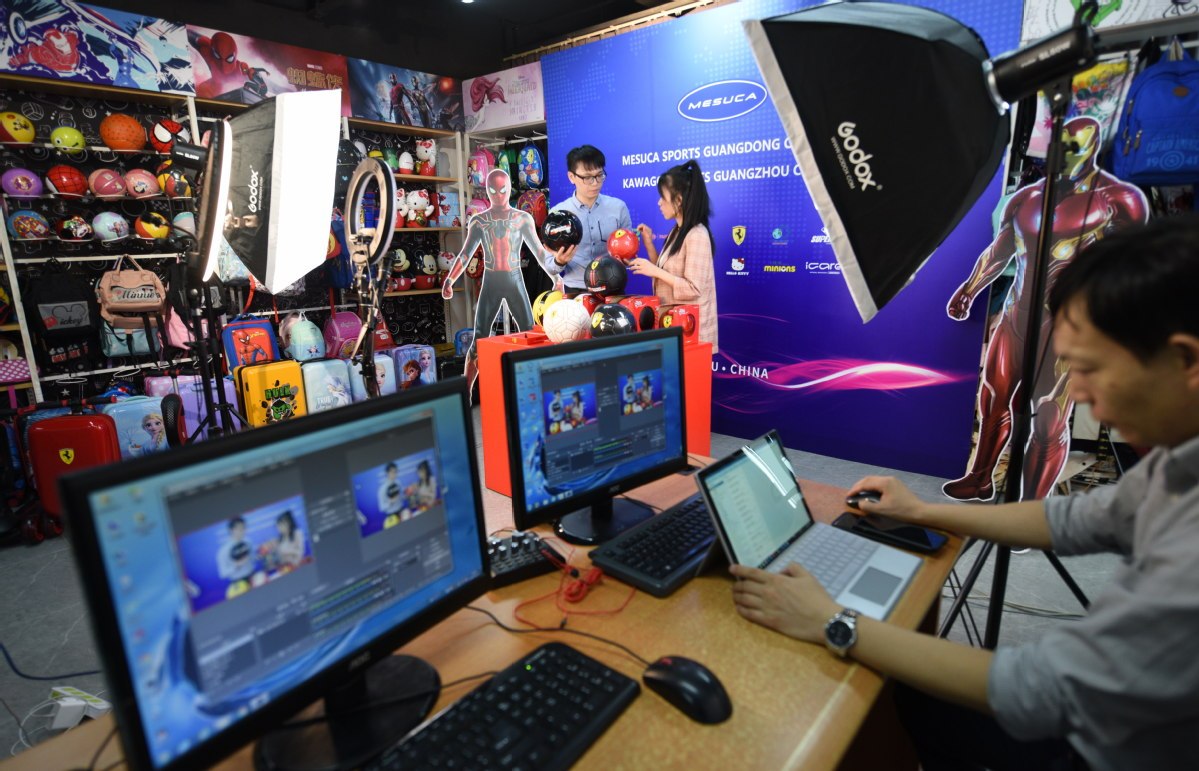 Employees of a sports goods company in Guangzhou, Guangdong province, promote products via livestreaming on Thursday. The 128th China Import and Export Fair, popularly known as the Canton Fair, kicked off online in the province on Thursday. (Photo: Xinhua)
Prestigious online trade event set to attract more overseas buyers
Marco Bettin, secretary-general of the Italy-China Chamber of Commerce, has high expectations for the 128th China Import and Export Fair, or the Canton Fair, which opened online on Thursday in Guangzhou, capital of Guangdong province.
Bettin believes that the flagship expo has an important role in sustaining the recovery in Europe amid the global COVID-19 pandemic.
"The opening of the Canton Fair, although it is held online, would be very important for us to restart the economy, as made-in-China products are of good quality and value," he said.
It is the second time that the fair, deemed as an important barometer of China's foreign trade, has moved online this year due to the pandemic.
There are more than 60,000 online booths of 26,000 companies offering more than 2.35 million products, of which 691,500 are making their debut, said Xu Bing, a spokesman for the Canton Fair.
"Global buyers have shown great interest in participating in the fair, although the global economy is still in a downward trend due to the COVID-19 pandemic," said Xu.
It is expected that buyers from more than 210 countries and regions would attend the latest session of the fair, said Xu, who is also deputy director of the China Foreign Trade Center.
New technologies, exhibitors and buyers are allowed to register online in just three minutes, and start negotiation and procurement in 10 minutes during the 10-day event.
"Panorama, 3D, virtual reality and other cutting-edge technologies are used in the virtual exhibition halls and livestreaming will enhance the experiences of global buyers," said Xu.
Ye Weilun, chairman of Mesuca Sports Guangdong, said the company would clinch more deals with overseas buyers during the event. "The online fair will enhance interactions between buyers and suppliers as we can negotiate with buyers online at any time," he said.
According to Ye, more international buyers would be invited to the company's online booth, which showcases its latest innovative products. The company is one of the exporters based in the Pearl River Delta, looking forward to shipping more products overseas in the last quarter of this year.
Wei Min, deputy director of the Guangzhou commerce bureau, said that the Guangzhou delegation will have 619 enterprises showcasing their latest innovative products in 2,190 online booths.
During the last session, which was held from June 15 to 24, despite going virtual, the country's largest trade event drew some 26,000 enterprises from home and abroad, with 1.8 million products exhibited, according to the organizers.
China's decision to hold the Canton Fair online under such unique circumstances is conducive to the safe and smooth operation of the global industrial and supply chains and stable foreign trade and investment, said Ren Hongbin, assistant minister of commerce. The fair will also safeguard the multilateral trading system and boost economic globalization, he said.