As scandal widens, Japan's Kobe Steel faces key debt test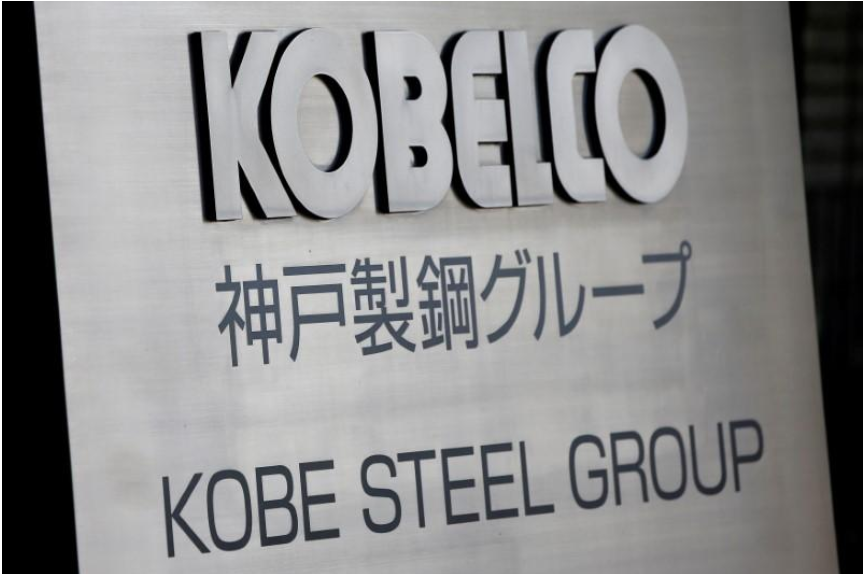 The logo of Kobe Steel is seen at the group's Tokyo headquarters building in Tokyo, Japan October 10, 2017. Photo: Reuters/Issei Kato
As Kobe Steel Ltd becomes increasingly embroiled in a data falsification scandal, concerns are growing about its outstanding liabilities despite the Japanese company's sizable cash reserves.

Japan's third-biggest steelmaker, which posted losses in the last two years, admitted this month it falsified specifications on the strength and durability of aluminum, copper and steel products, along with materials for optical disks.
The falsifications stretch back for more than 10 years, and the company last week said it had lost some customers to competitors because of the widespread data falsification.
Kobe has nearly $3.3 billion cash in hand, investments in short-term securities and unused credit lines from banks, it said last week. That compares with outstanding debt of $7.01 billion as of end-March, as per its latest annual report.
Investors and analysts said the company was unlikely to face a severe liquidity crunch in the coming months, but the specter of a potentially bruising financial and legal fallout could weigh heavily on its balance sheet in the year ahead.
"This will surely have a very big impact on Kobe's balance sheet going ahead, it's really difficult to quantify now," said a Tokyo-based portfolio manager at a mid-sized fund house that has investments in Kobe and some blue-chip Japanese companies.
The portfolio manager did not want to be named as he was not authorized to speak to the media on company specific issues.
"The cash flow hasn't been very strong in the last two years. The liabilities as a result of this scandal could be quite big, and that will come on top of the existing debt," he said. "That's my worry."
Kobe Steel's free cash flow has plummeted to 3.9 billion yen ($34.27 million) in the year ended March 2017 from a high of 132.2 billion yen in 2014, according to the annual report.
The company is considering withdrawing its earnings forecast for this fiscal year as it struggles to quantify the impact of its data falsification scandal, Kyodo reported on Monday.
In terms of its near-term repayment obligations, Kobe has bonds worth $178 million maturing on Oct 27, which, analysts say, will hardly be a challenge for the company given its current internal cash reserves.
The bigger test for the company would, however, begins next year when a total debt of $1.1 billion, both in bank loans and bonds, comes up for repayment, according to the latest Thomson Reuters data.
Underscoring investors concerns, the cost of insuring against default on Kobe Steel's five-year yen debt through credit default swaps (CDS) were last quoted at 261 basis points.
That is down from last week's high of 368 basis points, but is still significantly higher than where it was trading, around 54 basis points, just before the company admitted data fabrication.
The CDS curve has inverted which means investors anticipate a credit event in the near term hence it is more expensive to insure for the short term than the long term.
Kobe's bond prices have tumbled, and some investors rushed to sell the 20-30 billion yen of the debt to the Bank of Japan last week when the central bank conducted a corporate bond-buying operation in the market, traders said. The BOJ declined to comment.
A Kobe Steel spokesman in Tokyo said last week: "It's unclear how this crisis will affect our financial performance," and declined to comment on questions regarding the company's ability to repay its debts or on investor concerns.
POTENTIAL LIABILITIES
Although there is no indication of creditors piling pressure on Kobe any time soon, investor concerns have been stoked by potential liabilities arising from a widening probe into the scandal within Japan and outside.
"People are quantifying the penalties at around $1 billion," said Rakesh Arora, managing director of Go-India Advisors in Mumbai and an expert on the metals sector.
"Kobe will have to divest some parts of the business to pay that, but they are saying the quality (of the products) in terms of strength etc is not under question."
The Kobe scandal has left clients scrambling to pin down the impact, from operators of Japan's iconic bullet trains to the world's biggest aircraft maker, Boeing Co, and global auto manufacturers.
While the U.S. Department of Justice is seeking documents related to products Kobe has sold to U.S. firms, Europe's aviation watchdog has advised aircraft makers to stop using parts supplied by Kobe until their safety can be verified.
"We are worried about the U.S. Justice Department probe," said a source at one of the company's lenders last week. "The impact will be very big if the DOJ seeks a criminal case against Kobe and hits it with huge financial penalties."
To add to Kobe's woes, the scandal comes at a time when its sales have been slowing and debt-to-equity ratio has been rising in the last couple of years, although the company earlier this year forecast an improvement in its financials.
"We cannot deny uncertainty in the medium to long run," said Yoshinori Namioka, analyst at Japan Credit Rating Agency, adding the agency has placed its ratings on Kobe under "credit monitor with negative" direction.
Some analysts are, however, betting on Kobe's ability to divest some assets that are not part of its core business to tide over potential capital crunch. On Friday, it held the first round of an auction to sell most of its property unit.
"At the moment, we don't see any change in their relation(ship) with the banks ... in addition, they seem to consider selling their assets," Namioka said, adding refinancing its existing loans was also an option.