College graduates, facing growing employment pressure, prefer landing a job with lower pay
Global Times
1650971848000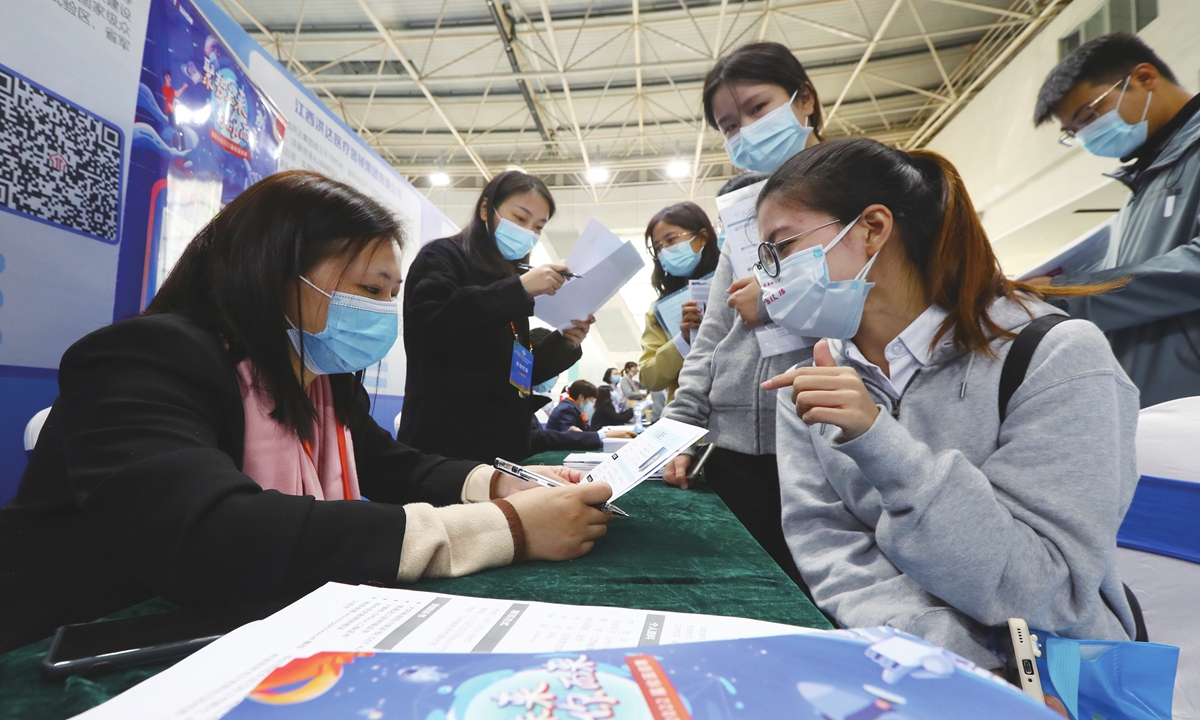 The average monthly salary for college graduates this year has fallen to 6,295 yuan ($960.6), a year-on-year decrease of 6 percent, reflecting the reality that new job-seekers are willing to accept lower pay in order to land a job.

The labor market is becoming increasingly competitive as the number of graduates this year is estimated to reach a record high of over 10 million, according to media reports.
Some 55 percent of the undergraduates interviewed lowered their expectations for finding a job this year, affected by multiple external factors such as China's economic slowdown, according to a survey among undergraduates, sent to the Global Times by zhaopin.com, one of China's largest online recruitment platforms.
Among graduates who have already signed employment contracts with employers, the average monthly salary reached 6,507 yuan, 12 percent lower than 7,395 yuan in 2021. The number of graduates with a monthly salary exceeding 10,000 yuan accounted 10.7 percent, down 8.5 percentage points.
Meanwhile, more job seekers confirmed their preference for working at micro and small sized enterprises. Some 3.6 percent and 34.4 percent of the surveyed students prefer to work at micro and small enterprises in 2022, respectively. This pragmatism comes under increased employment pressure, which is in line with their lower expectations for a trimmed salary, according to the reports.
At the same time, more college graduates are seeking stability, such as finding a job with a state-owned enterprise.
Experts noted on Tuesday that the overall recruitment situation in the first quarter of 2022 has come under significant pressure amid the record high number of graduates but fewer positions available, affected by uncertainties including domestic COVID-19 resurgences.
The country's urban surveyed unemployment rate averaged 5.5 percent, 0.1 percentage point higher than the same period of 2021, the National Bureau of Statistics said earlier this month.
China's economy now faces downward pressure, resulting in reduced job opportunities for college graduates, Zeng Xiangquan, director of China Institute for Employment Research (CIER) at Renmin University of China said at a press briefing on Tuesday.
In 2022, estimated college graduates will reach 10.76 million, an increase of 1.67 million, exceeding 10 million for the first time, data showed.
Zeng said that how the labor market would evolve in the coming months is uncertain, depending on the domestic epidemic control and global situation.
Industry-wise, following tightened regulation on off-campus tutoring and the recent layoffs by a few internet giants, job vacancies are dropping, according to zhaopin.com.
Meanwhile, new demand for talent in emerging industries such as biomedicine is growing. However, as these industries are still developing, increased demand still cannot make up for the shortfall in other sectors, the internet platforms in particular.
The central government has vowed to support the real economy, including manufacturing and multiple other industries that are going through structural transformation, so the long-term development for industries like biomedicine and smart manufacturing will be bright, Mao Yufei, a research fellow at CIRC told the Global Times on Tuesday.