Foreign firms cash in on China's manufacturing sector upgrades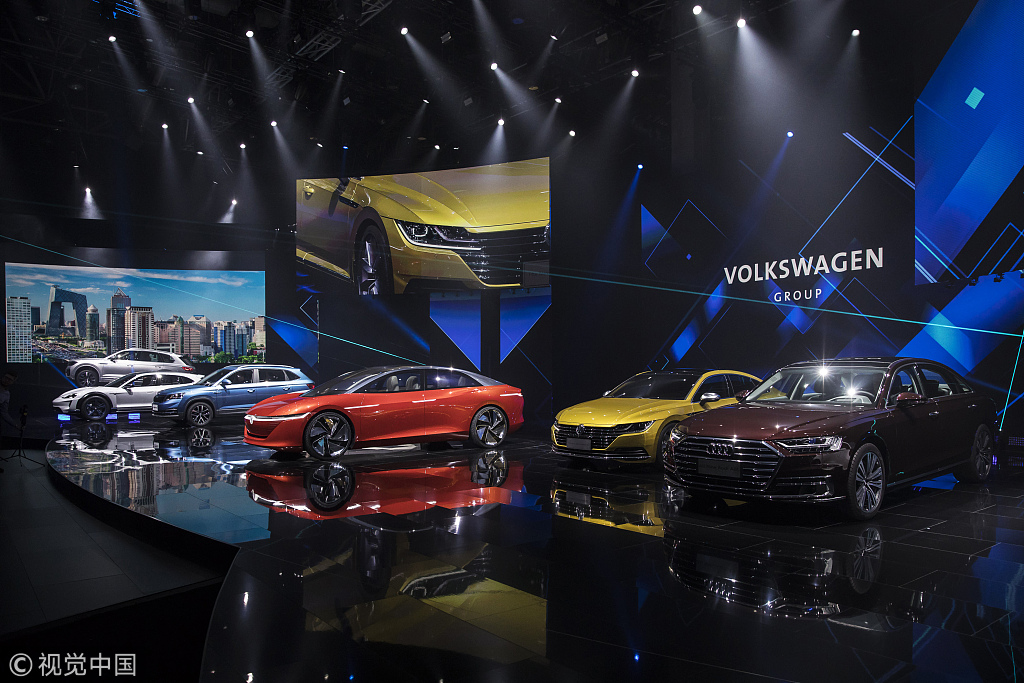 Volkswagen AG vehicles on display at the company's media event ahead of the Auto China 2018 in Beijing on April 24, 2018. [Photo/VCG]
HEFEI - Hefei, once considered a rural backwater, has become a favorite among multinational companies thanks to the rapid development of its manufacturing industry.
Whirlpool Corp, a United States home appliance maker, opened its new China headquarters and global research and development center in the city on May 24. A day later, Volkswagen AG, together with its Chinese partner JAC Motors, launched its first domestically made electric SUV in Hefei, capital of Anhui province.
"China is developing faster than the rest of the world on new energy vehicles, intelligent transportation and connectivity. Volkswagen strongly takes it into account," said Jochem Heizmann, Volkswagen Group China president and CEO.
The joint venture JAC Volkswagen was established in December 2017. Within half a year, it launched its first vehicle, which will hit the market in the latter half of this year.
Last month, China announced plans to phase out shareholding limits for foreign investors in the automobile industry as part of its efforts to further expand opening-up. The cap will be removed for commercial car producers in 2020 and passenger car producers in 2022. International carmakers will be allowed to have more than two joint ventures in the country as well.
Volkswagen will be a direct beneficiary of the policy change as it opens its third joint venture, JAC Volkswagen, the country's first joint venture focused on developing electric vehicles. The German carmaker plans to provide 400,000 new energy vehicles to Chinese customers before 2020, and up to 1.5 million such vehicles by 2025.
Like Volkswagen, Whirlpool has been in the Chinese market for more than 30 years. Unlike many multinationals that put their Chinese headquarters in coastal metropolises, it moved its headquarters from Shanghai to Hefei, a rising home appliance manufacturing hub.
"The presence of competitors in Anhui actually helps us as well, because we collectively attract the best suppliers, knowledgeable technicians and university graduates," said Whirlpool President and CEO Marc Bitzer, adding that the Hefei industrial cluster is the company's third, and it has tremendous growth opportunities for the future.
"We started in China more than 30 years ago, when 'Made in China' meant low cost and low tech. We have developed a new model in the last five years we called 'Made in China' that equals high tech and high quality, which is in line with the vision of the Chinese government," Bitzer said.
Whirlpool's Hefei smart factory, which was completed in November, includes digitization, automation and intelligent logistics systems, which carry out intelligent control of production processes and back-end data feedback.
"The high-cost, high-quality smart factories are a sustainable model for China. The sooner we start, the earlier we arrive," he said.
The transition to high-quality development and expansion of opening-up in the manufacturing industry have created enormous opportunities for foreign companies, with more value-added products and a market with bigger purchasing power, thanks to the rise of China's middle class, according to Wu Xiaohua, deputy head of the Academy of Macroeconomic Research of the National Development and Reform Commission.
Among 609 manufacturing sector sub-categories, 96.1 percent were completely open to foreign investment, according to the Ministry of Industry and Information Technology. In 2017, the manufacturing sector attracted total foreign direct investment of $33.5 billion.
Ministry data also showed that 4,986 foreign-invested manufacturing firms were set up last year, up 24.3 percent year-on-year. The main fields attracting foreign investment covered computers, integrated circuits, smart manufacturing and other high-tech sectors.