Stock connects fueling capital flows via mainland, HK bourses
Bourses in Shanghai, Shenzhen and Hong Kong have been able to forge strong ties through the various stock connect programs, with higher capital inflows and renewed market vitality being the key takeaways, experts said.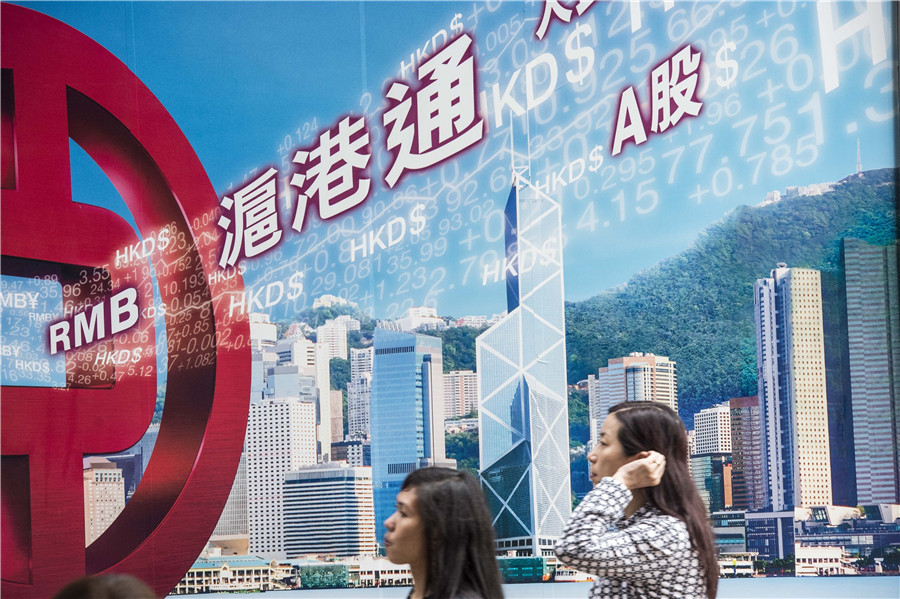 Pedestrians walk past an advertisement for the Shanghai-Hong Kong stock connect program in Hong Kong's financial hub. (Photo: Xinhua)
The Shanghai-Hong Kong stock connect, the first such mechanism of its kind, celebrated its fifth anniversary on Sunday. The Shenzhen-Hong Kong stock connect program was opened in 2016. As of Nov 15, overseas investors held more than 882.8 billion yuan ($125.9 billion) worth of Chinese mainland shares via the stock connect program between Shanghai, Shenzhen and Hong Kong, according to Shanghai-based market tracker Wind Info. That number accounted for 1.45 percent of the total Chinese stock market value, up from the 0.16 percent registered five years ago.
Northbound investment, or the total trading volume made by overseas investors via the stock connect programs in the Chinese mainland market, topped over 8.47 trillion yuan by Nov 15, taking up 7.58 percent of the total market trading volume, according to Wind Info. That ratio was only 0.23 percent in 2014.
"The stock connect program has become an important channel for overseas capital inflows. Although there were some fluctuations in the trading volume over the past five years due to the ups and downs in the stock market, the trading volume has been increasing steadily, which is also in line with market expectations," said Yang Delong, chief economist with Shenzhen-based First Seafront Fund, a private equity general partner firm.
Ronald Wen, president of the Hong Kong-based Partners Capital International Ltd, said the stock connect programs have helped in the internationalization of A-share listed companies by further optimizing their market cap. It has also helped Chinese mainland investors acquire a more mature investment style, as value investment is becoming increasingly prevalent.
The Hong Kong bourse has also been boosted by the stock connect program. According to Hong Kong Exchanges and Clearing Market (HKEX), the operator of the Hong Kong bourse, southbound trading volume - investment made by Chinese mainland investors in the Hong Kong stock market - has been valued over HK$8.7 trillion ($1.1 trillion) cumulatively as of Oct 31. The Chinese mainland investors held about HK$999.5 billion worth of Hong Kong shares via the program, up from the HK$13.1 billion in 2014.
HKEX Chief Executive Charles Li Xiaojia said the stock connect programs between Shanghai, Shenzhen and Hong Kong have gained increasing favor among investors in all markets, as it has helped the markets to reach for maximum effectiveness with minimum systemic costs. Based on its success, the bond connect mechanism was launched in 2017, he said.
More importantly, the stock connect program has introduced to the world a new two-way opening-up model of the capital market. Not only can Chinese investors make diversified overseas asset allocations, international investors also get access to a trustworthy, highly efficient and convenient channel to tap the Chinese mainland market, said Li.
Hong Hao, head of research at the securities and asset management company Bocom International, said southbound investment accounts for 10 percent of the total trading volume at the Hong Kong stock market. However, price difference can still be noticed for companies which are listed in the Chinese mainland and the Hong Kong stock market at the same time. In this sense, there is still huge potential for the stock connect program, he said.