Pandemic curbing China-Russia trade
Global Times
1588890603000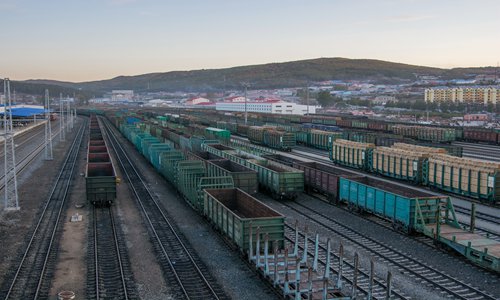 Russian freight cars containing timber in Suifenhe, a major Chinese border city with Russia, on September 26, 2018. (Photo: IC)
Trade between China and Russia may drop 50 percent in 2020 because of the coronavirus pandemic, which is spreading in Russia. However, the long-term trade outlook between the two giants is promising, experts and business leaders said.

The impact of the pandemic is being felt particularly by businesses in Northeast China's Heilongjiang Province, whose trade with Russia accounts for about one-fifth of China's total trade with the neighboring country, as local companies face restricted logistics and weakened demand.

A manger surnamed Jin of Hua'e Trade Co based in Heilongjiang's Suifenhe city, is feeling the impact. His company was told it could resume work on Thursday after Suifenhe lowered its coronavirus risk level, but its trading partners in Russia are struggling.

"About 90 percent of our business is related to Russia, so that even if Suifenhe is cleared of coronavirus, we can't resume production because Russia is affected," Jin told the Global Times. His company imports food, beer and wood from Russia while it exports interior-decoration items and building materials.

There were 177,160 confirmed cases of coronavirus in Russia as of Thursday, according to data from the Johns Hopkins University.

One problem is logistics disruptions. Jin said that few trucks come to China from Russia, and those that do come are often pre-booked, so the company can't use them to send exports to Russia.

Yu Zhiming, general manager of Today Trade Co in Suifenhe, which imports wood from Russia, said some of its orders are stuck in Russia because many cargo employees in Russia aren't working.

"I heard this morning that of our 42 containers on a train from Russia, 38 couldn't be loaded for shortage of manpower. I don't know when that will change," Yu told the Global Times. Shrinking demand is another sticking point. According to Jin, even if the company can ship products to Russia, many stores there are closed.

Yu noted a decrease in downstream orders as many furniture makers in China have not fully resumed production because of the epidemic.

Suifenhe has launched a series of measures to support local companies, such as issuing 447 million yuan ($63 million) loans to 83 local businesses, 5-percent discount on electricity charge and 11.2 million yuan in subsidies, the Suifenhe government told the Global Times on Thursday.

Companies are also adjusting their businesses. Yu said that his company is shifting from wood imports to making furniture, which is more profitable.

Li Xin, director of the Institute for Eurasian Studies under the National Institute for SCO, said that because of the pandemic, bilateral trade might drop 50 percent year-on-year in 2020. "The second quarter will be very hard, but things may recover in the second half of the year," Li said.

China-Russia trade rose 3.4 percent on a yearly basis to $111 billion in 2019, customs data showed. In the first quarter of this year, bilateral trade rose 3.4 percent.

Li said that bilateral trade won't be affected in the long term, and it might reach about $100 billion in 2021. He said that the impact will be greater on the Russian side, which needs the Chinese market as it faces trade sanctions from a group of Western countries.