IMF: Near-term financial stability risks contained, vulnerabilities rising
Near-term global financial stability risks have been contained for now, but vulnerabilities are rising, intensifying financial stability concerns in some countries, said the International Monetary Fund (IMF) in its Global Financial Stability Report.
Countries have launched unprecedented policy support to mitigate risks to financial stability, creating a bridge to economic recovery, said the report.
"Some emerging and frontier market economies face financing challenges, which may tip some of them into debt distress or lead to financial instability. Small and medium-sized enterprises (SMEs) are more vulnerable than large firms with access to capital markets," said the report.
Countries and regions with a higher share of less contact-intensive sectors, such as information technology and telecommunications, have done better, whereas energy and financial stocks have been a drag on stock market performance, said the report.
China's financial conditions have remained basically stable as the country rolled out a series of policy to bolster its economy and became the first economy rising from the pandemic.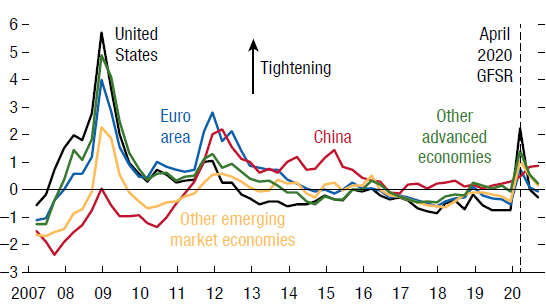 "After initially cutting policy rates and deploying measures to directly increase bank credit, [Chinese] authorities in May scaled back expectations for further interest rate reductions, leading to a rebound in bond and money market yields," said the report.

The COVID-19 pandemic has led to an unprecedented contraction in economic activity globally, and the IMF projected a 4.4-percent contraction of global economy this year.
Therefore, countries should promote post-pandemic financial reform to address potential risks brought by the pandemic, strengthening the regulatory framework for the non-bank financial sector and stepping up prudential supervision, said the report.