Probe of Sun puts cryptocurrencies in spotlight again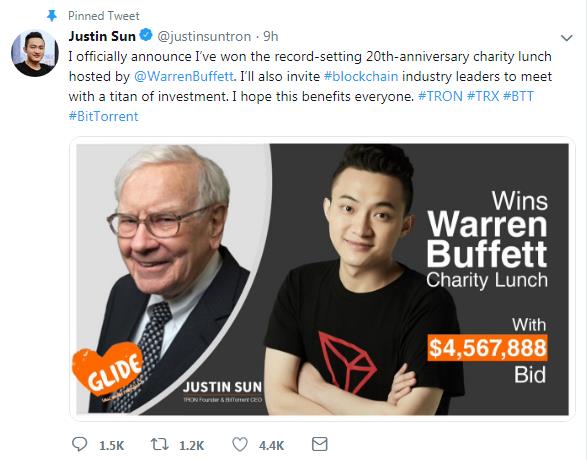 Photo: screenshot of Justin Sun's Twitter account.
Editor's note: Sun Yuchen, a 29-year-old cryptocurrency entrepreneur, won the bidding for this year's charity lunch with Warren Buffett, chairman of Berkshire Hathaway Inc, last month. He was willing to pay about $4.57 million for the lunch on July 25. Yet Sun canceled the lunch due to health problems caused by a kidney stone, although he said he will still donate that money to the Glide Foundation, the receiver of the charity lunch donation. China Daily writer Li Yang comments:
After Sun canceled the charity lunch with Buffet, Caixin magazine reported that it was not for health reasons, but because Sun is being investigated by the public security department on suspicion of being involved in illegal fund-raising, money laundering, and other illegal activities. 21st Century Business Herald also published similar reports. On his social media account, Sun has denied the accusations.
Sun has been a controversial figure who has always presented himself as a self-made young entrepreneur. But he may have more critics than fans. His critics say he is only a speculator good at exploiting loopholes in laws and rules, and they predicted that it will only be a matter of time for the ugly side of Sun to be exposed.
Sun apparently has a keen sense of smell for speculative opportunities, which is proved by his becoming a billionaire by speculating on cryptocurrencies, and he is also keen to portray himself as a role model for youth.
One thing is for sure, the selfies he shared on social media show he has apparently recovered quickly from his kidney problems, if any, and he is in a good shape and in a good mood.
Which is in accordance with his critics' claims that he is good at taking advantage of all opportunities to hype up himself as special, even if, as they claim, it is at the costs of honesty and integrity.
It is noteworthy that on his Weibo account Sun said in Chinese that he has no choice but to cancel the lunch. But on Twitter, he told Buffet: let's lunch later.
Sun is the first person to stand Buffet up, since the US investor launched his charity lunch in 2000.
Doing so has made Sun a talking point around the world for the second time after winning the bidding with a record high price.
Sun has fulfilled his agenda so far. But if the accusations prove true then he is not a good role model for the young people.