Shanghai and Bangkok look to forge closer ties
Shanghai and Bangkok are expected to build closer economic ties due to the extended development of the Belt and Road Initiative, the China (Shanghai) Pilot Free Trade Zone, as well as Thailand's Eastern Economic Corridor (EEC), officials said.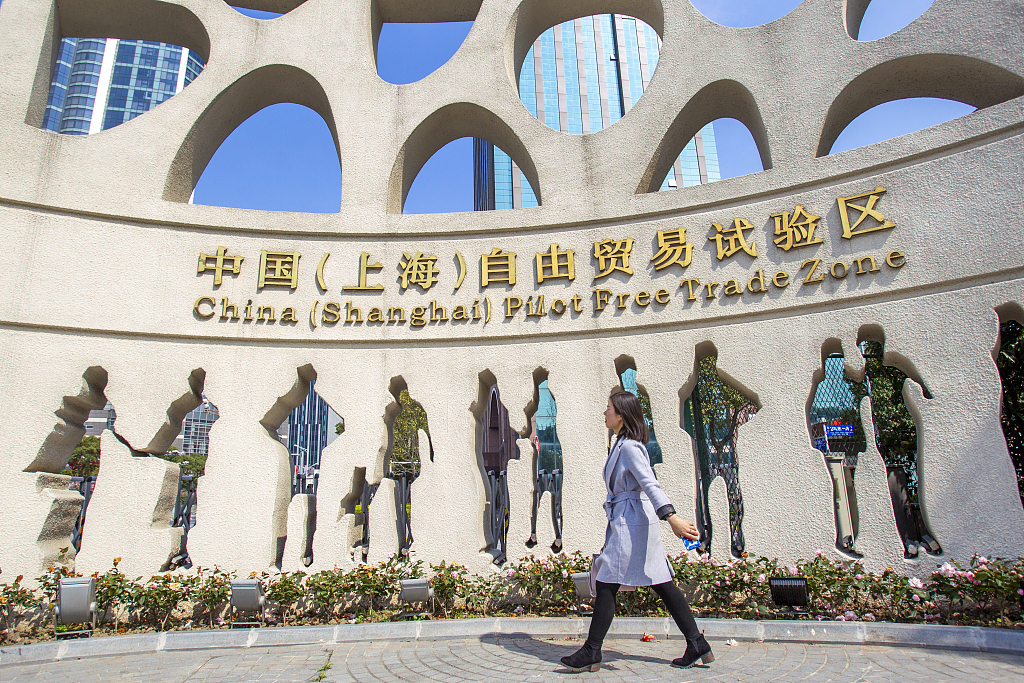 A woman walks in the Shanghai FTZ. (Photo: China Daily)
"Last year we saw a big rise in applications for investment promotion from Chinese companies ... (and) in the first half the (new) applications for investment promotion in the EEC area from Chinese companies became number one," said Luxmon Attapich, deputy secretary-general of Thailand's Eastern Economic Corridor Office during the Second Bangkok-Shanghai Economic Conference.
"China ranks as Thailand's largest trading partner for five consecutive years and the bilateral trade volume reached $80 billion last year, up 8 percent. The number of Chinese traveling to Thailand amounted to 11 million last year, one third of all foreign tourists in Thailand, making China the largest source of revenue for Thailand's tourism industry," said Sasirit Tangulrat, consul-general of the Thai Consulate in Shanghai.
As the world's second largest economy, with robust domestic consumption and a healthy financial system, China is one of the prime drivers to pull the world out of recession, said Tangulrat.
"One of the most important regional architecture in this region was the development of the Belt and Road Initiative, which has contributed considerably to regional growth and economic prosperity, connecting China to the rest of the world," she explained.
Attapich said the conference is an advanced economic mechanism that provides a platform for leading Thai-Chinese public and private sector companies from Shanghai and Bangkok to interact, exchange views and engage in key policy developments, forging cooperation in trade and investment.
He Weichen, vice-president of the Shanghai Foreign Investment Development Board, said Thai investment in Shanghai soared 221.84 percent to $5.6 million from January to June this year, and Thailand accounted for about 10 percent of Shanghai's total imports and exports during the same period.
"The phenomenal increase suggests the Sino-Thai trade and business collaboration has deepened from trade to investment," said He. After decades of opening-up, nonfinancial investment from Shanghai to Thailand reached $571 million, and a total of $560 million in investment were made by Thai enterprises to the city.
"We welcome more Chinese State-owned enterprises and the private sector to invest in Thailand to increase our bilateral trade to $140 billion in 2020, as agreed during the 6th Thailand-China Joint Committee," said Tangulrat.
Under the theme "From the Eastern Economic Corridor to the Belt and Road Initiative: Thailand on a High Tide", the second conference was co-organized by the Thai Chamber of Commerce in China, Shanghai Foreign Investment Development Board, and the Shanghai Public Diplomacy Association.
Thailand has played an important role in international trade due to its state of the art infrastructure, excellent investment environment and strategic geographical location linking sea trade routes in the middle of Southeast Asia.
Thailand has the second largest economy in ASEAN by GDP and has undergone an economic transition into a newly industrialized economy dominated by manufacturing and services.