Fading subsidies, rising sustainability in China's solar energy industry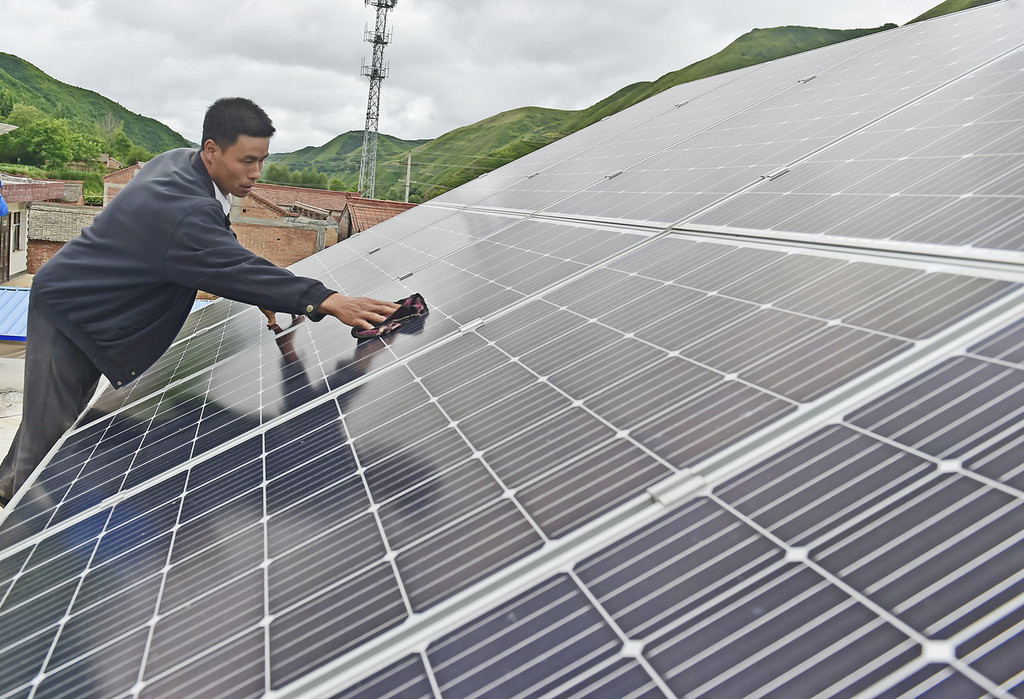 A man wipes off dust on a solar panel installed on the roof of his house in Tianhe village, Northwest China's Gansu province, June 20, 2019. (Photo: IC)
China has been active in the deployment of solar photovoltaic (PV) power generation, a fast-growing renewable energy technology in the world, and has been reducing subsidies in the sector along with the technology's commercial maturity in recent years.
In the latest move, China has implemented a new "subsidy bidding" mechanism in the solar PV sector, with subsidies lower than market expectations.
The National Energy Administration (NEA) on July 11 announced the results of state subsidy bidding for PV power generation projects in 2019. A total of 3,921 projects will be included in the state bidding subsidies in 2019, covering 22 provincial-level areas.
The total installed capacity is about 22.79 million kilowatts. It is estimated that the annual subsidy demand is about 1.7 billion yuan ($247.81 million), said the NEA in a statement
"The subsidy is much lower than market expectations: 22.79 million kW of projects will only receive about 1.7 billion yuan in subsidies, which is less than the annual budget quota of 2.25 billion yuan previously put forward by authorities," said Liu Shuai, an analyst of China's public utilities, new energy and environmental protection at UBS Securities.
"The subsidy bidding mechanism is a major reform and innovation. The PV power generation development will be more market-oriented and the signal of subsidy decline will be clearer," said the NEA statement.
As PV costs have been relatively high, PV power generation can hardly compete with conventional technologies. Subsidies are usually necessary at the beginning of a new sector. As PV is on its way to fully commercial technology, the costs for PV continue to fall as well as the need for subsidies.
The latest projects to be included in the national subsidy bidding are only a part of the national PV power generation construction this year.
In addition to household PV projects, PV poverty alleviation projects and others, the construction of PV power generation projects this year will be about 50 million kilowatts, said the NEA statement.
About 40 million to 45 million kilowatts of projects will be completed and connected into the electricity grid within this year, it said.
As the construction period of PV projects is short, there will be a significant demand for products in sectors like PV glass and silicon materials, Liu said.
By the end of 2018, the installed capacity of PV power generation reached 174 million kW and the annual power generation capacity reached 177.5 billion kW-hours, ranking first in the world, which played a key role in energy transformation.
On the other hand, the rapid growth of PV power generation also brings about an expansion of subsidies and other issues, which need to be addressed to promote the transformation of PV power generation from high-speed growth to high-quality development.
According to the Ministry of Finance, the total subsidy budget for new PV projects will be 3 billion yuan in 2019, of which 750 million yuan will be used for household PV (equivalent to 3.5 million kW) and 2.25 billion yuan will be used for subsidized bidding projects (excluding PV poverty alleviation).
The purpose of this year's 3 billion yuan subsidy is to support "this year's" new PV power generation projects, ensure that PV power generation and upstream manufacturing industry maintain an appropriate development speed, according to a statement of the NEA released in May this year.
Industry insiders believe China's solar industry will become subsidy-free in a few years as the country tries to revitalize its PV sector after the government announced a plan to scale back its central subsidy system last year.