Livestreaming sales reach for the heights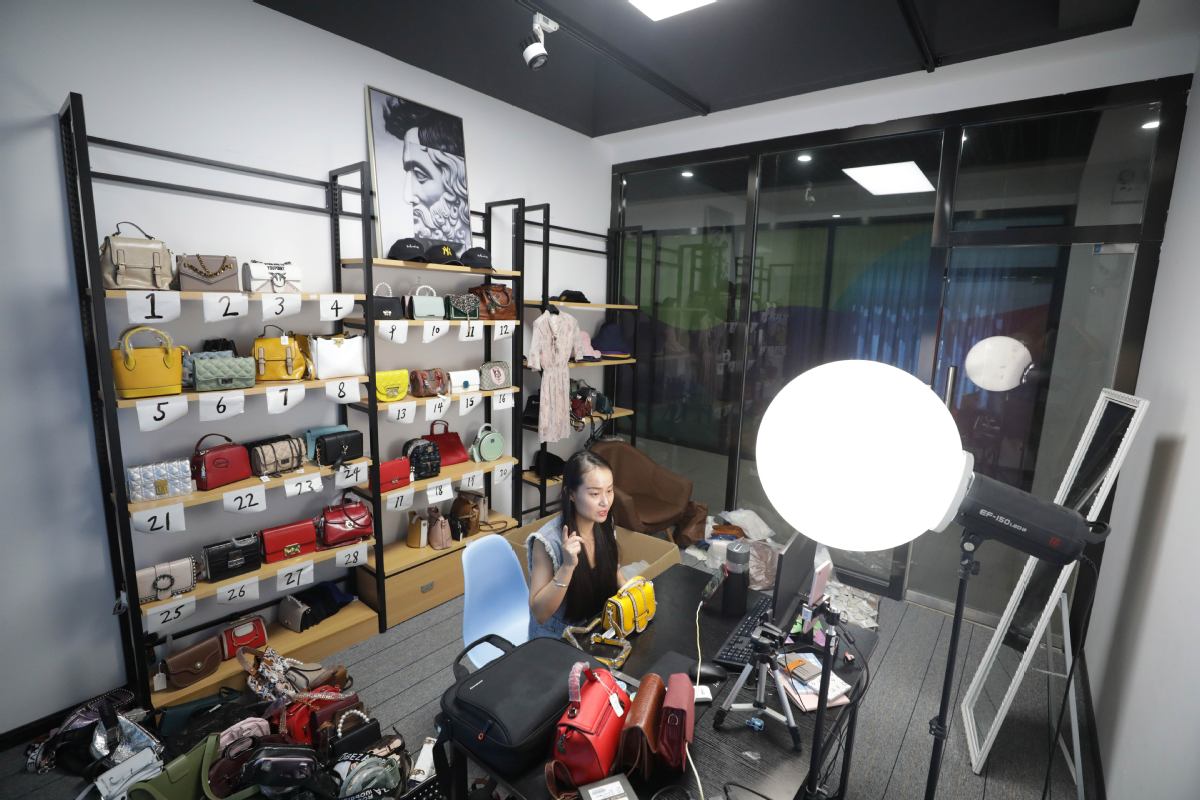 A saleswoman promotes bags in Yiwu, Zhejiang province. (Photos: China Daily)
Billions of yuan generated annually through thousands of broadcasts
Li Jiaqi is arguably the most successful lipstick salesman in China.
The 27-year-old, dubbed "the king of lipstick", once sold 15,000 lipsticks within five minutes.
During a one-on-one competition last year, Li, who sells his wares each day through livestreaming, outmatched Jack Ma, the founder of e-commerce giant Alibaba.
The contest, part of a four-hour gala hosted by Alibaba to promote its annual Nov 11 shopping festival, also featured live performances by singer Mariah Carey, entertainment troupe Cirque du Soleil and a galaxy of A-list Chinese celebrities.
With Li selling 100 times more products than Ma and setting a record for lipstick sales in China, the competition-the gala's most memorable event-is still being discussed today.
In recent months, Li, a folk dance graduate from Jiangxi province, has taken his sales prowess far beyond the realm of women's dressing tables to almost all aspects of their lives.
"I don't think there is anything I cannot sell," Li told China Daily last month just before an online shopping festival staged in his name by his team and Taobao, Alibaba's online retail arm.
Titled Jiaqi Fans Rewarding Day, the festival has become a regular promotion staged on the 17th of every month, a date chosen because in Chinese it is pronounced similar to Li's name.
Last month's event started at 7:30 pm and lasted for five hours. Li introduced 48 products, ranging from snack foods-such as dried mangoes-to goose-feather quilts, and from tampons to a variety of cosmetics.
Resembling a television commercial, the livestream event allows viewers to instantly buy recommended items.
Li's followers were promised that the price of every item they bought during the event would be the lowest on the market, be it a skincare product from French luxury brand Guerlain costing more than $150 or instant noodles selling for less than $1.
His team has not disclosed the revenue such an event can generate, but Li said he has some 50 million followers from all social media platforms in China.
According to Taobao, the total value of products sold can reach 6 million yuan ($839,000) in just three minutes. During the Nov 11 shopping festival last year, Li sold 320,000 items worth a total of 67 million yuan.
"At every monthly festival, we surpass previous sales and set records. But the reason I don't want to disclose sales figures is that selling is no longer the only goal, and I want my followers to have fun and learn about what's new," Li said.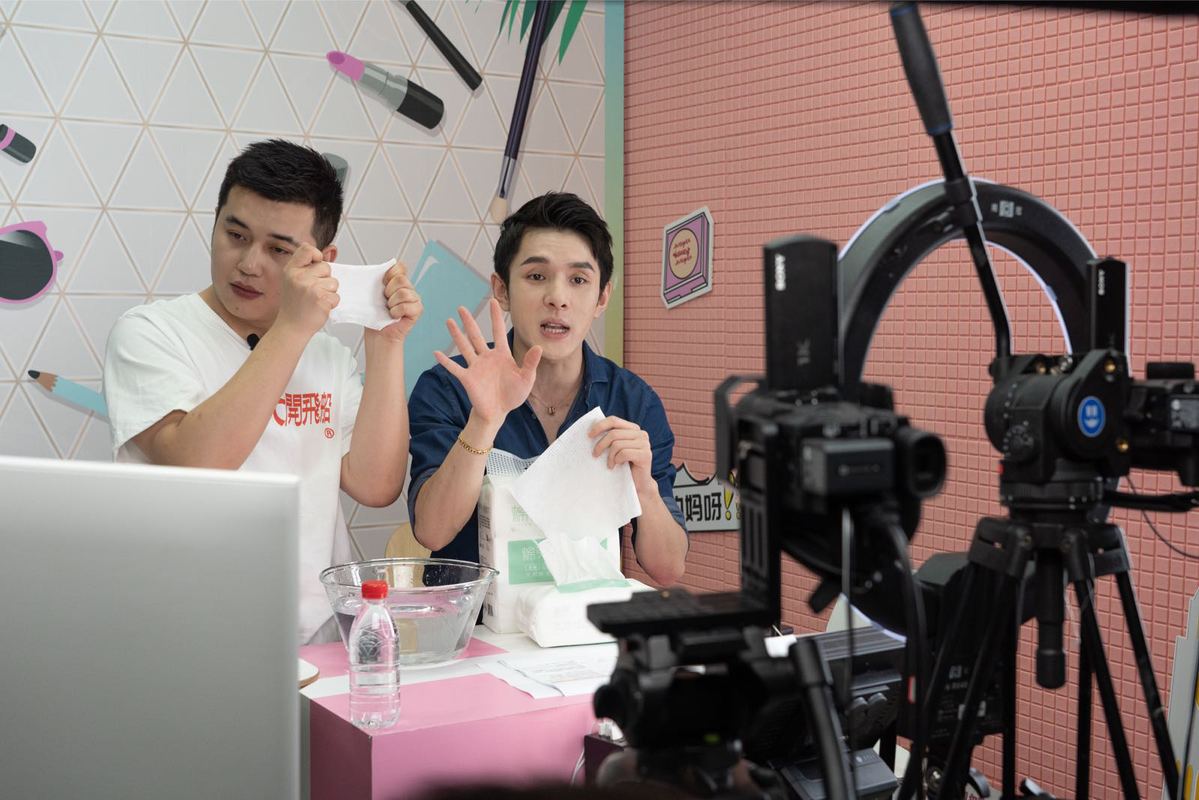 Li Jiaqi, right, promotes skincare products through livestreaming in Shanghai.
Professionals required
Li Chengdong, an angel investor and e-commerce industry strategy analyst, said that with the combined power of e-commerce and livestreaming, an individual can set a higher daily sales record than a major retailer, such as a department store or a multinational supermarket chain outlet.
An angel investor is a person providing capital for a business startup, usually in exchange for convertible debt or equity.
But the analyst said the "brand value" of an individual is no longer the sole property of that person, and neither can it be maintained by him or her alone, as this now requires a team of professionals.
Hours before the most recent Jiaqi Fans Rewarding Day, on a Saturday afternoon, Li Jiaqi's office was packed with scores of busy employees. Some were reviewing the rundown for the event, while others were setting up the lights, camera and internet connection for the livestream broadcast. Two were even ironing silk-covered quilts to be recommended to buyers.
In addition, a team of about 15 working in the merchandise department is responsible for collecting the type of products Li recommends each day.
This team deals with hundreds of samples sent to the office by companies wanting to use Li Jiaqi's reputation to increase their sales.
The team members put food products to the test by tasting them and apply skincare goods to the face or body. Once a product passes the test, another team negotiates a price with the company.
Li Jiaqi said he has built his reputation and can sell anything, knowing that a product is of the highest quality.
One homeware company said that once its bedding is recommended by Li Jiaqi, it pays him 500,000 yuan to introduce them for five minutes during his livestream broadcasts. In addition, he takes a 20 percent commission from the revenue of all bedding sold.
"In high school, I found that I had the passion and talent to recommend good-quality items to my fellow students. If I liked a new snack and recommended it to my classmates, the next day it was likely to be sold out at the school canteen," Li Jiaqi said.
The only son of a bank clerk and a math teacher, at college he developed an interest in makeup, including it in his course for a folk dance major.
But after graduating, it seemed more natural for him to become a shop assistant for cosmetics brand Maybelline, rather than take up dancing.
In 2016, as part of parent company L'Oreal's efforts to integrate offline and online business, Li Jiaqi became one of the first shop assistants to sell makeup products both over the counter and through livestreaming.
Last year, he took part in more than 380 livestreaming sales. In addition, video clips of him articulately and enthusiastically promoting lipsticks through livestreaming have gone viral on many social networks.
While Li Jiaqi is now often introduced on Taobao as the second top livestreaming broadcaster by annual sales revenue, after singer turned broadcaster Wei Ya, he said he fears he may lose his influence.
In an interview with the business magazine China Entrepreneur, Wei, 33, said she thinks Li Jiaqi is more influential than she is.
Livestreaming combined with e-commerce began to take off in 2016, mainly on Taobao, the country's largest e-commerce platform. Last year, it said sales generated from more than 60,000 livestream broadcasts each day reached 100 billion yuan, a fourfold year-on-year increase.
"If I stop doing livestreaming for just one day, my followers are likely to be attracted to any of the tens of thousands of other such broadcasts," Li Jiaqi said.
Eighty-one broadcasters have made it into the "100 million yuan club" after annually selling products fetching more than this figure. Some 65 percent of people watching these livestream broadcasts decide to buy the products being recommended, according to Taobao.
Liu Bo, a partner with Crystal Stream Capital, a venture capital investor, said the popularity of livestreaming e-commerce can be attributed to "lazy or sometimes mindless shoppers".
"With the growth of the Chinese economy, many people today are no longer shopping for food because they are starving, or buying clothes out of necessity. But confronted with multiple choices, making decisions can sometimes be intimidating for lazy shoppers, or those who don't like shopping in the first place," Liu said.
"Therefore, when there is someone with a credible reputation for recommending quality products, people love to follow such guidance, instead of making their own decisions. In addition, livestreaming can also function as a means of entertainment," she added.
Last month, a star-studded luxury wedding ceremony that reportedly cost 70 million yuan made headlines in numerous Chinese newspapers and web portals.
Held in the National Stadium in Beijing, the ceremony featured 42 A-list celebrities, including martial arts star Jackie Chan and pop singer Wang Leehom.
Both the bride and groom are active livestream broadcasters. But instead of spending a fortune, the couple profited from the wedding by having it livestreamed and by partnering with a variety of brands. Media reports said the event set a sales record of 130 billion yuan by promoting the wine used for toasting, among other products.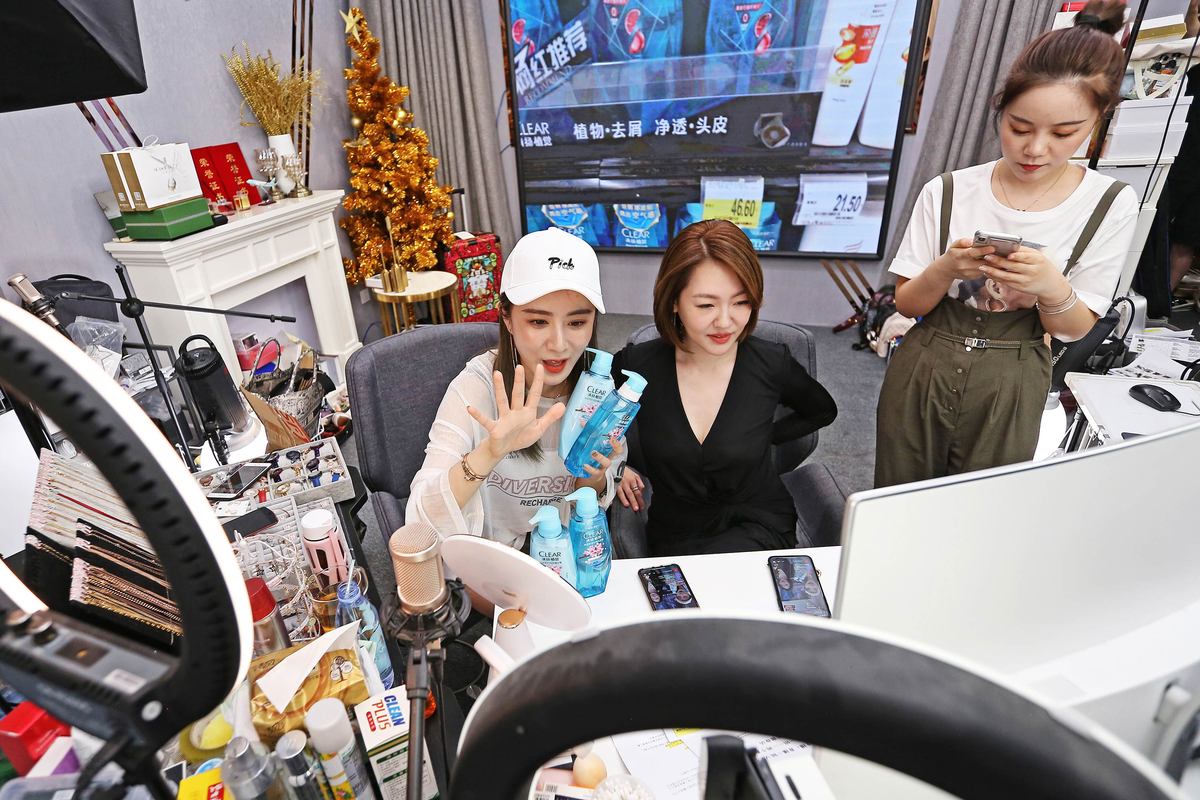 Taiwan pop hostess Barbie Hsu, center, sells shampoo during a livestreaming broadcast in Hangzhou, Zhejiang province.
Investors attracted
According to a survey last month of 1,428 livestreaming audience members by iiMedia Research, more than 30 percent said they watch such broadcasts four to six times a week. Asked to state a reason for this, they said it helped them save time, as they are entertained while getting information about products on the market.
Skincare and cosmetic products are the most popular with livestreaming viewers, followed by electronic devices, homeware products, fashion and accessories.
The booming market has also attracted investment from other e-commerce operators and entrepreneurs.
In July, JD, a keen rival to Alibaba, said it planned to spend at least 1 billion yuan on nurturing its exclusive livestreaming broadcasters. It said it would partner with a number of multi-channel network agencies closely linked to short-video sharing platforms TikTok-known in China as Douyin-and Kuaishou. Essentially, JD wants to nurture five "chief recommending officers" to promote products listed on the platform.
In Hangzhou, capital of Zhejiang province, and also the birthplace of Alibaba, more agencies now specializing in nurturing and promoting livestream broadcasting are exerting a growing influence.
Xia Heng, founder of Nasi Agency, one of the top 10 in the industry, said, "Li Jiaqi may never be replicated, but we may produce 10, if not 100, broadcasters that, combined, have a greater influence than Li."
The agency, which received tens of millions of yuan in angel investment in July, recently established an academy for broadcasters in Hangzhou. It plans to enroll 100 candidates a month, and select 10 each time after three months' training.
It said it would create 10,000 broadcasters within three years.
Last year, the agency, which has partnered with more than 50,000 brands and companies, generated sales of more than 1 billion yuan.
"Every click on the screen by mobile phone users today can be profitable, but the key to profit is to create a human connection, not one between devices," Xia said.