Where will higher prices take the Chinese bike-sharing industry?
People's Daily app
1577970605000
Recently, as several bike-sharing platforms increased their starting price to 1.5 yuan, users have to pay 2 or 3 yuan (about 40 US cents) for a ride, which often tends to be more expensive than taking buses. It has been discovered through reporters' visits in Beijing, Chengdu, Fuzhou and other cities that the bike-sharing industry has adjusted its pricing several times from March to November of 2019. What path will the bike-sharing industry, with hundreds of millions of users, take after the intensive initial investor enthusiasm cools off?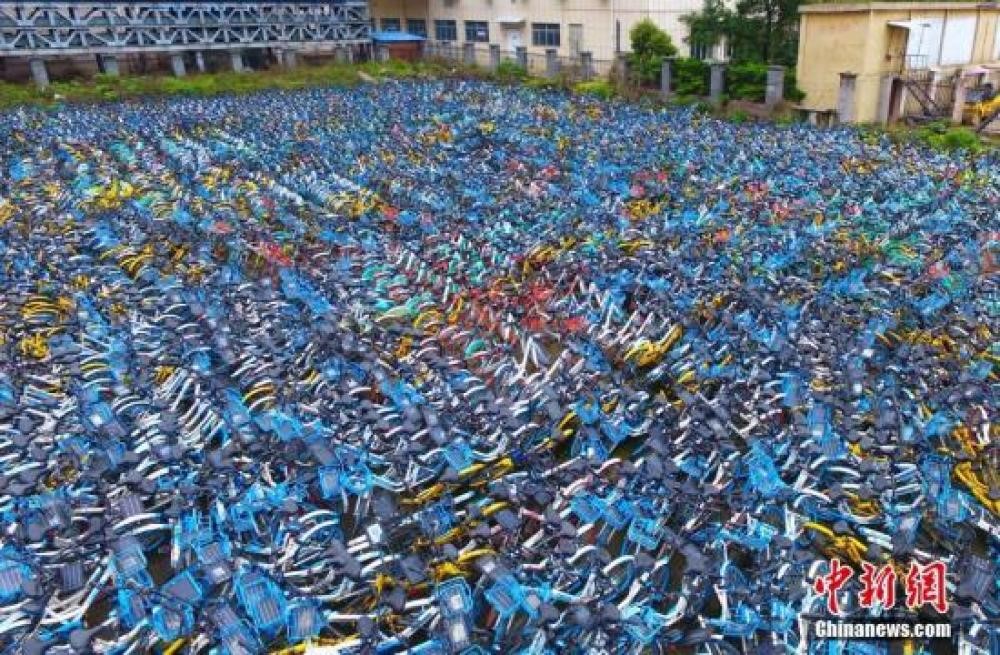 (Photo: China News)
Higher fees
In March 2019, Bluegogo, one of the bike-sharing startups run by DiDi—the largest car-hailing company in China—led the first round of price increases in March 2019. The starting price was doubled from 1 yuan or about 15 US cents every 30 minutes to the same price every 15 minutes. In April, following Bluegogo, ofo adopted the same price. In July, ofo raised the starting price from 1 yuan to 1.5 yuan in Shanghai, Chengdu, Shenzhen and other cities. Soon, DiDi Bike followed their steps in October. Mainstream bike-sharing platforms have implemented price increases in most regions of China.
Zhang Zhidong, a senior manager of DiDi, said bike sharing's price increases shows common sense in the industry. The higher cost's influence on consumers is not significant, especially for those frequent users who comprise half of the business of DiDi Bike.
According to 2019 data from Meituan, a Chinese local life services platform, compared with the second quarter, operating losses have clearly declined in the third quarter. Ofo said raising prices can make the platform run better, to form a virtuous circle.
Behind the price increases
What are the reasons behind the continuous price increases for bike sharing?
Bike sharing, as the benchmark of the sharing economy, was favored by investors for a time in its initial stage of development. However, as investor enthusiasm cools down, raising prices to increase operating revenue and cover deficits is a decision made to adapt to reality, said Chen Duan, associate professor of the Central University of Finance and Economics.
Several industrial experts said its high wastage, high cost of operation and maintenance, and asset-heavy model make operating costs high and returns on capital hard to realize. When a company cannot have any new input, they must increase income by raising prices or finding other sources of value.
The Beijing Municipal Commission of Transportation's statistics show that in the first half of 2019, the city saw 16.04 million sharable bike rides per day on average. The average daily turnover rate was only 1.1 time per bike and the number of bikes active at one time represented 16 percentage of the total number of bikes.
Li Hongchang, professor of Beijing Jiaotong University, said another important reason for price hikes is because the advent of regulations on deposits makes it hard for companies to exploit deposit funds. The regulations, entering into force in June 2019, are designed to prevent risks of abusing users' money, strengthen protection of their rights and interests, and promote the healthy and stable development of emerging forms of transportation.
Currently, most of the platforms such as ofo, DiDi Bike and Hello Bike no longer charge deposits. Users who have already paid can apply for refunds.
Some cities have enhanced the parking management of sharable bike, directly causing much higher maintenance costs.
After the shakeup
Within only two years, the competition has been whittled down to only a few leading companies left to carve up the market. Several experts said that after the shakeup, companies must emphasize the quality of service more so that they can gain more customers. Therefore, in the current situation, careful operation and healthy management are the most helpful measures for bike-sharing companies.
According to China Internet Network Information Center (CCNIC)'s report on China's Internet Development, 2017 was the year when bike-sharing users grew most rapidly. The rate of growth reached 632.1 percentage. The rate of growth in 2018 dramatically dropped to 14.6% and the number of users reached 235 million.
Chen Duan suggested that companies must adjust their initial strategy. The bike-sharing operators could distribute more bike resources into areas of high population density to help increase the turnover rate of bike sharing. Meantime, They can use new materials and modular design in the production process to reduce operating costs further.
Bike sharing per se is a difficult path for making money. It may, however, create intangible values in a profitable bigger business ecosystem, Li Hongchang said. Nowadays, bike-sharing companies with relatively large market share are all supported by conglomerates, which can greatly subsidize or support the integrated service cost of trips.