SF embraces tech to tap demand for fresh food products
SF Express, China's leading express delivery company, is on a fast track to become a technology-driven logistics service provider as its international transport capability embraces a golden period amid international trade for fresh food products.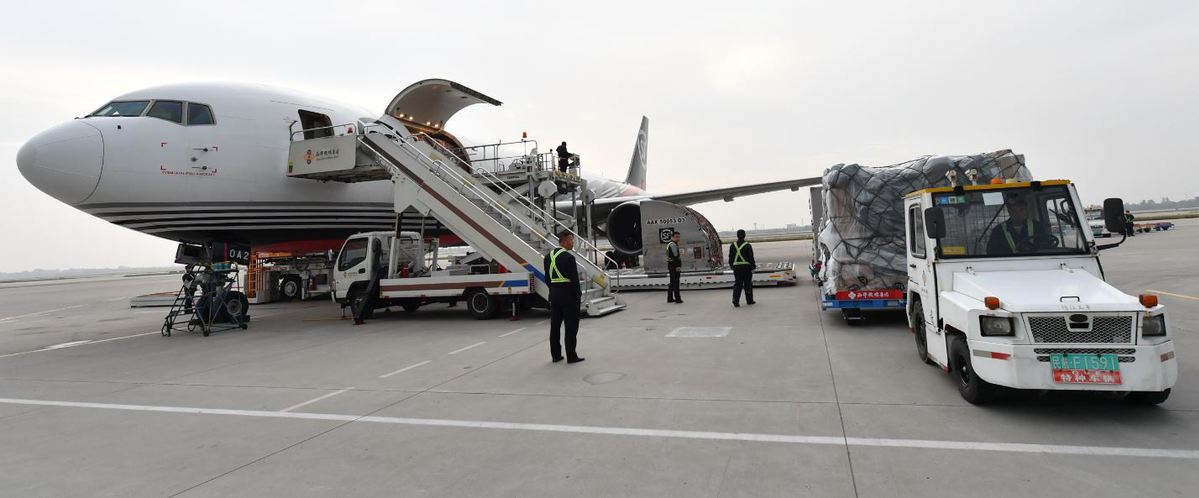 Cargo from an aircraft of SF Airlines is unloaded at Xi'an Xianyang International Airport. (Photo: China Daily)
In 2018, the company transported live lobsters for the first time from the United States to China on a chartered plane. Since then, it has transported fresh Canadian lobsters and Chilean cherries to China more than 10 times.
During air transportation, the cabin temperature has to be between 2 C and 8 C to guarantee the survival of the lobsters.
"After the plane lands, SF employees can finish the work of unloading, dismantling plates, commodity inspections and customs clearance within two hours," said SF in a statement.
"Next, we will explore port-to-doorstep, or doorstep-to-doorstep transportation, and further extend our business chain," the company said.
Soon, SF will launch stable freight routes, shifting from temporary charters to fixed ones specifically to transport lobsters and cherries to China. It will also continue to seek new sources of fresh produce for transportation. For instance, it may transport salmon on its European route.
As of June 2019, SF operations involved 2,088 flights, including self-operated fleets, flights operated by leased aircraft, and leased space on commercial flights to transport goods, according to its earnings report.
In the first six months of last year, SF transported 3,407 metric tons of goods daily, on an average of 4,170 flights to 43 major Chinese cities and 15 foreign cities, according to the company.
Last year, SF launched eight new international freight transportation flights, operated by its self-owned aircraft. They include flights between Chengdu, Sichuan province and Incheon, South Korea; Urumqi, the Xinjiang Uygur autonomous region and Bishkek, Kyrgyzstan; Urumqi and Almaty, Kazakhstan; Changsha, Hunan province and Dhaka, Bangladesh; and Zhengzhou, Henan province and Kuala Lumpur, Malaysia.
Currently, Shenzhen-based SF Airlines, the aviation branch of SF Express and China's largest cargo airline, owns a fleet of 58 freighters. The company is also building its own airport in E'zhou, a small city in Hubei province. The airport is expected to become the first cargo transportation hub in Asia.
"From a basic logistics network to standard product transfers, and then to develop into a company that provides personalized solutions, this should be SF's growth path, just like other global comprehensive logistics giants such as DHL, UPS and FedEx," Changjiang Securities said in a research report.
As quality-conscious Chinese consumers show an increasingly strong demand for premier fresh products, the consumption market for imported top-end food and fruits has shifted from a niche segment to become mainstream.
Over the past few years, China has actively expanded imports, and gradually reduced the threshold for foreign goods to enter the China market. The country has also significantly reduced import tariffs many times, in addition to the introduction of some favorable policies for cross-border e-commerce business.
A research report by data analytics company Nielsen found that when people buy fresh food products, they are most interested in quality and safety, and many Chinese consumers are interested in trying new products.
In Ruijin, a small city in East China's Jiangxi province, there is an automated center owned by SF that offers integrated services such as sorting, cleaning, packaging, labeling and distribution of oranges.
Last year, the center introduced a near infrared sensor, which can display the weight, color, size and sweetness of oranges using image spectral analysis and digital weighting. The center can process 90,000 tons of oranges in an hour, and it is 1.4 times faster than manual sorting, with 30 percent less deterioration, SF said.
SF has also developed four packaging solutions that can satisfy the demands of different customers. For example, SF's packaging lab introduced damp-proof and freeze-proof packaging for goods transported to North China in winter.
So far, SF has established 16 such centers nationwide, which can process flowers, seafood, fruits and vegetables.
"SF is building its import and export cold-chain logistics system and services globally, with the support of its comprehensive self-owned warehouses and logistics infrastructure," said Zhao Xiaomin, a logistics industry analyst.
"With the fast growth of global trade and the business opportunities brought by the Belt and Road Initiative, SF is bound to become a leading player in the fresh products transportation segment in the next few years."