Guesthouse business to boom during May Day holidays
Global Times
1588288235000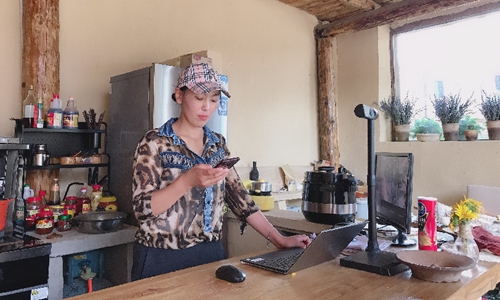 Photo taken on July 19, 2019 shows Ma Yuan, 33, works at a guesthouse in Sigong Village in northwest China's Xinjiang Uygur Autonomous Region. (Photo: Xinhua)
Guesthouse owners are embracing a rebound in business during the upcoming May Day holidays as China heads toward normalcy following Beijing's Wednesday move to lower its virus emergency response level from 1 to 2.

"I have been waiting for this day to come," Wang Lin (pseudonym), owner of guesthouse Woniujia in the suburb Huairou district of Beijing told the Global Times excitedly on Wednesday.

"My old patrons have been asking me when we will reopen as they are waiting for us. I couldn't tell them that we can receive guests during the May Day holidays until today when we got a notice from the local government," Wang said.

The domestic guesthouse business is on the way to recovery with the May Day holidays just around the corner. Within two hours of Beijing lowering the epidemic emergency response, booking orders on Chinese guesthouse booking platform Tujia rose 4 times compared with the day before, the company told the Global Times.

A previous report by Tujia also noted there will be an "obvious peak" in guesthouse booking during the upcoming May Day holidays, followed by another one for the Dragon Boat Festival holidays in June.

Zhang Lingyun, a professor at Beijing International Studies University, told the Global Times that guesthouse businesses in big cities of Central and East China will be the first to recover in the tourism industry.

More people will choose self-driving tours when social distancing is still required to avoid infection, Zhang noted. Guesthouses, located in rural areas with natural scenery and that can be easily reached by self-driving, will be a good option for people to get away from the busy city life.

Woniujia owner Wang Lin told the Global Times that, as of Wednesday night, 80 percent of the rooms at his three yards have been booked out, mostly by his old patrons. "It is beyond my expectations. I believe we will finally see full bookings this year as we did last year," he said.

Wang's optimism is echoed by Sunny, owner of Anji Suxie, a 140-square-meter guesthouse in Anji, Huzhou of East China's Zhejiang Province. The booking rate at her guesthouse during the May Day holidays has not reached that of last year yet, though she is now giving an 11 percent discount on room rates to her customers and waiving cleaning fees.

"Normally, the rooms will be booked out about 15 days before a holiday starts," she said.

But she believes that her city Anji will embrace new opportunities in tourism because a high-speed railway station will be launched in the city around June, which will finally benefit her business.

"People's enthusiasm for tourism will likely return in the second half of the year, when the COVID-19 pandemic is expected to wane," she said.

47-year-old Xia Juping, who runs a high-end guesthouse Yule Shanfang in Lin'an, Hangzhou of East China's Zhejiang Province, is now also giving discounts on room rates and food to win over customers.

Currently, 92 percent of the rooms for the holiday have been booked, Xia said. The revenue of her guesthouse from January to April plunged by two thirds year-on-year to 200,000 yuan ($28,304).

But she is still confident that her business will get back on track as long as the virus is well controlled. "Hangzhou has reported no confirmed cases for more than 60 days," she noted.

Her counterpart in Harbin of Heilongjiang Province, however, is in a much worse situation. "It will take at least one more month before we can open based on the current situation," Yang said.

Yang is an owner of three 40-square-meter guesthouses in downtown Harbin. She had suffered a loss of about 80,000 yuan since the epidemic happened.

Her guesthouses had reopened at the end of March but had to close again in mid-April because the city has been experiencing a rebound in the number of infections caused by imported COVID-19 cases. She hopes that the local government can provide some support to tide over small businesses through the difficult time.

The tourism industry will not recover overnight but at a slower pace, considering that epidemic control will be the new normalcy, and the COVID-19 pandemic is spreading worldwide, Xu Xiaolei, chief brand officer at China's CYTS Tours Holding Co told the Global Times.

Xu noted that the outlook is still promising. "The vast demand exists, it is just curbed by the pandemic," he said, adding that for guesthouse businesses, the best support policy is to encourage people to travel.

He suggested that local governments could consider gradually lifting bans on tourism based on the premise of virus control.