Helicopter firms wait for 'wind power'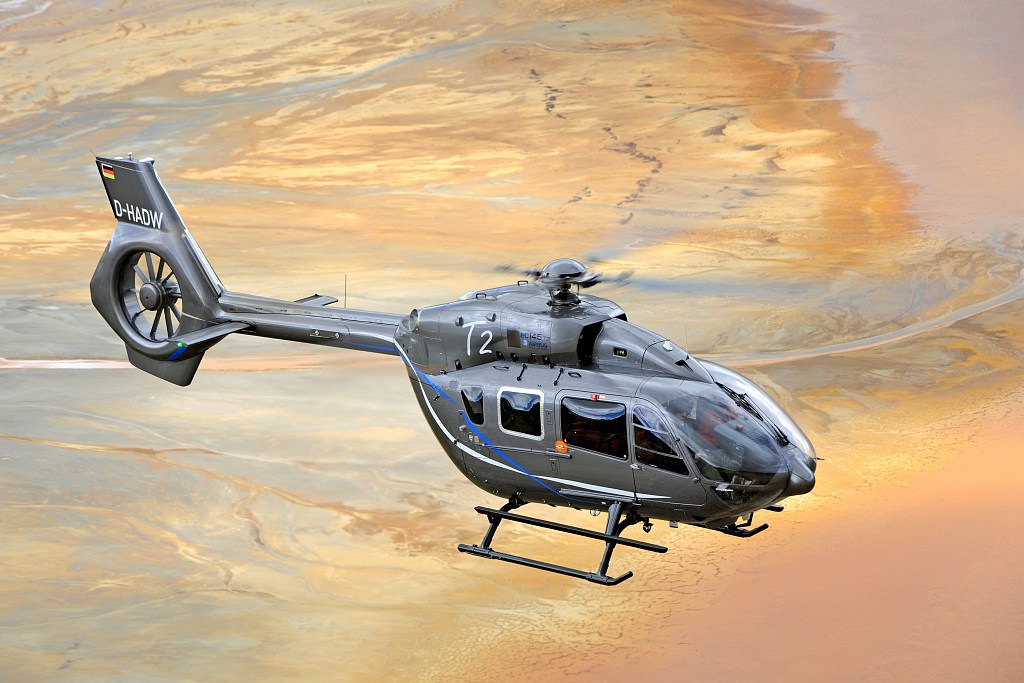 An Airbus H145 multipurpose helicopter flies over Bolivia on April 27, 2015. (Photo: VCG)
Aerial vehicles to enable faster maintenance and repair work on offshore turbines, say experts
Helicopters are set to be the preferred mode of transport for China's rapidly growing offshore wind energy sector as they enable fast and easy transfer of technicians to the isolated turbines, often in challenging conditions, experts said.
Currently, China has more than 1,000 installed offshore wind turbines, and the country is seeing a rapid increase in its offshore wind capacity. The number of turbines is expected to grow to 12,000 in 10 years, and reach 35,000 by 2050, according to estimates by 4coffshore.com and IFA 2050 Forecast.
Currently, most of the wind farms use boats or ships to transport technicians to the repair sites. But this works only if the weather conditions are good and in most cases is often a risky and time-consuming process.
Airbus Helicopters, the largest global helicopter manufacturer, said it is in discussions with Chinese government officials to set up hoist baskets, a necessity to enable helicopter access on the turbines, and use helicopters to transport technicians to wind turbines in China. It will help to accommodate the growing demand, and thus raise efficiencies and wind energy output, it said.
"China is expected to have the highest potential for offshore wind turbine growth, according to forecasts. Wind turbines are getting more powerful, and wind farms are getting further offshore, which will need more optimized operations and maintenance strategies," said Dennis Bernitz, head of sales at Airbus Helicopters Western Europe.
"By using helicopters, wind farms in China can increase its energy revenue by 2.5 percent to 10 percent every year. Depending on the site conditions and installation, the number could be even higher," Bernitz said.
"Helicopters are almost independent from weather conditions, and they will be available for about 90 percent of the time in a year, compared with about 50 percent for boats or ships. Besides, the accident rates of crew transfer vessels are 10 times higher than on helicopters," he said.
Operated by a mixed ownership structure of wind farms in China, there are six major players, namely China Three Gorges Corp, CHN Energy, China General Nuclear Power Corp, State Power Investment Corp, China Huaneng Group, and Guangdong Electric Power.
By 2050, more than 30 percent of wind energy will be produced offshore worldwide, according to IEA Technology Roadmap. Those supporting roles, such as operators of helicopter transport to offshore turbines, are bracing to meet the demand. Globally, the continuous growth of wind farms is expected to require 1,000 helicopters in the future.
The higher efficiency of helicopter transport will also help to extend wind energy production and revenues. For example, wind farm transfers take about 30 minutes each way, much faster than two to three hours' passage on a boat for the same distance. Now, offshore wind farm helicopter fleets are mainly located in Northern Europe.
"The most demanding loss would be energy production loss because of maintenance delays. The loss would be much higher than the costs of using helicopters to transfer technicians," said Bernd Brucherseifer, managing director of Helicopter Travel Munich, which owns 17 helicopters for wind farm operations in Germany and nearby regions, the largest of its kind.
Airbus Helicopters said it strongly believes in the growth potential of the helicopter market in China. In April, it put into operation its first H135 helicopter final assembly line outside of Europe in Qingdao, Shandong province.
The plant serves as the first helicopter final assembly line built by a foreign manufacturer in China. The first helicopter assembled in Qingdao is expected to roll off the production line by the year-end. Production will start with an annual capacity of 18 helicopters.
Currently, Airbus Helicopters accounts for 37 percent of the civil helicopter market in China, followed by Bell Helicopter Textron Inc. Other major players in the sector include Leonardo SpA, Russian Helicopters JSC and Sikorsky Aircraft Corp.