Inflated cost of Thanksgiving leaves Americans with more worries than thanks
Global Times
1669259058000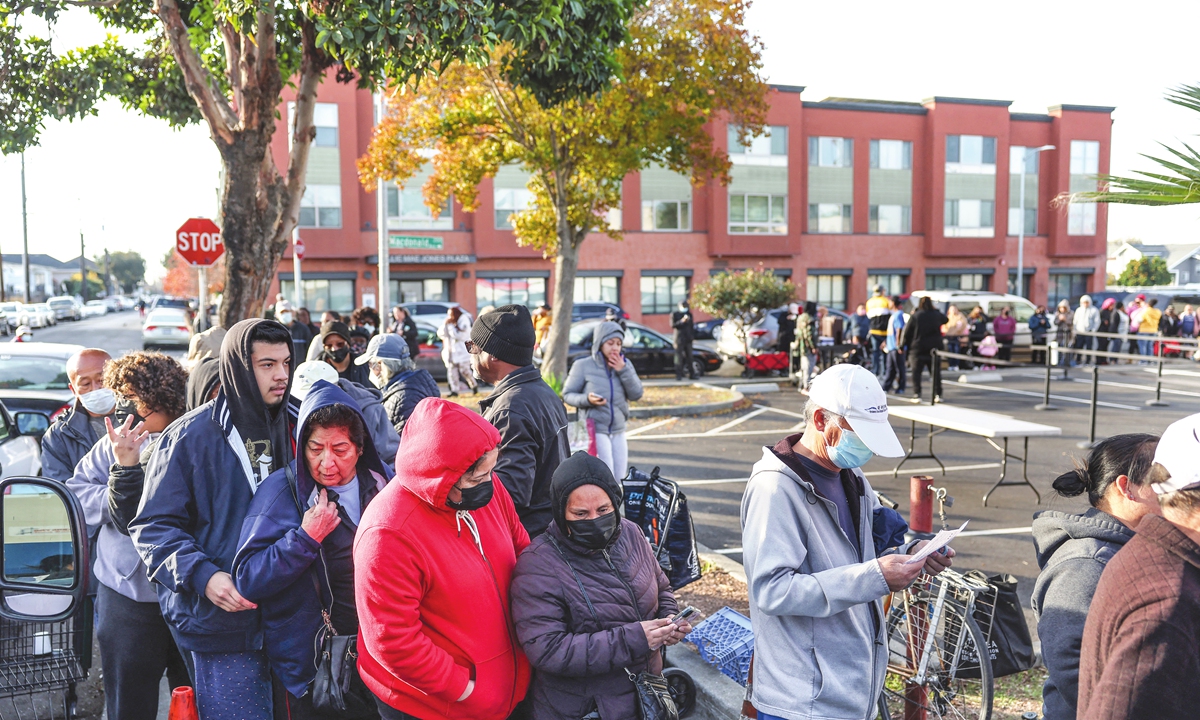 At this year's Thanksgiving, Americans may find very few things to be thankful for, and a lot to worry about.
Complains of this being the "most expensive Thanksgiving" in decades have replaced festival gratitude. At the same time, Americans have to endure the constant bickering between Democratic and Republican parties who point fingers at each other for the current plight, as the country is further torn apart by politics. Yet Chinese experts warned that the hard-pressed situation that has trapped Americans is just the tip of the iceberg, and more will emerge as the country's failing system is incapable of providing effective solution.
In what appears to reach for help, Washington is seeking to repair frayed economic cooperation with China to assuage pressure of domestic red-hot inflation, and US prominent economists are calling on their country to reflect on the trade war with China.
As Thanksgiving falls on Thursday, the American Farm Bureau Federation (AFBF) reported last week a classic Thanksgiving feast for 10 is $64.05 this year, up 20 percent over last year's average of $53.31. This is the highest average cost of a Thanksgiving dinner in the AFBF's 37 years of conducting this survey, US-based The Hill reported.
"For about 5 years, I had given back to communities and families in need. I donated food, clothing, and school supplies etc. I am not rich, but God has blessed my family with more than enough I'm grateful," a resident in California who preferred to be called Jane told the Global Times on Wednesday. "This year, because food is so expensive, I won't be able to make thanksgiving food boxes."
"I can't afford a Thanksgiving dinner this year. It's gonna be turkey sandwiches with Coca cola," a Twitter user under the name of Cody Hansolo said.
Inflation is red-hot in the US, reaching the highest levels in decades this year. The Federal Reserve has raised interest rates for six times this year, citing persistent inflation, yet such efforts still failed to rein in soaring inflation. In October, the consumer price index, a key inflation barometer, jumped by 7.7 percent in October compared to the same month a year ago. Economists expected a 7.9% annual increase, according to Dow Jones.
The US current economic plight is just the tip of the iceberg, as the country will enter a de-facto recession during the first or second quarter of next year, Lü Xiang, research fellow at the Chinese Academy of Social Sciences, told the Global Times.
And his prediction was echoed by consultants back in the US. In June, JPMorgan CEO Jamie Dimon warned of an economic hurricane. But JPMorgan economists Michael Feroli and Daniel Silver downgraded that threat last week. The US will enter a "mild recession in the second half of 2023,'' they said. "We're effectively looking for a Category 1 economic hurricane," CNN reported.
Inflation also became a focal point for tussle between Democratic and Republican parties. US media reported that soaring inflation was the top issue for a lot of voters heading into the midterms, with most saying Republicans would do a better job of handling the problem.
"The Democratic Party's solution is dodging the problem while the Republicans are hyping the problem. Yet neither of them have the ability, as well as the motive to solve the problem, and their being at loggerheads further tears up the already polarized society, leaving people struggling with rising living problems," said Lü.
Still under shadow of tripledemic
Americans think they already shook off the shadow of COVID-19, they rushed to travel during this Thanksgiving holiday. Officers from the Transportation Security Administration (TSA) screened over 2.3 million passengers on Monday, exceeding the comparable day in 2019, US media Forbes reported.
US health experts are fearing the country is now dealing with a different kind of threat — an unpredictable confluence of old and new respiratory pathogens.
"We're facing an onslaught of three viruses — COVID, RSV and influenza. All simultaneously," William Schaffner, an infectious disease specialist at Vanderbilt University was quoted by an NPR report as saying. "We're calling this a tripledemic."
Chinese experts pointed out that Americans abandoned many of the precautions they've been taken during the pandemic. Figures suggested that flu vaccination rates are down by about 10 percent to 15 percent from previous years. Only about 11 percent of those eligible for the new bivalent omicron boosters have gotten boosted, the report said.
If the tripledemic gets evolved into another health crisis in the US, the country may risk another wave of labor shortage and a blow to its health system, which could cause serious social unrest, warned Lü.
Seek help
In what appears to attempt to assuage its domestic economic problems, the US has recently sought to ease tensions with China through enhanced interactions on various levels, in hopes to repair frayed cooperation in order to boost its economy, analysts said.
China's central bank governor Yi Gang and US Treasury Secretary Janet Yellen held talks on the sidelines of the G20 summit in Bali last week to discuss topics ranging from high energy and commodity prices to the macroeconomic outlook in both countries, according to media reports.
It is reported that former US Treasury Secretary Lawrence Summers said that the US needs to focus on building the country's own economic strengths, rather than on attacking China. Recently, IMF Director General Kristalina Georgieva, former chief economist of the World Bank Pinelopi Koujianou Goldberg, among others, also called on the US to rethink the economic wars against China.
In response, Zhao Lijian, spokesperson of China's Ministry of Foreign Affairs, said on Tuesday that this is not the first time that people with vision have called for reason to prevail on China-US relations. What you mentioned once again shows that China and the US both stand to gain from cooperation and lose from confrontation.
In a piece titled "If the world avoids a recession, it'll have India and China to thank" published by CNN on Tuesday, it said that growth next year is "strongly dependent" on major Asian economies, which will account for close to three quarters of the expansion in global GDP, with the US and Europe "decelerating sharply," citing the OECD.
"But we should also be cautious that the US extending 'goodwill' now is only to assuage its inflation and many domestic problems, and Washington remains firm on decoupling with China in the tech sector. In another words, it exposes US hypocrisy that it craves for help where it needs us, and tries to kick us away where it doesn't," Wei Nanzhi, a research fellow of the American Institute from the Chinese Academy of Social Sciences in Beijing, told the Global Times.
She said US' current move should not be translated as willingness to fix fundamental ties with China, and for better future economic cooperation, the US must show sincerity such as lifting the chip ban on China among others.