Spanish economy shrinks by record 5.2 pct in Q1 amid pandemic
MADRID, April 30 (Xinhua) -- Spain's gross domestic product (GDP) shrank by a record 5.2 percent in the first quarter of the year, according to data published by the Spanish Statistical Office (INE) on Thursday.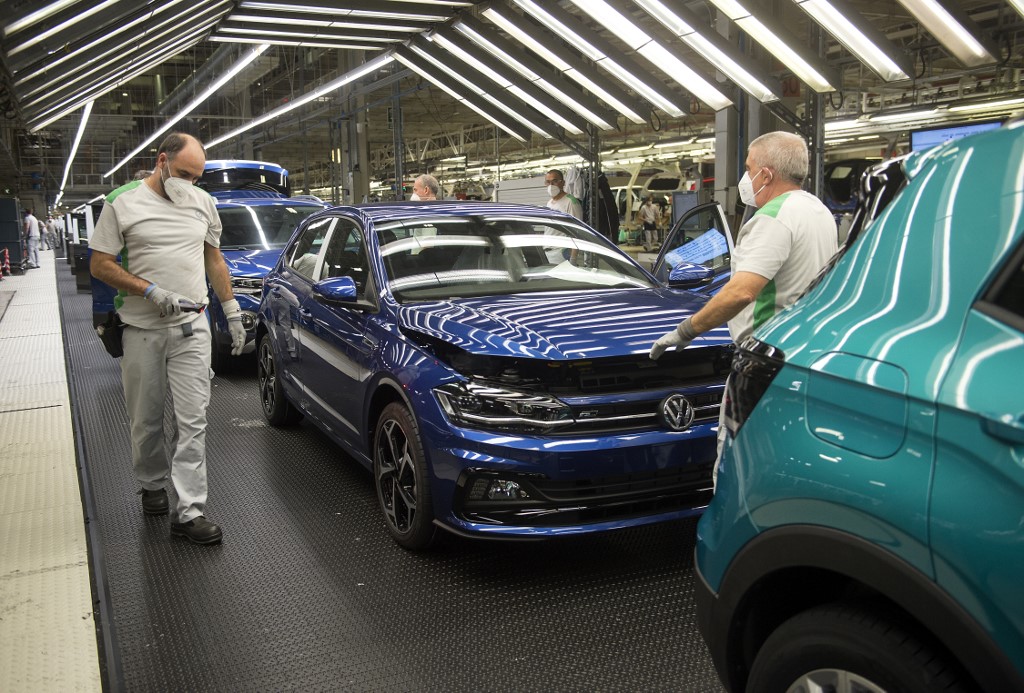 Employees wearing face masks work at the Volkswagen Navarra factory after the Volkswagen Group's Audi brand started operations at the plant in Pamplona on April 30, 2020, during a national lockdown to prevent the spread of the COVID-19 disease. (Photo: AFP)
The plunge in GDP is the biggest quarterly fall ever witnessed in Spain, which is twice as steep as the 2.6-percent fall in the first quarter of 2009 when the country was in the depths of the last economic crisis.
According to the INE, all sectors contracted sharply: household spending was reduced by 7.5 percent; spending on housing was reduced by 9.6 percent; and both exports and imports fell by 8.4 percent.
Spain imposed the State of Alarm on March 15 to halt the spread of COVID-19, which led to a suspension of all but essential economic activities for two weeks starting March 16.
As a result, the construction and industrial sectors saw a decline of 8.1 and 5.6 percent, respectively, while the closure of hotels, bars and restaurants led to an 11.2-percent reduction in the service sector.
The INE also said that the rate of inflation fell by 0.7 percent between March and April due to falling fuel costs, which offsets a 4-percent increase in the price of food.
Spanish Prime Minister Pedro Sanchez on Tuesday presented a four-stage plan starting Monday to roll back anti-virus restrictions, which is expected to open and boost the economy.
The plan will allow small shops and open-air terraces to open on May 11, while bars and restaurants will, to begin with, be able to accept no more than 30 percent of their customer capacity, which will be allowed to move up to 50 percent by the end of June.
Sanchez, while announcing the plan, warned that the virus would cause a "recession on an extraordinary scale," adding the country would need a massive response from the European Union to combat the recession and stimulate its economy.